This post started innocently enough, in fact, it wasn't going to be a post at all but just a quick way to save a bag a wilting cucumbers from their perilous refrigerator doom.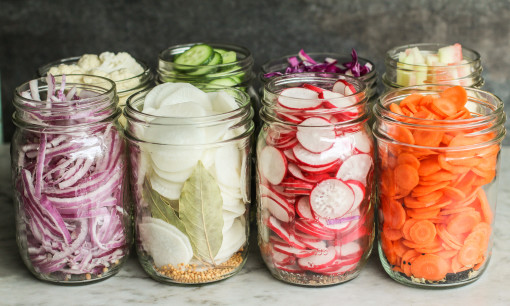 Yesterday I cleaned out the fridge.  An attempt at a little spring cleaning with my head buried in the deepest recesses of the food storage bin – that is where I found a bag of Persian cucumbers.  By the time I unwrapped them, they were about one day from being inedible, so I sliced them up and quikly made refrigerator pickles out of them in an effort to not waste any food.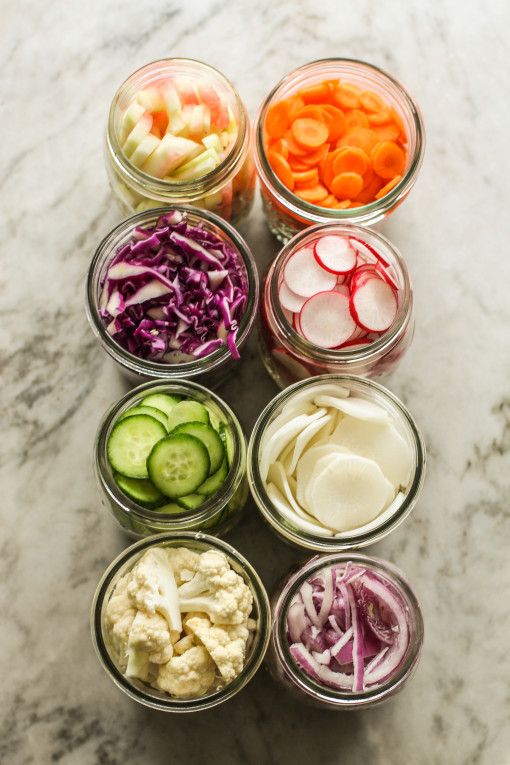 Then, as things normally go around here, I kept finding odds and ends of this vegetable and that vegetable, so I sliced my way to pickle heaven.  Eight jars were full of random veggies – some that desperately needed a pickle bath and others that just needed somewhere to go besides the twilight zone/veggie bin.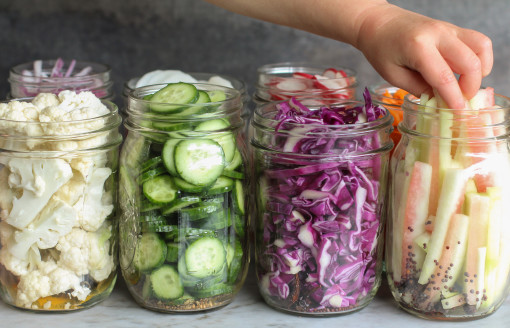 Refrigerator pickles are just as easy as they sound – no canning or pressure cooking involved.  No scalding hot water baths.  No recipe requirements really.  Just sliced veggies, some spices and a vinegar/sugar/water mix that is brought to a boil and poured over the top.  Cover the jars and into the fridge they go!
You can pickle any vegetable you have on hand, so next time you find yourself with a handful of sad looking veggies, don't waste them, make pickles!!
Happy weekend!!
xo,
Jenn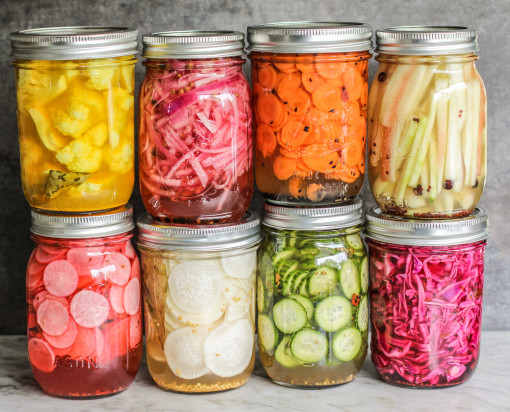 refrigerator pickles
makes enough for one pint – can be doubled, tripled, etc
2 cups thinly sliced vegetable of choice (ideas below)
1 teaspoon spices of your choice (ideas below)
2 cups water
1 cup apple cider vinegar
1/2 cup granulated sugar
In a clean pint jar, add the spices and sliced vegetables.  In a medium sized pot, combine the water, vinegar and sugar and bring to a boil.  Carefully pour the hot liquid over the vegetables until the jar is full.  Tightly close the lid and place the jar into the refrigerator to cool completely.
my notes:  You can use any vegetable and spice you have on hand, and you can combine veggies and spices in one big jar if you want.  The vegetables will pickle almost immediately, but are much better once they have time to sit and cool completely, about 24 hours.  Here is the list of the pickles I made above, left to right: (1) cauliflower with turmeric and curry leaves (2) red onion with coriander and black pepper (3) carrots with fennel and nigella seeds (4) watermelon rind with brown mustard seeds and juniper berries (5) radishes with anise seeds and cloves (6) daikon radish with bay leaf and yellow mustard seeds (7) cucumber with pickling spice blend (8) red cabbage with dried chiles and black mustard seeds.