Kimchi.  I've been wanting to make it for such a long time now but I kept thinking that it was some mysterious condiment that only trained professional kimchi makers could make.  So every month I would make my trip to the local Asian market and stock up on jarred kimchi – made by the secret kimchi makers of the world and wonder how in the world this came to be.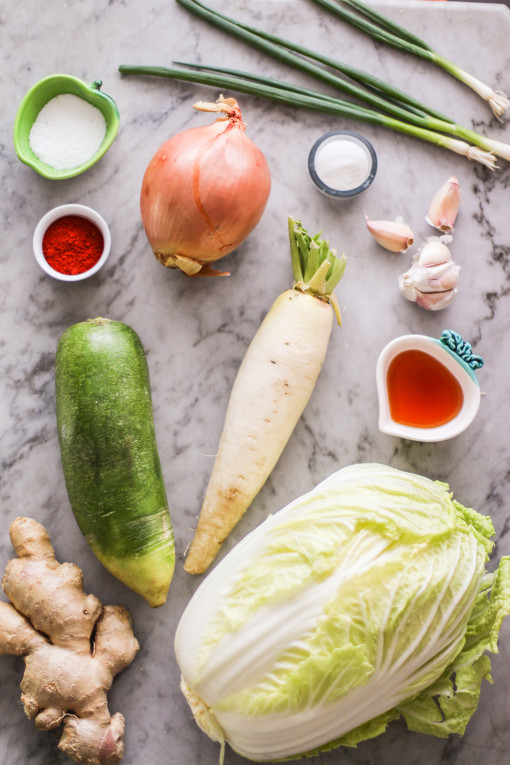 I would look at the back of the kimchi jars and read the ingredient list – napa cabbage, ginger, daikon radish, sometimes with fish sauce, always with Korean chile powder and salt – and wonder if I could really do it.
Of course I could.  Or at least I could make a valiant effort and if it didn't work out I would just return to the jarred version and find another something fun to ferment.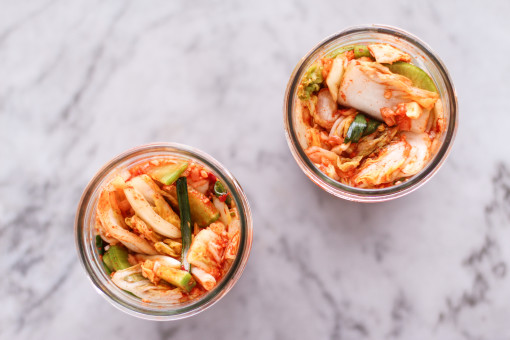 Folks – turns out that kimchi is surprisingly easy to make and takes about six hours of your day but most of that is just leaving the veggies alone to work their magic.
And before you say, "but, but…how easy is easy??"
Here's how easy:
Chop your vegetables.  Put some in a bowl.  Add salt.  Rinse.  Add some more vegetables.  Stir.  Go for a hike or watch all three Godfather movies back to back to back.  Scoop your veggies into a couple of jars.  Put lids on the jars.  Go to bed.  Get up the next day and shake your jars once or twice but no one is really counting.  Enjoy your day.  Go to bed.  Get up the next day and enjoy some freshly fermented kimchi – made by you!!
Seriously that's it.  Mysterious mystery solved.  Enjoy!!
xo,
Jenn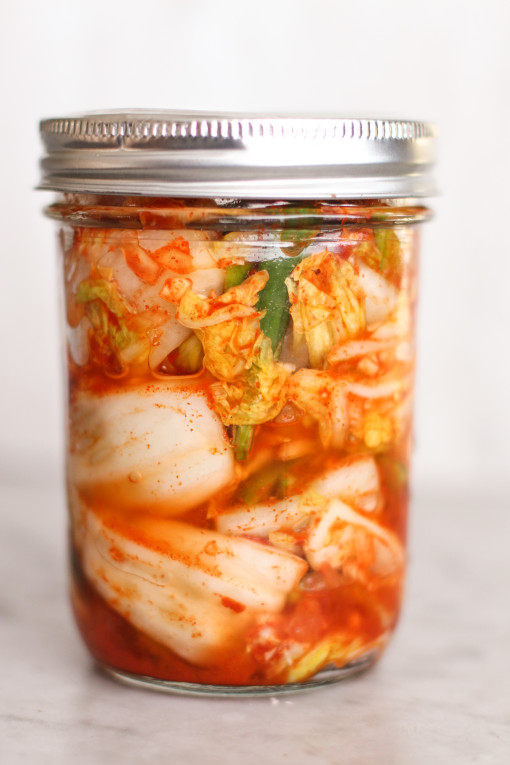 homemade kimchi
recipe from Choi's Kimchi via Sunset Magazine
2 pounds napa cabbage
3/4 cup daikon radish, peeled and sliced into 1/4 inch thick, then cut into 1 inch pieces
1/4 cup coarse sea salt
3 tablespoons ground Korean chile (gochugaru) You can find it at Asian markets or here: Gochugaru
2 tablespoons minced yellow onion
5 medium garlic cloves, minced
1 teaspoon minced fresh ginger
1 1/2 teaspoons Vietnamese fish sauce (omit this if you want to make a vegan version) You can find it at Asian markets or here
1/2 teaspoon sugar
1 green onion, white end halved lengthwise, then entire onion cut into 1 1/2 inch lengtths
Quarter cabbage lengthwise.  Cut out and discard core at base of each quarter, then slice cabbage crosswise into 2 1/2 inch pieces.  Put cabbage in a large bowl, cover with water, and let sit for a minute.
Drain cabbage and return to bowl.  Add the daikon radish, sprinkle with salt, and toss with your hands to coat thoroughly.
Press down on the vegetables to compact them; then let them sit at room temperature for 20 minutes.  Stir to redistribute the salt and let the vegetables sit uncovered at room temperature, 5 to 6 hours (no need to stir again.)
Put the vegetables in a large bowl of cold water and swish to rinse, then drain and repeat until it is as salty as you like.  (I changed the water three times.)
After the final draining, gently squeeze out most of the liquid and transfer the vegetables to a large, clean, dry bowl.  Add the remaining ingredients except the green onion.  Mix thoroughly, then gently mix in the green onion.
Pack the kimchi into two clean pint jars, leaving 1 1/2 inches of headspace below the rib.  Push the vegetables down firmly into the jars so the liquid within the jars rises.
Seal the jars with a tight-fitting lid and let them sit on a rimmed baking sheet or plate at room temperature, away from direct sunlight.  Fermentation time varies, but in a warm room temperature, it should take 2 to 3 days; if it's cool, up to 1 week.  (My batch was ready after two days.)  Sample the kimchi regularly (it will fizz a little when you open the jar, a sign that fermentation is working).  Open jars over the sink in case they drip.
PS If you'd like to support this food blog, use this link
link when shopping at Amazon.  Thanks!!