Here's a sweet wake up for a busy morning.  Or a travel snack.  Or just yummy goodness that can be eaten any time of day, including dinner.
Parfaits for dinner?  Sure, why not.  There's some crunchy oats and toasted almonds, layered with creamy greek yogurt and topped with tangy citrus segments.  Doesn't that sound like a hearty meal?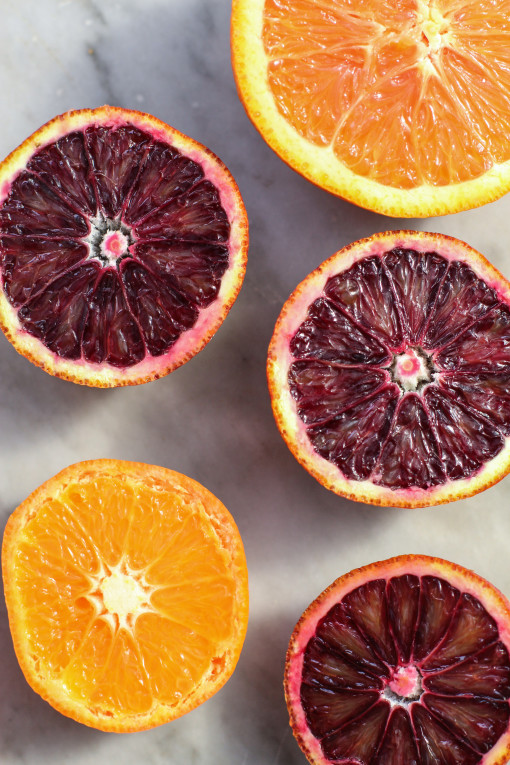 After making a big batch of this delicious vanilla almond granola the other day, I found myself super excited just to pour it in a big bowl and eat it with fresh berries and almond milk.  But then after a couple of bowls full of yummy, I wanted to mix things up and see how much fun I could have with my granola.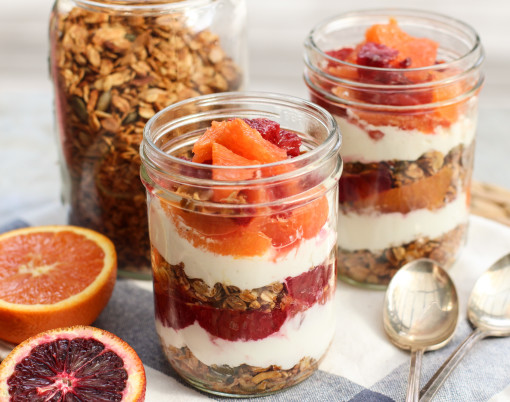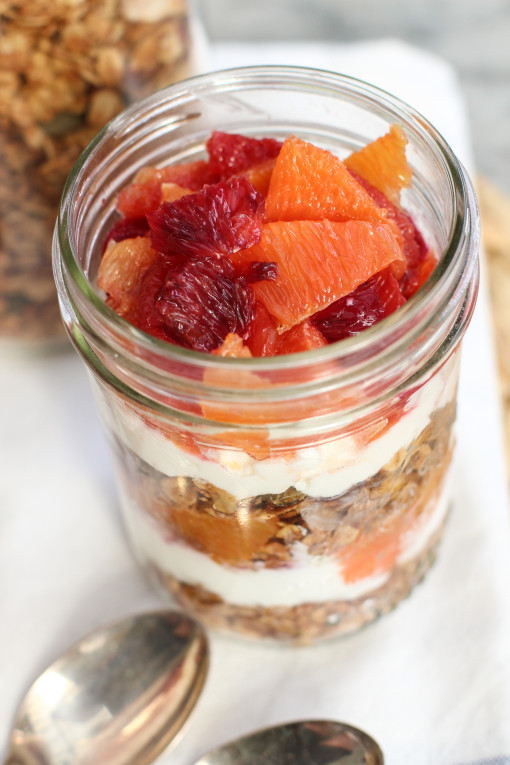 Enter the parfait.  Parfaits can be made with any fruit you have on hand and are made by layering the fruit with granola and yogurt.  As it's currently citrus season and my citrus bowl was overflowing, I used a combination of blood oranges, cara cara oranges and tangerines.  The blood oranges are a little on the tart side but are balanced really well with the floral cara cara oranges and sweet tangerines.  Make a couple of layers in a bowl and breakfast is served.  Or layer in jar, pop on a lid, and it's ready for travel or for a late day snack, or even dinner.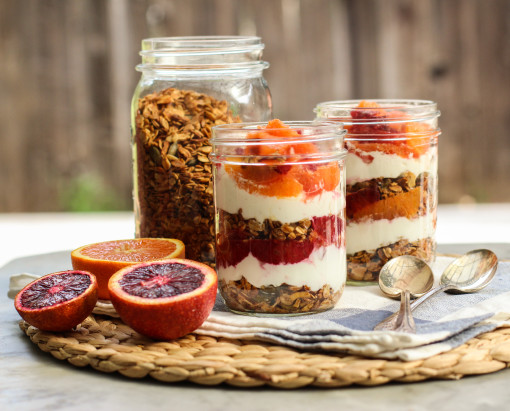 triple citrus and almond granola parfaits
makes four pint sized parfaits
2 cups granola (I used this recipe)
2 cups greek yogurt
2 cups citrus segments (I used a combination of blood oranges, cara cara oranges and tangerines)
In the bottom of one pint jar, place 1/4 cup of granola.  Add 1/4 cup of greek yogurt to the jar, spreading it evenly over the granola with a spoon.  Add 1/4 cup citrus segments to the top of the yogurt, spreading it evenly.  Repeat the layers one more time, finishing the top of the parfait with the citrus layer.  Repeat for the other three pint jars.
my notes: These can be made ahead of time and placed in the refrigerator for up to four hours.  I found that after four hours the granola starts to lose it's crunch.  If you are unfamiliar with "citrus segments" here's a link to a great tutorial.