It's not on purpose that I am posting back to back breakfast yummies, but I am so excited to share another healthy breakfast idea with you.  Do you like smoothies?  Who doesn't!  We are big smoothie drinkers here, sneaking all kinds of veggies into our toddler-sized smoothies, and packing our adult-sized ones with healthy greens and grains and all sorts of good for you ingredients.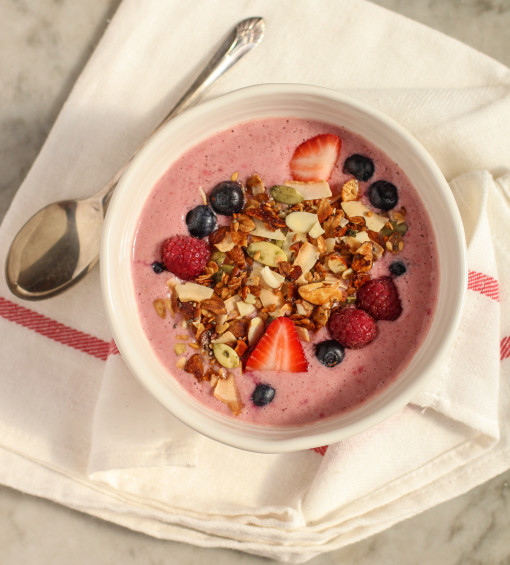 This is a smoothie idea that will fit all sizes.  Fresh strawberries, raspberries and blueberries are blended together with some tangy greek yogurt and sweet orange juice to make a super quick breakfast.  You could stop there – pouring it into a big glass and grabbing a straw…or you could get a little crazy and grab a spoon instead of a straw and change it into a smoothie bowl.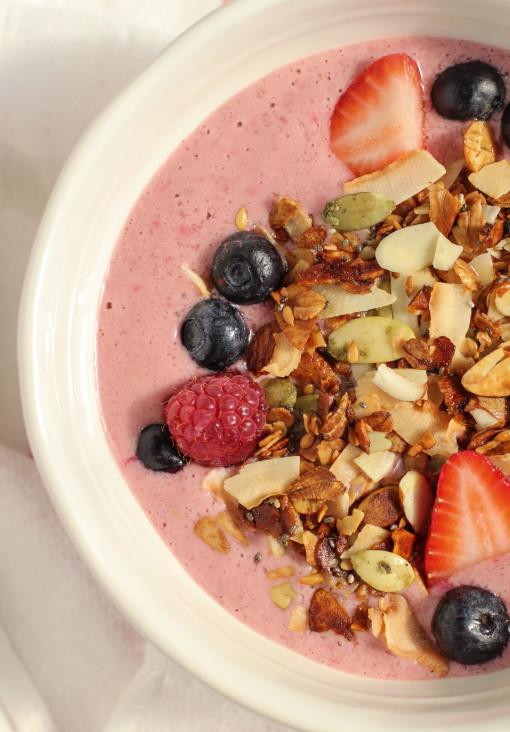 Topped with fresh berries and a handful of crunchy coconut granola, this smoothie turns from a breakfast on the run into a hearty-sit-down-and-take-your-time-what's-the-rush-anyway kind of breakfast.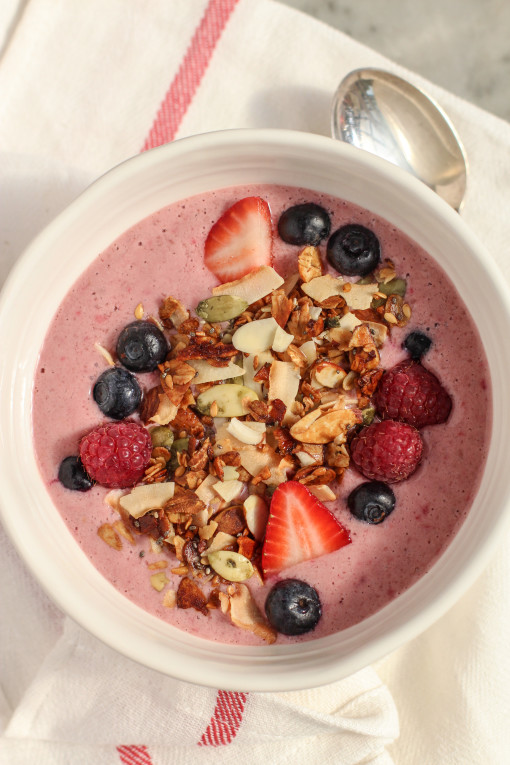 three berry yogurt smoothie bowl with coconut granola
makes two servings
for the smoothie:
1 cup blueberries
1 cup raspberries
1 cup strawberries
2 cups greek yogurt
1/2 cup orange juice
1/2 cup water
Place all ingredients in a blender and process until smooth.  Check the consistency and if needed, thin with more water.  Cover and chill until ready to use.
for the coconut granola:
1/2 cup rolled oats
2 tablespoons pumpkin seeds
1 tablespoon flax seeds
1 tablespoon chia seeds
1/4 cup shaved coconut
1 tablespoon coconut oil
1 tablespoon agave nectar
Preheat your oven to 350 degrees.  In a medium sized bowl, combine all ingredients and stir together completely.  Place the ingredients on a parchment lined baking sheet and bake for 10-15 minutes until golden brown, stirring once to allow the granola to cook evenly.
Remove the granola from the oven and allow to cool.
to assemble:
Pour the smoothie equally into two bowls.  Sprinkle the granola over the smoothie and top with fresh berries.