Let me start this post by saying, it's been awhile since I have dyed Easter eggs.  I mean, it's been such a long time between when I WAS a kid dyeing eggs and when I HAD a kid dyeing eggs that I forgot about the vinegar on the first go-round!  Silly me!!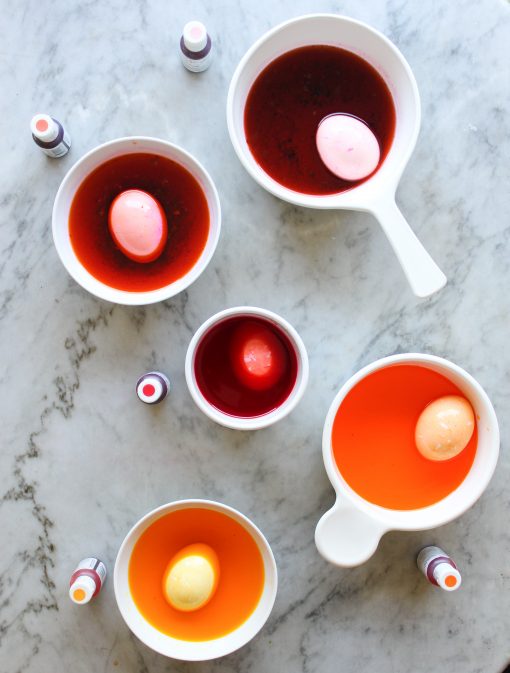 Dyeing hard boiled eggs is really easy – just mix some white vinegar in with boiling water, a couple drops of dye and drop in your hard boiled egg. Wait a minute or two to get a pastel colored hue – or longer to get a more vibrantly colored egg – and then just let them dry before giving them to the Easter bunny to hide.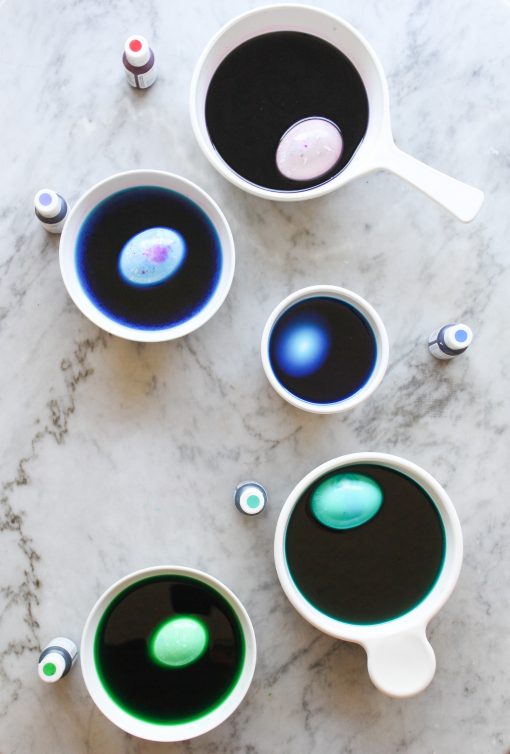 While the kiddos were dying their eggs, I was playing with some of the eggs to get different effects like these…
Wrap some rubber bands around the eggs before placing them in the dye to achieve some striped eggs: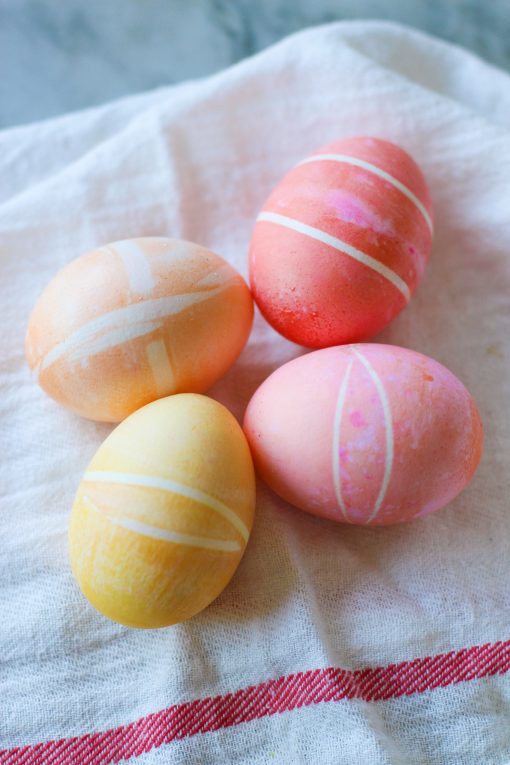 Or fill your bowls/cups only halfway full so that your eggs become two-toned without any extra work: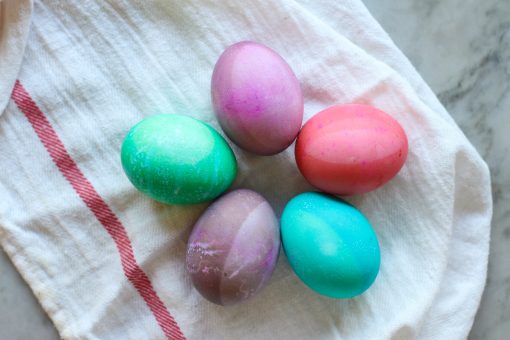 And my favorite – try different dyes.
When we first started dying eggs we used the little four-pack of dyes that you can find on any grocery store shelf, you know, the ones that have red, blue, green and yellow?  These work great for dying eggs but on a whim I set up some bowls with my gel dyes (I use these and love them!!) to see what would happen and was surprised by two things.
One, because the gel dye colors are created using many other sub-colors, your eggs will come out with all kinds of patterns, splotches, blotches and sprinkles which I really find quite beautiful:
And two, you can get such a great variance in color from the gel dyes that you just can't get from the grocery store dyes.  And that's how I got this rainbow:
All I did was open the box of gel dyes, picked out ten colors, dropped a few drops of each color into a bowl of vinegar-water, and then added the eggs.  The gel dyes took over and made these beautiful colors all by themselves!!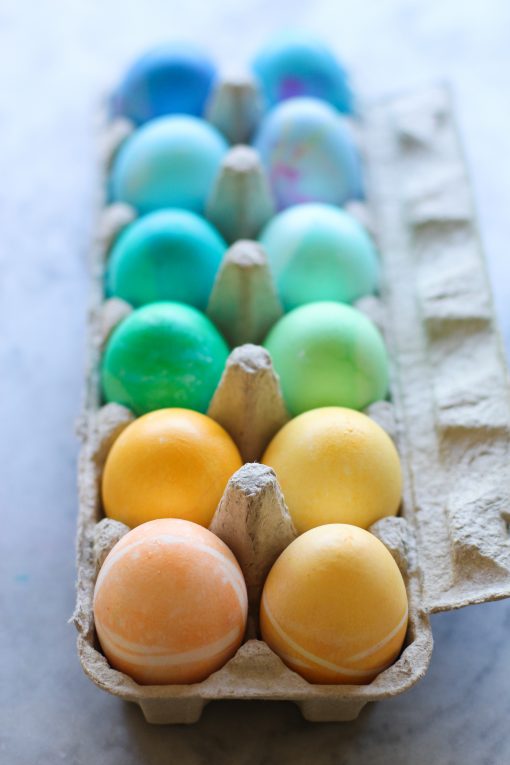 A super easy and beautiful rainbow of Easter eggs – ready for the Easter bunny to hide and the kiddos to find!!
Happy Hunting!
Jenn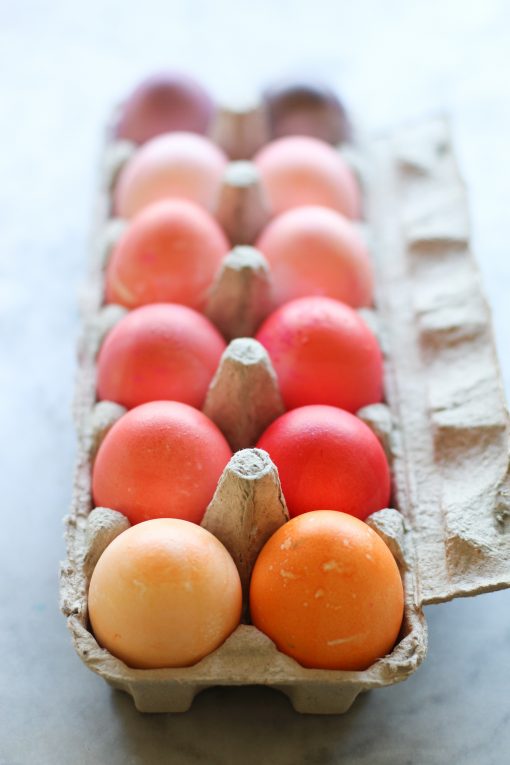 easy rainbow dyed easter eggs
makes two dozen dyed eggs
two dozen hard boiled eggs, cooled completely
newspaper, paper towels or old sheet
10 deep cups or bowls
5 cups boiling water
10 teaspoons white vinegar
gel dye (I use this brand and love it!)
Place the newspaper, paper towels or and old sheet over your work surface.  Combine the boiling water and vinegar.  Carefully pour the vinegar-water into your bowls and add a few drops of your dye to the water – using more drops of dye to get a vibrant hue, and less to get a pastel hue.
Using a slotted spoon, carefully set the egg into the dyed water and turn occasionally to color the egg completely.  Keep the egg in the water for about five minutes.
Remove the egg with a slotted spoon and set aside to dry completely.