Anyone else already prepping their Thanksgiving menu??!!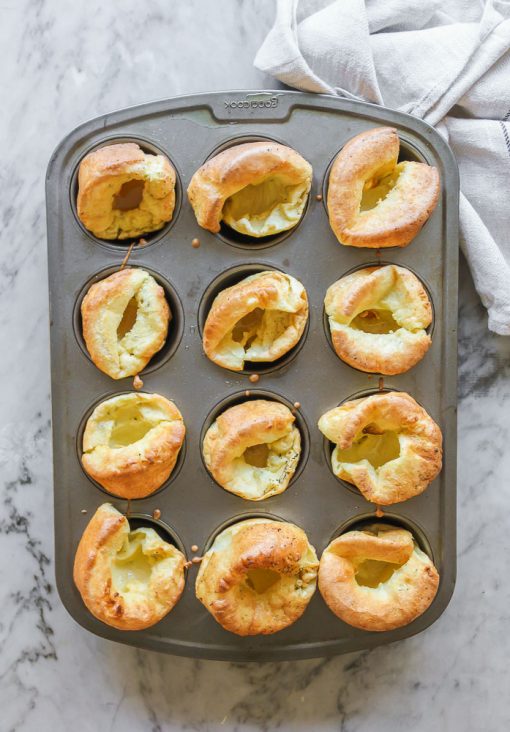 Yep, it's true.  We went from Halloween, straight into Thanksgiving at our house.  I partially blame this on my son's school which has already been sending home artwork with scarecrows and turkeys on it – the rest of the blame falls squarely on my shoulders….I mean, it's the biggest food day of the year and I've got to be prepared!!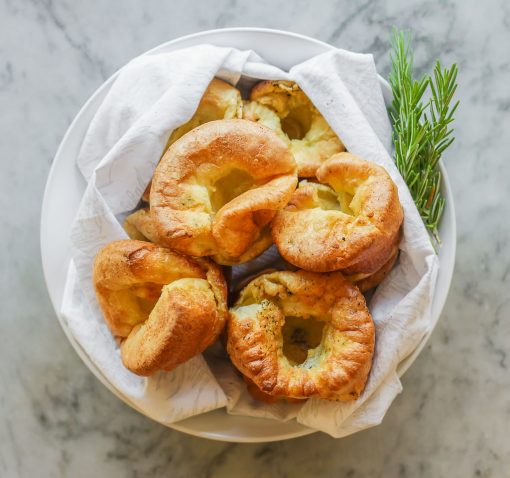 Yes, we will have turkey on the menu, front and center.  But the dishes I'm most excited about – the sides!!  I can make a whole meal from just the sides and have been known to do that on many occasions.  Where else can you have your own personal mini buffet as a meal?  Some veggies, a scoop of baked sweet potatoes, a serving of roasted autumn squash, and of course, some homemade bread.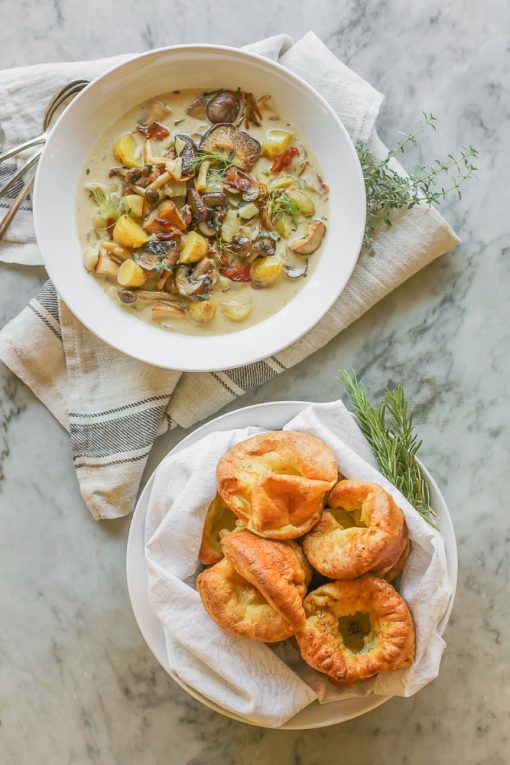 This year, I've been working on some quick and easy bread recipes to set on the table with all the sides, like some soft and buttery pull apart dinner rolls  and these rosemary popovers right here.
These popovers take about 15 minutes to cook and they take up only a small bit of your precious oven space so there's plenty of room (and time) to get everything else ready when the turkey is done cooking.  Just whip together some eggs, milk, flour, rosemary and salt and pour the batter into a smoking hot and greased muffin tin and you too can have perfectly warm and delicious rosemary popovers.
I'll be sending out some great Thanksgiving recipe ideas in the next couple of weeks so stay tuned if you are looking for some new and fun dishes to serve at your holiday table!  And if you are looking for any of the recipes I posted last year, check out the recipe tab on the website or follow me on Facebook, Instagram or Pinterest to see what holiday recipes made my favorites list!
XO,
Jenn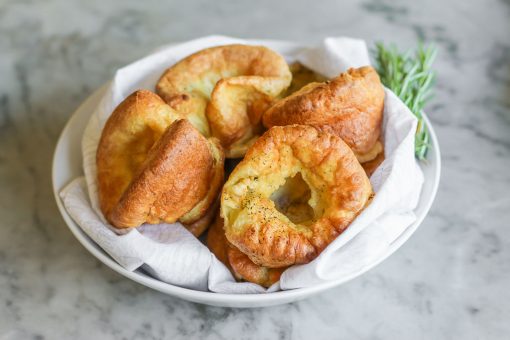 rosemary popovers
recipe adapted from Serious Eats
makes 12 popovers
4 eggs
1 cup plus 2 tablespoons flour
1 tablespoon chopped fresh rosemary
3/4 cup milk
1 tablespoon plus 2 teaspoons water
1/2 teaspoon salt
1/2 cup beef drippings, lard, shortening, bacon fat, or vegetable oil
Combine eggs, flour, rosemary, milk, water, and salt in a medium bowl and whisk until a smooth batter is formed. Let batter rest at room temperature for at least 30 minutes. Alternatively, for best results, transfer to an airtight container and refrigerate batter overnight or for up to 3 days. Remove from refrigerator while you preheat the oven.
Adjust oven rack to center position and preheat oven to 450 degrees.  Divide drippings (or other fat) evenly between two 6-well popover tins (see note above), or one 12-well standard muffin tin.  Preheat in the oven until the fat is smoking hot, about 10 minutes.
Transfer the pans to the top of your stove and divide the batter evenly between every well.  The wells should be filled between 1/2 and 3/4 of the way.  Immediately return to oven.   Bake until the popovers  have just about quadrupled in volume, are deep brown all over, crisp to the touch, and sound hollow when tapped – about 15 minutes.
Serve immediately, or cool completely, transfer to a zipper-lock freezer bag, and freeze for up to 3 months. Reheat in a hot toaster oven before serving.