Happy Weekend ya'll!!  Let's talk drinks today.  Frosty drinks with sugared rims, bubbly drinks, fruity drinks, and those delicious summer drinks that bring the very best in refreshment to a very hot day.
Just the other day I was making a batch of lemonade and put together a quick simple syrup to balance out the tangy lemon juice.  While I was in the kitchen, one of the kiddos came to ask me for some blueberries.  So I gave him a bowl full of blueberries and then randomly threw a handful of berries into the simple syrup pot.  After the sugar had dissolved in the pot, and the blueberries were slightly softened, the whole mess was strained and added to lemon juice, and some water, and ta-dah!  Blueberry Lemonade.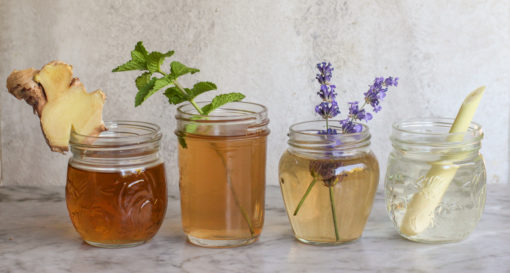 Well, blueberry lemonade for the kids.  We adults added some vodka and ended up make a Blueberry Lemon Drop because that's how we roll on Saturday night, haha.  But this creation got me thinking about all the different simple syrups that could be made and that's how I spent a few hours this weekend – creating flavored simple syrups and dreaming of Saturday nights when the kids are in bed!!  Who's with me?!?!
Making simple syrup is really easy and is the base of most cocktails and mocktails that you order at restaurants.  Equal parts of sugar and water are simmered together until the sugar dissolves.  If you want to add a flavor to your syrup then you can add fruit, herbs, or spices to your simple syrup, allowing the items to steep in the syrup as it cools.  Simple syrup is usually made with granulated sugar, but you can also make it with almost any kind of sweetener, like honey, maple syrup or rice syrup.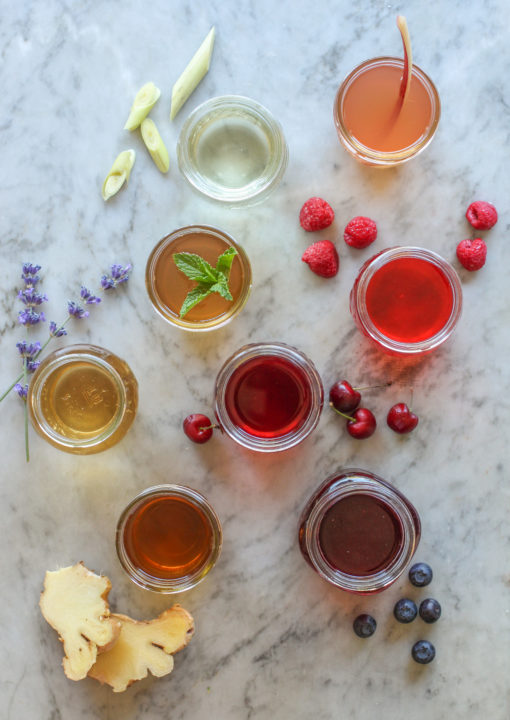 Here I made flavored syrups with ingredients that I found around my house and garden – lemongrass, rhubarb, raspberry, cherry, blueberry, ginger, lavender, and mint.  You can use these flavored syrups to make homemade mocktails or cocktails, to make your own ginger ale, or even drizzle them on your bowl of vanilla ice cream.
It's really easy and fun to do – just pick your favorite drink recipe and make up a batch of flavored simple syrup to pour in with the rest of the ingredients.  Add ice, garnish, and sit back and enjoy!
Cheers!!
XO,
Jenn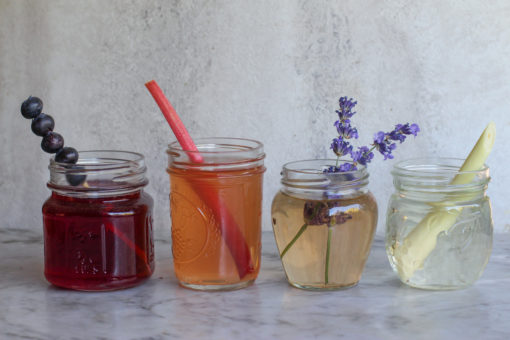 flavored simple syrup
makes one batch (about 2 cups) 
2 cups granulated sugar
2 cups water
Place a medium sized heavy bottomed pot onto your stove.  Add the sugar and water to the pot and bring mixture to a boil, stirring occasionally to help the sugar dissolve.  Once the sugar has completely dissolved, and the mixture has come to a boil, remove the pot from the heat and stir in your flavoring agent (see below for recommendations.)  Allow the syrup to sit for at least 30 minutes.  Once the simple syrup has steeped and cooled a bit, strain it through a mesh strainer and discard the flavoring agent.  You can use the simple syrup immediately or store, tightly covered, in your refrigerator for up to a week.
flavoring agent recommendations:
ginger – one piece about 3 inches long, peeled and roughly chopped  (use to make homemade ginger ale, or make a ginger-lime mojito)
rhubarb – 1 cup, roughly chopped  (on top of vanilla ice cream, or make a rhubarb collins)
raspberries – 1 cup, slightly mashed (raspberry lemonade, or make a raspberry champagne cocktail)
lavender – three sprigs, whole  (lavender soda or make a lavender-vanilla martini)
mint – three sprigs, leaves removed and roughly chopped (mint iced tea or make a mint julep)
cherry – 1 cup, whole, slightly mashed (sparkling cherry limeade – my recipe here – or make a cherry bomb)
blueberry – 1 cup, whole, slightly mashed (blueberry lemonade or make a blueberry lemon drop)
lemongrass – 1 stem, roughly chopped  (lemongrass green tea or make a white mule)
my notes: all of these recipe ideas above can be found on the internet with the above search terms.  My goal is to make each of these recipes at some point so I will be adding the links to the recipes once I get them posted.  Cheers!!