I started my yearly clean-out-and-eat-the-pantry-or-else last week and came across some fun things that I needed to use asap.  I rehydrated some dried Spanish chilies and made a mean vegan chili with the perfect hit of smoky spiciness.  Then I made shakshuka with a batch of turmeric that had somehow made it's way to the very, very back recesses of my spice cabinet.  And then I came across a jar of dried mung beans.
Oh, tiny, tasty, little mung beans.  What in the world will I do with you??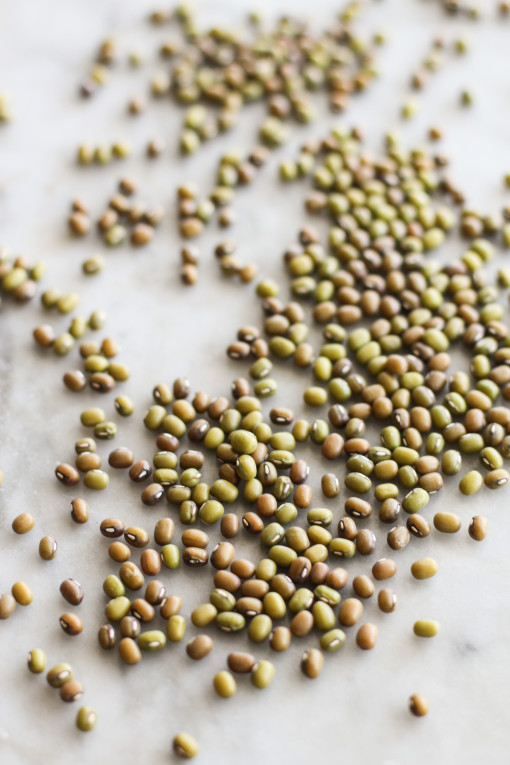 I found some great ideas on my favorite blogs.  Would it be a simple and beautiful mung bean soup on a cold winters day?  (check out these pics!) Or maybe this very cleansing mung bean yoga bowl?
Well, I didn't make either one, although both have been tagged for future use at a later date.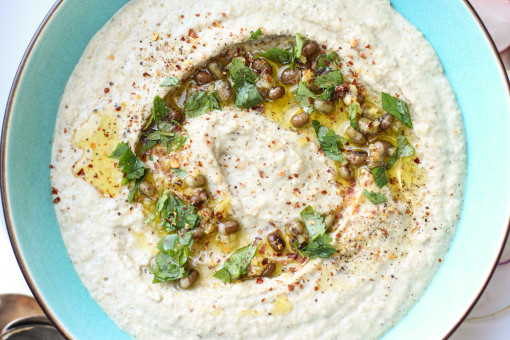 Instead, having just gathered a beautiful bounty of Meyers lemons from my good friend K, I made a batch of preserved lemons and couldn't wait to sprinkle them on something warm and hearty.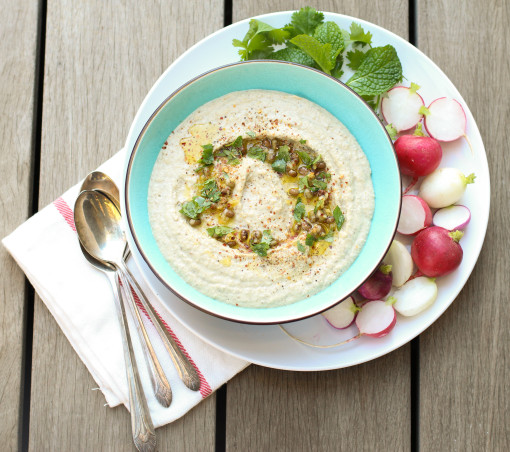 Hummus it is.
A warm hummus bean dip.
Which might sound a little strange but it's like a refried bean dip, but healthy and lemony and oh so good!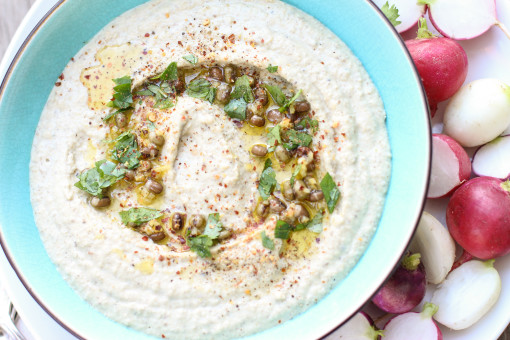 warm mung bean dip with preserved lemon
1 cup dried mung beans
4 cups vegetable stock or water
2 garlic cloves
3 tablespoon tahini
1 teaspoon toasted and ground cumin
salt
black pepper
1 lemon
1/4 cup extra virgin olive oil, plus more for drizzling over the top
3 tablespoons preserved lemon, minced finely
1/4 cup fresh, chopped herbs – I used cilantro and mint but you can use any combination that makes you happy
Wash and pick through the dried beans, discarding any debris or rotten beans.  Place beans in a bowl and cover with water.  Leave the beans to soak overnight, or at least 12 hours.
Drain the beans and place them in a medium sized pot with the vegetable stock.  Bring the beans to a boil and then turn down to a simmer.  Cook the beans until tender – about 30 to 40 minutes.  Once the beans are cooked, drain the beans and reserve both the beans and the cooking liquid.
Place the garlic cloves in a food processor and mix until minced finely.  Add the tahini, cumin, a pinch of salt and black pepper and a squeeze of lemon (about 2 tablespoons) and blend until combined.  Add the warm beans to the processor and mix until just combined.  With the processor running, slowly drizzle in the olive oil, followed by the warm cooking liquid – only adding enough to make a smooth paste.
Taste the hummus, adjusting seasonings and lemon as needed.  Place the hummus into a serving bowl and drizzle a bit more of olive oil over the top.  Sprinkle the preserved lemon over the olive oil and add a sprinkle of fresh herbs.  Serve immediately for a warm dip, or refrigerate for a later date and serve cold.