This weekend I lived off of these socca wraps.
I had them with fluffy scrambled eggs topped with the very last of the garden tomatoes, and then again for lunch with some thinly shaved carrot and cucumber with tahini sauce and cold tofu, and then once more for dinner baked with mushrooms and squash and goat cheese.
I might have even snuck in another bite or two before bed.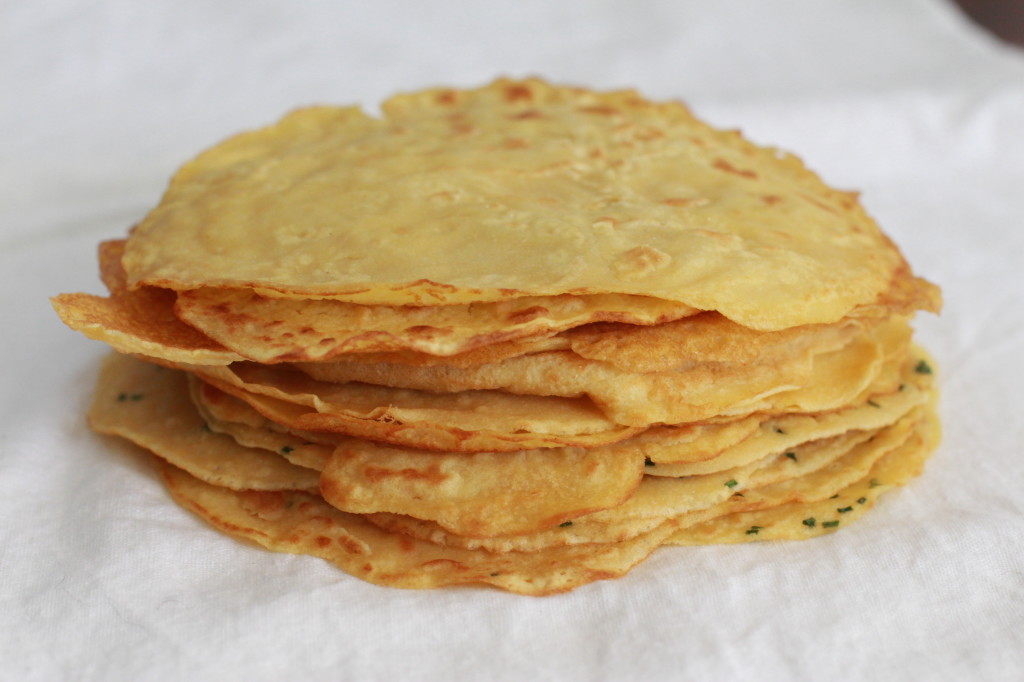 I'm telling you, I couldn't stop.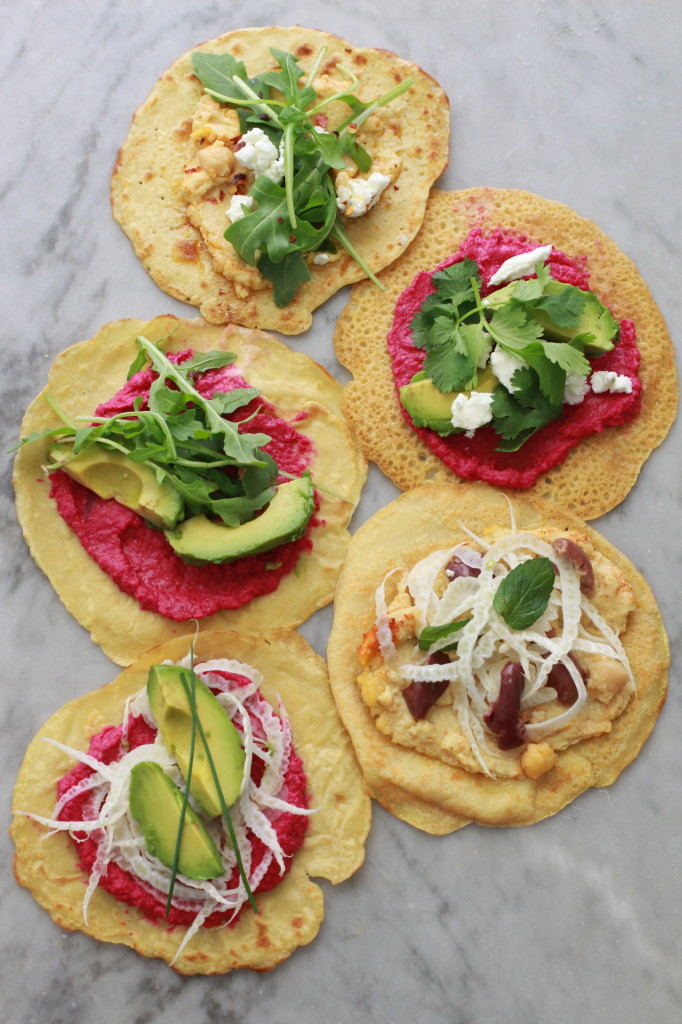 These crepes are light and fluffy but completely filling at the same time.  Yum.
Oh, and they are healthy.  Double yum.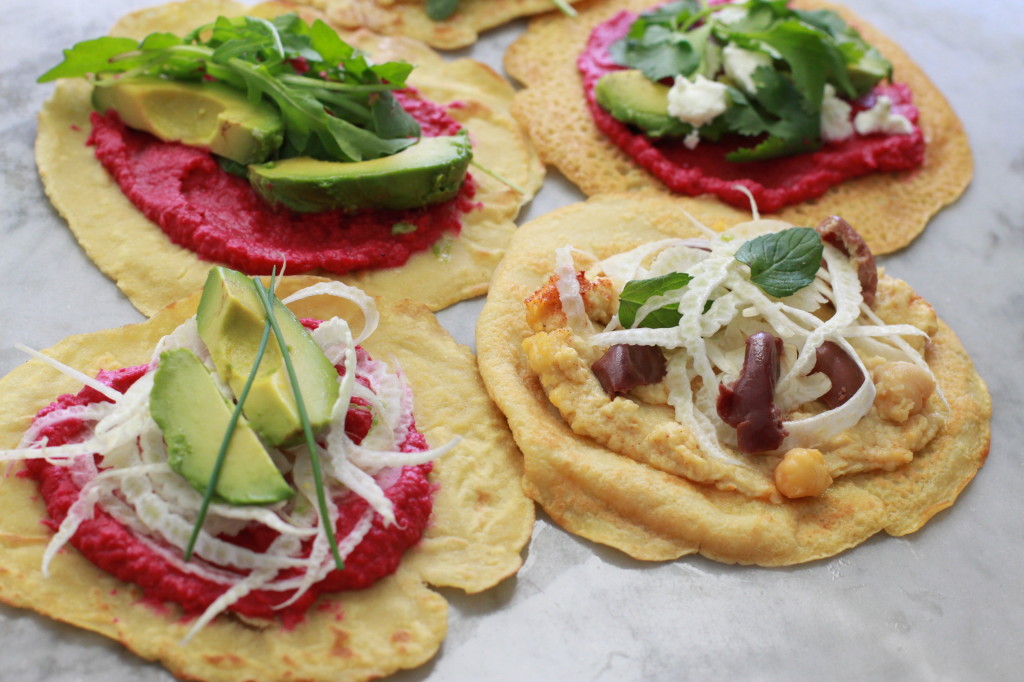 Top with your favorites and enjoy.  Breakfast, lunch, dinner, and after dinner if the mood strikes.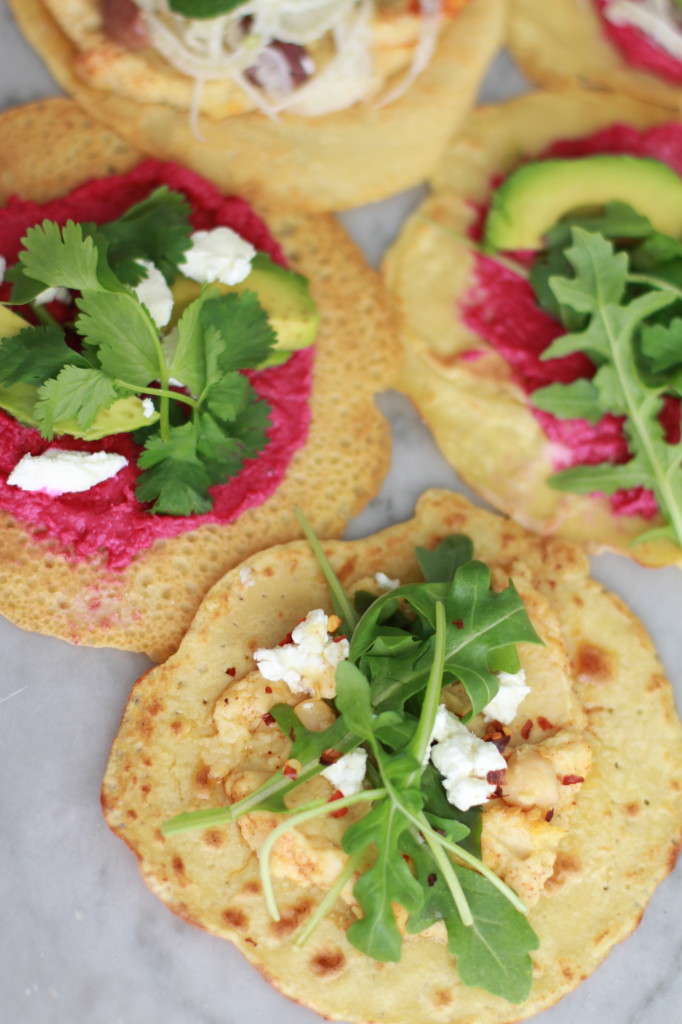 socca wraps
recipe inspired from this post on como.come.cami
1 cup chickpea flour
1 1/2 cups water
In a bowl, stir together the chickpea flour and water.  Cover and let sit for at least 8 hours or overnight so that the flour absorbs all of the water.
When you are ready to make your wraps, heat a nonstick pan over medium-high heat.  Spray with non-stick spray and pour the batter into the middle of the pan.  Immediately swirl your pan to get the desired size of wrap and place the pan back on the heat.  Turn the wrap over once you can see that it is set  and there are small bubbles along the edge of the crepe.  The wrap is finished cooking on the second side once you are able to move the pan around and the wrap does not stick to the pan.
toppings
You can use almost any topping on these wraps but here's what I used:  hummus (recipe below), beet hummus (recipe below), chickpeas, goat cheese, arugula, shaved fennel, lemon, chili pepper flakes, cilantro, kalamata olives, avocado
notes:
The wrap recipe makes about five 8-inch wraps or ten 4-inch wraps.  I used a 1/4 cup measure to make the 8-inch wraps and a 1/8 cup measure to make the 4-inch wraps. The wraps can be made the day before you want to eat them, just wrap them tightly in plastic and keep them refrigerated.  You can add fresh herbs to the wrap batter too – I added thinly sliced chives to half of the batter in this recipe and ate those with my scrambled eggs and tomatoes – delicious!
chickpea hummus
15 oz can of chickpeas, drained
1 tbsp. tahini
1 lemon, juiced
1 garlic clove, peeled and minced
1/4 cup olive oil
1/4 cup water
salt and pepper
In a food processor, add the chickpeas, garlic, tahini and lemon juice and pulse a few times to just combine.  With the processor running, drizzle the oil into the hummus, followed by the water.  Add salt and pepper and taste and adjust as needed.
beet hummus
Take half of the hummus from the recipe above and mix in one roasted and grated beet.