Rain, rain go away come again like NEXT YEAR – amiright??!!??
I think I have grown gills at this point…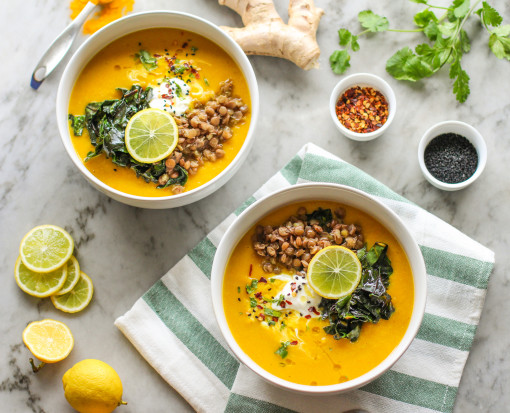 As much as I love the rain and colder weather, this dreary weather seems to give our household at least one cold every week.
Both of my adorable kiddos have come down with colds again.
Blaaaaaah.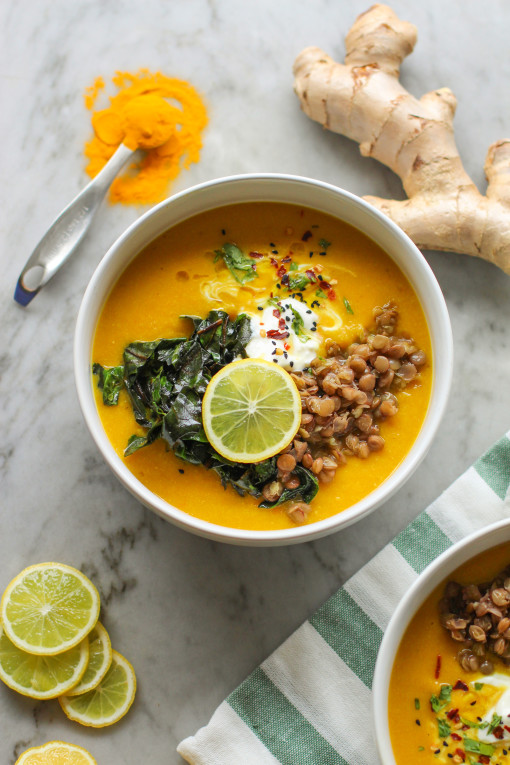 Even though they come to me for comfort – coughing and with runny noses, etc – I'm determined (1) to make them feel better and (2) to not get another cold this winter.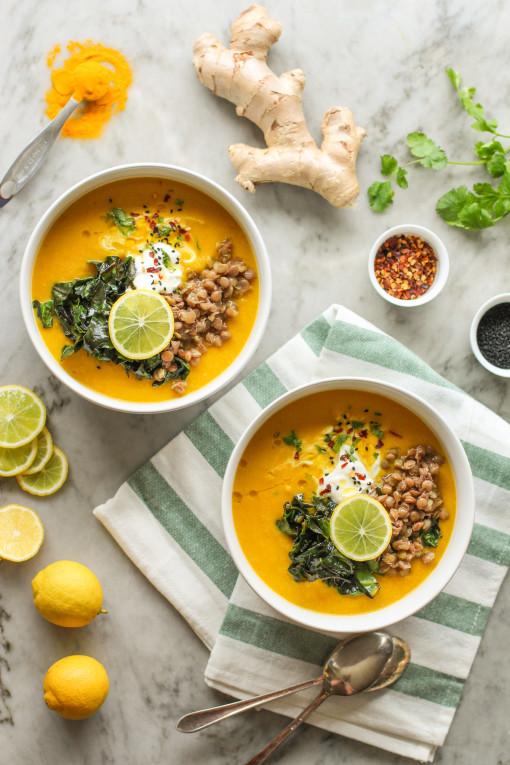 So I whipped up a quick red lentil soup with beet greens, ginger, turmeric and lemon.  I'm hoping all these nourishing and vitamin packed goodies will keep me feeling great as I snuggle my littles back to health.
Hope this winter ends soon!!
XO,
Jenn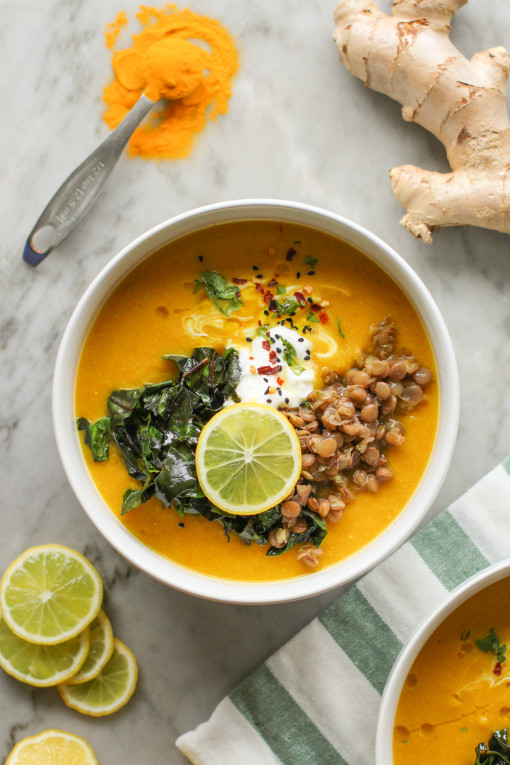 red lentil, turmeric and ginger soup
makes four servings
3 tablespoons olive oil
2 garlic cloves, minced
1 cup yellow onion, roughly chopped
2 inch piece of ginger, peeled and roughly chopped
1 tablespoon turmeric
2 tablespoons lemon juice
6 cups vegetable stock or water
3 cups cooked red lentils, divided
1 bunch braising greens (beet greens, spinach, kale, swiss chard, etc) washed, stemmed and roughly chopped
salt
black pepper
In a large stock pot over medium-low heat, add the olive oil, garlic and onion.  Cook until the onion is translucent, stirring often, for about five minutes.  Add the ginger, turmeric and lemon juice to the onion mixture and stir to combine.  Cook for another three minutes.  Add the vegetable stock and scrape the bottom of the pot to remove the spices and onions.  Add 2 cups of the lentils (reserving one cup) to the pot.  Turn the heat to high and bring the soup to a boil.  Then turn the heat down and simmer for 20 minutes.
Carefully remove the hot soup to a blender and puree until smooth.  Return the soup to the pot and season with salt and pepper.
Cook the greens in a large skillet over high heat, adding a good glug of olive oil to the skillet and stirring the greens around until wilted.  Season with salt and pepper.
Ladle the soup into bowls, top with a bit of the braised greens and some of the reserved lentils and serve.  Additional topping ideas – dollop of yogurt, chopped cilantro, lemon wedges, chili pepper flakes and even a big spoonful of this chili-orange oil