Happy 2015 everyone!!  We spent a quiet evening at home which was just what the doctor ordered.  Rest, relaxation, and lots of planning for the new year to come.  We are so blessed and it was so great to just give thanks for the wonderful lives we have and the people that are in them.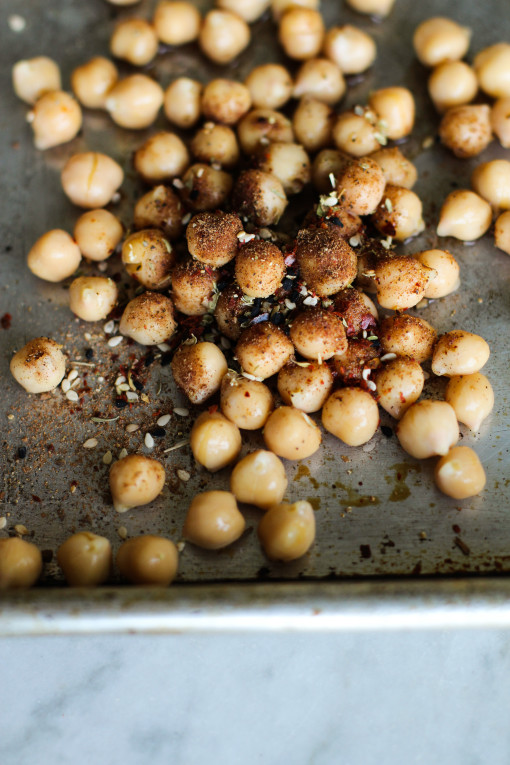 Have you made any New Year's resolutions?  I normally don't as I always seem to hold to them for only a few days before giving up as it's always some very dramatic resolution that I seem to make.  So this year, I am taking a more simple approach: no resolutions, just trying to be better at whatever I already do now.  Striving to eat better, to spend more time outdoors, to focus on the little things – the sound of crunching leaves under my boots, or the twinkle in my sons eye when he laughs – and to find joy in the every day.
How about you?  I'd love to hear what your plans are for the new year!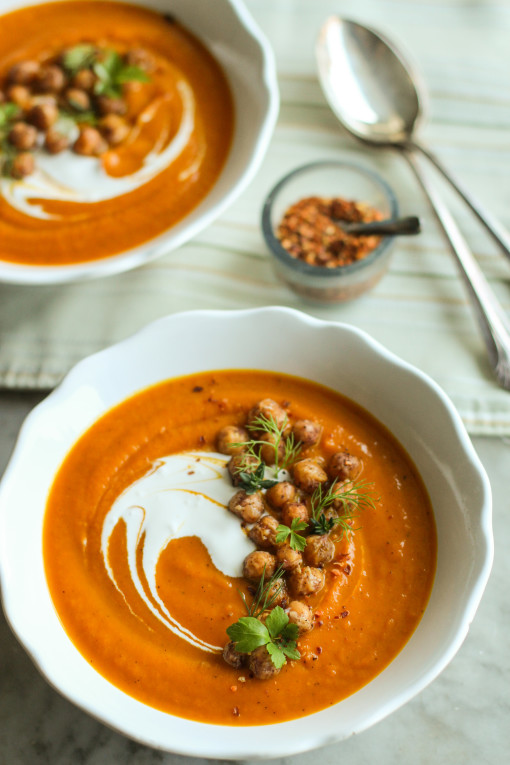 Okay, on to today's recipe.  It's delicious and I think you will really love it.
Spicy carrots blended to a thick puree.  Top it with some tangy greek yogurt and some crispy roasted chickpeas, and it's a meal in a bowl.  Hearty, warm, healthy – just what I need to get the year started on the right foot.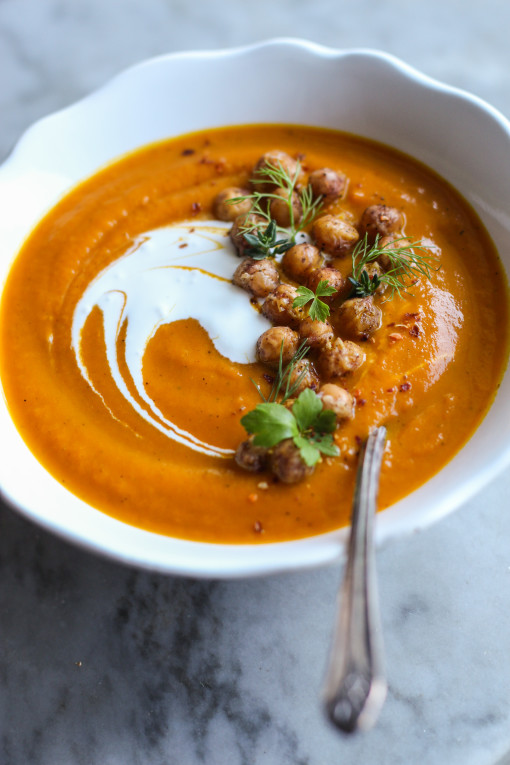 Moroccan carrot soup with crispy chickpeas
5 large carrots, peeled and cut into 1-inch pieces
1 small yellow onion, diced
3 cloves of garlic, minced
extra virgin olive oil
1 teaspoon cumin
1 teaspoon turmeric
2 teaspoons coriander
1/2 teaspoon mild paprika
1/2 teaspoon cinnamon
5 cups vegetable broth
salt
black pepper
2 cups cooked chickpeas
1 1/2 tablespoon garam masala
1 cup greek yogurt
Preheat your oven to 400 degrees and line a baking sheet with parchment paper.  In a bowl, toss the chickpeas with the garam masala, a pinch of salt and black pepper and a nice glug of olive oil.  Place the chickpeas on the baking sheet and place into the oven.  Roast the chickpeas for about 20 minutes, stirring occasionally to cook evenly.  Remove from the oven and let cool.
In a large pot over medium-low heat, add a nice glug of olive oil and sauté the onions and garlic together until soft, about five minutes.  Add the spices and toast for three minutes, then add the carrots and the stock to the pot.  Bring the mixture to a boil, and then  reduce the heat to a simmer.  Cook the soup for at least 30 minutes, and continue cooking until the carrots are fork tender.
Once the carrots are cooked, carefully puree the soup in a blender until completely smooth.  Return soup to the pot and season with salt and black pepper.
To serve, ladle the soup into bowls and garnish with a dollop of greek yogurt and some crispy chickpeas.