I am popping in here quickly today.  Just taking a small break from building our new vegetable garden – yay!!!  I can't believe this is the year that we will finally get to grow our own vegetables, just here, in our own backyard.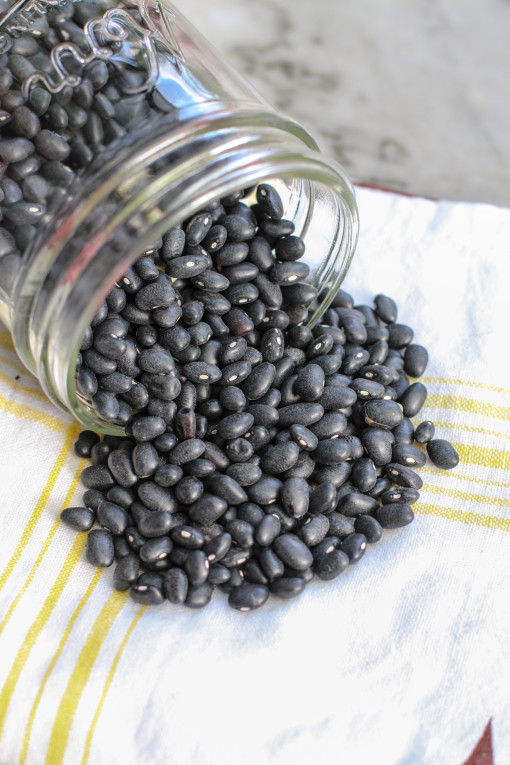 Updates on all things garden to come shortly, but in the meantime I wanted to share this delicious and really hearty vegan black bean and sweet potato stew that I made with just the ingredients I had on hand.  This stew is really easy to make, and takes just under an hour of cooking time before you can fill your belly.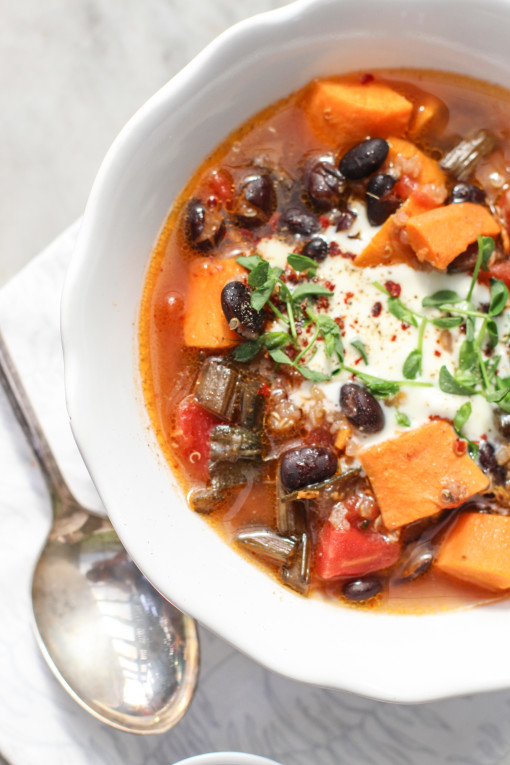 You can change out any of these ingredients for something else you might have available – white beans for black, winter squash for the sweet potatoes, spinach for the beet greens, and even rice for the quinoa.  You can make this soup into anything that you want it to be, and make it all your own.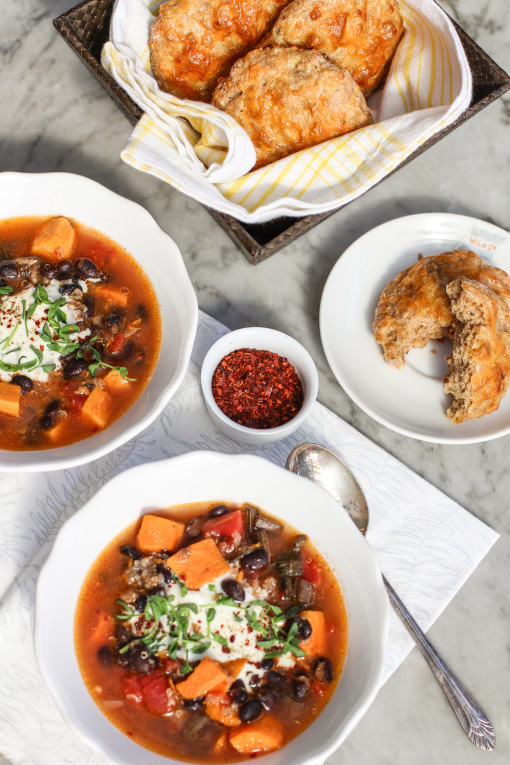 Okay, gotta get back to all things garden…
black bean and sweet potato stew
3 tablespoons extra virgin olive oil
2 garlic cloves, minced
1/2 cup chopped yellow onion
1 cup washed and chopped beet greens
6 cups vegetable broth or water
1 15 oz can no salt diced tomatoes
1 tablespoon ground coriander
1 tablespoon mild paprika
1 large or 2 medium sized sweet potatoes, cut into one inch chunks
2 cups cooked black beans
1 1/2 cup cooked quinoa
1 teaspoon black pepper
1 teaspoon kosher salt
2 tablespoons fresh parsley, chopped
In a large pot, over medium high heat, combine the olive oil, garlic, onions, and beet greens.  Cook, stirring occasionally, for about five minutes, or until the onions become opaque.  Add the beet greens, vegetable stock, tomatoes, spices and sweet potatoes and bring the stew to a boil.  Once it boils, turn the heat down, cover the pot and simmer the stew for 20 minutes.
Add the black beans, quinoa, salt, pepper and parsley and simmer the stew for another 20 minutes.  Ladle soup into bowls and top with a dollop of greek yogurt or some sliced avocado if you want to keep it a vegan dish.