It's been raining.  And it's awesome.  I love the rainy days – movies, snuggling on the sofa, coloring books and lots of time in the kitchen.  I wasn't sure what I was going to make but I had one bunch of dark purple kale, one butternut squash that was looking at me all week, and some freshly ground turkey.
Oh, the possibilities.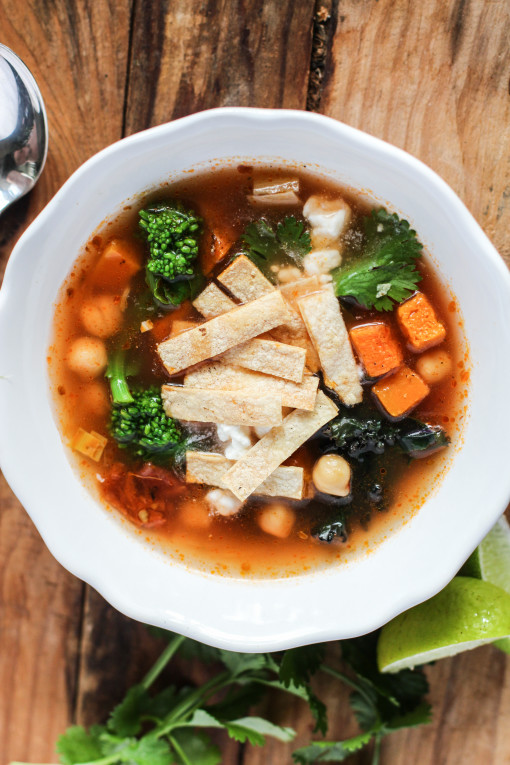 I could make roasted butternut squash with toasted kale chips.  Or, maybe turkey meatball soup with butternut squash and kale pesto.  Or even turkey burgers with roasted butternut squash mayo and grilled kale salad.  Oooo!  And maybe a poached egg on top!
Okay, that last one sounds a little bit weird.  Just a bit though…
Anyway, as you can probably tell, I didn't have any idea what I was going to create.  I just wanted to cook.  So I peeled and diced the butternut squash.  Then I tossed it with some olive oil and salt and pepper and tossed it in the oven to roast.
And when I looked over and saw that my little toddler man was just as happy flipping the pages of his various books while I was playing in the kitchen,  I started looking around for some inspiration.
Butternut squash soup is always a crowd pleaser, but I wanted something more exciting.  Something with a bit more…ta-dah!  And then I saw this recipe from the food blog The Year In Food.  I scanned the recipe and interesting enough, I had all of the ingredients, and more.
So here is the perfect "it's raining outside and I want something delicious simmering on my stove" soup.  Or "greens, beans, butternut squash, and a bit of heat" soup.
Those must be the longest titles ever, but it's completely worth the typing.  And the cooking.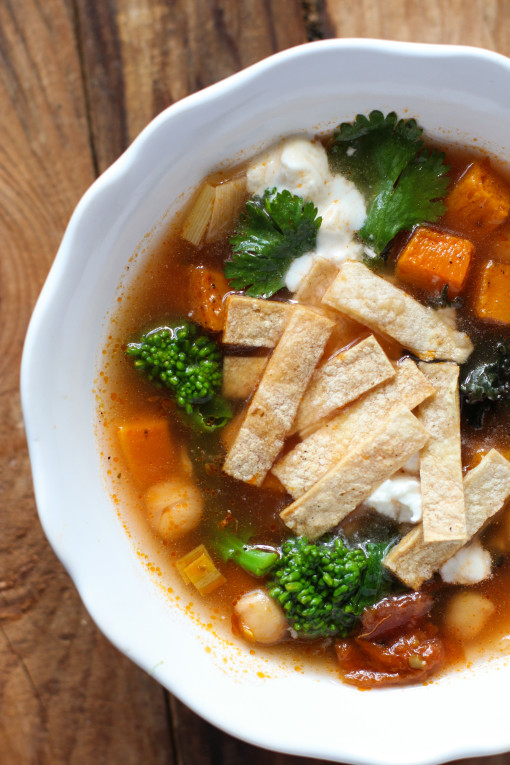 greens, beans, butternut squash, and a bit of heat soup
inspired by The Year in Food
extra virgin olive oil
1 leek, white part only, washed and trimmed and cut into small-ish pieces
2 garlic cloves, minced
3 chipotle peppers
1 cup diced tomatoes, with juice
2 tsp dried oregano
6 cups vegetable stock or water
2 cups butternut squash, peeled and diced into small-ish pieces
2 cups cooked beans – garbanzo, black, pinto, or a mix of all three
2 cups greens, washed and trimmed – kale, spinach, broccoli rabe, or a mix of all three
salt and black pepper
optional toppings: lime wedges, goat or feta cheese, cilantro sprigs, tortilla strips
Pour a nice glug of olive oil in a medium stock pot and warm over medium-high heat.  Add the leek and cook for about five minutes, stirring occasionally.  Add the garlic and cook for about one more minute.  Add the peppers, tomatoes, oregano and vegetable stock.  Turn the heat up to high and bring the soup to a boil.  Once it comes to a boil, turn the soup down to medium heat and stir in the butternut squash, beans, and greens.  Cook until the greens have wilted.  Season with salt and pepper.  Serve the soup topped with some cilantro, squeeze of lime, a couple of sprinkles of cheese and a handful of toasted tortilla strips.
my notes: I use chipotle peppers out of the can.  As the can holds more than I can possible use at one time, I empty the rest of the can into a freezer bag and place it in the freezer.  When I need another pinch of pepper, I break of a piece from my freezer stash.