This week has been an amazing week.  Someone lifted the gloomy cloud of morning sickness and I immediately rose to the occasion.  Heading to the gym for the first time in 11 weeks was daunting at first, but I felt so great that I wanted to keep going past the re-introductory hour that I talked myself into.  However, there were a few things that brought me to a stop after that first hour back in the groove…..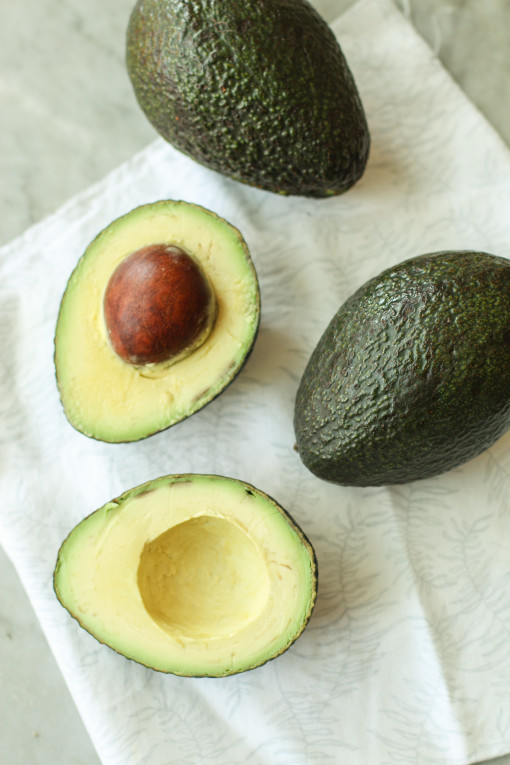 I had to pee.  Like every 10 minutes.  Seriously.  Pee-pee dancing on the treadmill anyone??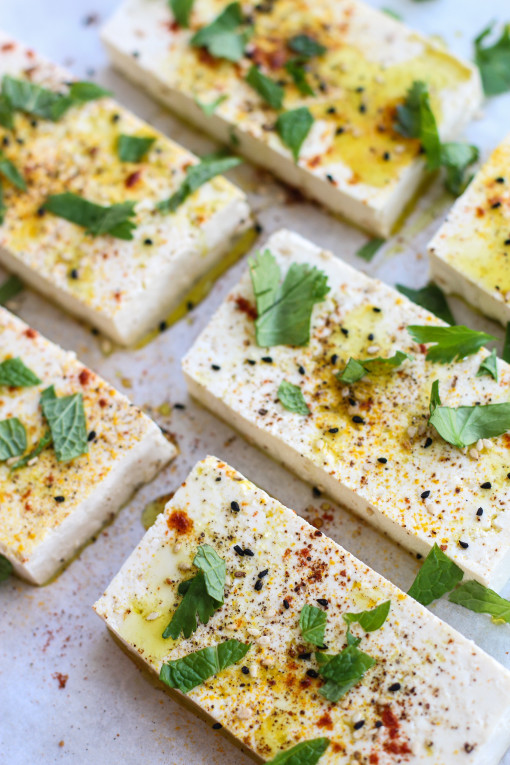 And I was starving.  Like STARVING-STARVING.  Like I'm going to start gnawing on the treadmill handles pretty soon if I don't get some food in my gullet.  And that's after eating a full breakfast and having a fruit smoothie before said gym departure.
Side note:  Have you guys ever seen the Saturday Night Live skit in which Chris Farley and Adam Sandler are playing "petite" gap girls?  But Chris Farley is so hungry he's shoving food non-stop into his face?  (click here, if you haven't seen it- sooo funny!)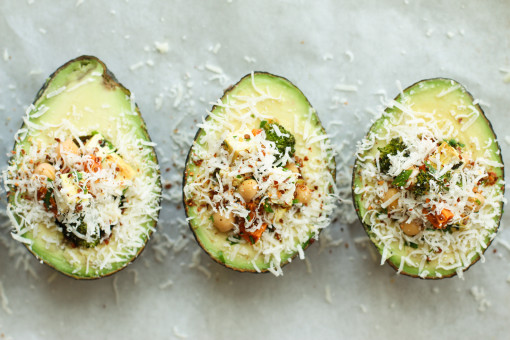 Sadly, that's me.  Or happily, that's me.  Depends on how you see it I guess.  I blame it on the growing baby.
So while I was treadmilling, I was trying to dream up things that I could eat while walking nowhere.  This recipe is NOT something that I would try to eat on a treadmill though.  Slightly dangerous walking, trying to keep balanced and all while spooning out delicious and cheesy roasted vegetables and avocado.  However, I would recommend having this for lunch while seated stationary.  I'll keep thinking of treadmill food.  Until then….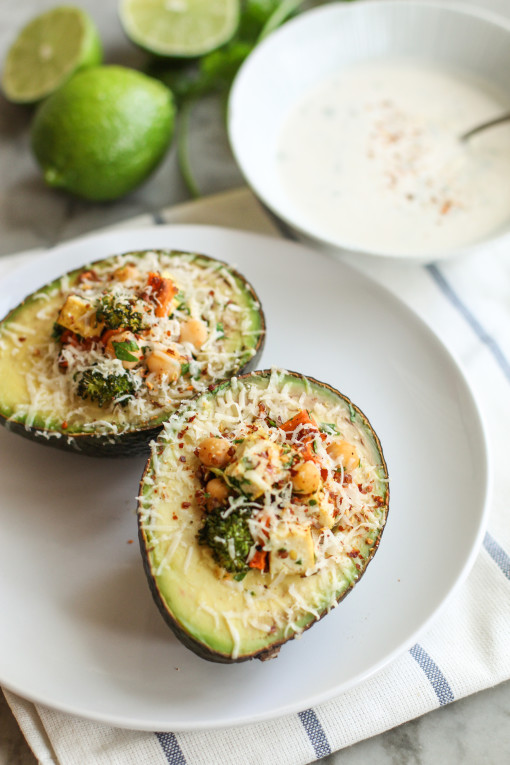 roasted avocados with cilantro-lime yogurt
2 barely ripe avocados
1 cup roasted vegetables of your choice (I used a combination of sweet potatoes and broccoli)
1/4 cup chickpeas, or other bean
3 tablespoons cooked quinoa, or other grain
1 smaller piece of roasted tofu (recipe follows)
extra virgin olive oil
hard grating cheese (I used parmesan)
2 tablespoons fresh cilantro, minced
1 lime
1/2 cup greek yogurt
salt
black pepper
for avocados:
Preheat your oven to 400 degrees.
Cut the avocados in half and remove the pits and set on a baking sheet lined with parchment paper.
In a small bowl, add the roasted vegetables, chickpeas, quinoa, tofu and a nice glug of olive oil and stir to combine.  Using a smaller spoon, fill the avocado with the stuffing, piling it high.
Grate some of the parmesan cheese over the top – as much or as little as you like.
Place the avocadoes in the oven and roast until the cheese is just melted.  Mine took about 10 minutes.
Remove from the oven and serve immediately with a cilantro-lime yogurt drizzle.
for the cilantro-lime yogurt:
In a small bowl, combine the yogurt and cilantro.  Add a pinch of black pepper and salt and a squeeze of lime juice.  Stir, taste, and adjust as needed.
for the roasted tofu:
1 block of extra firm tofu, drained and cut into 5 or 6 smaller sized "blocks"
1 tablespoon of various spices (I used nigella seeds, paprika, sesame seeds, turmeric, black pepper)
3 tablespoons of various fresh herbs, minced (I used cilantro and mint)
extra virgin olive oil
Preheat your oven to 400 degrees.  On a parchment lined baking sheet, place the smaller pieces of tofu, leaving a small spaces between each piece to allow the water to drain out.
Place a nice glug of olive oil over the tofu and sprinkle the spices and herbs over the top.
Put the tofu in the oven and roast for about 20 minutes or until the tofu shrinks by half and gets a nice crust.  Remove from the oven, chop into smaller pieces for the avocado stuffing or place in the refrigerator for a later use.
my notes:  The great thing about this recipe is that you can make it using whatever leftovers you have in your fridge.  I opened mine and found the things listed above, but you can certainly make this with whatever floats your boat.  I used the extra-large sized avocados because I really wanted to eat lots of stuffing,  (What?  I'm pregnant. )  but you can make this with any sized avocadoes.  You might need to scoop out a bit of the middle of the avocado meat to make a bigger vessel for your stuffing though.  Also, to make this a vegan dish, substitute the cheese with a vegan cheese and omit the yogurt out of the sauce.  A squeeze of lime and some chopped cilantro would be perfect on top!