As promised…. tomato focaccia!!!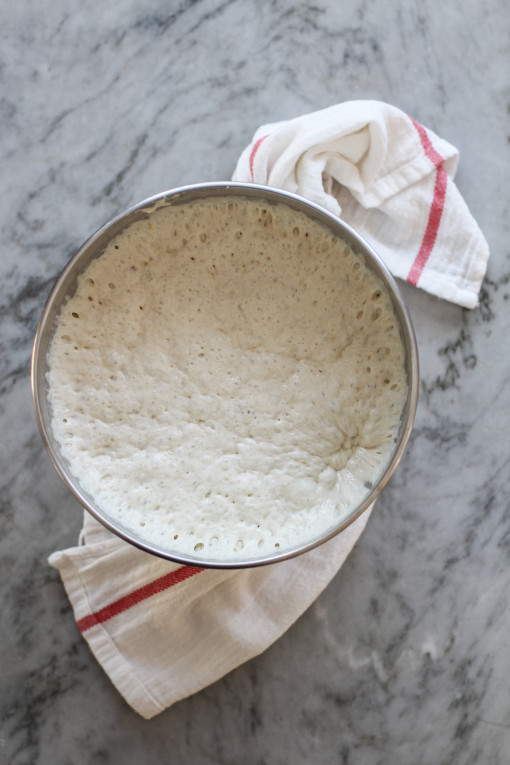 Well, these are pictures of the dough.  But in a minute….tomato focaccia!!!!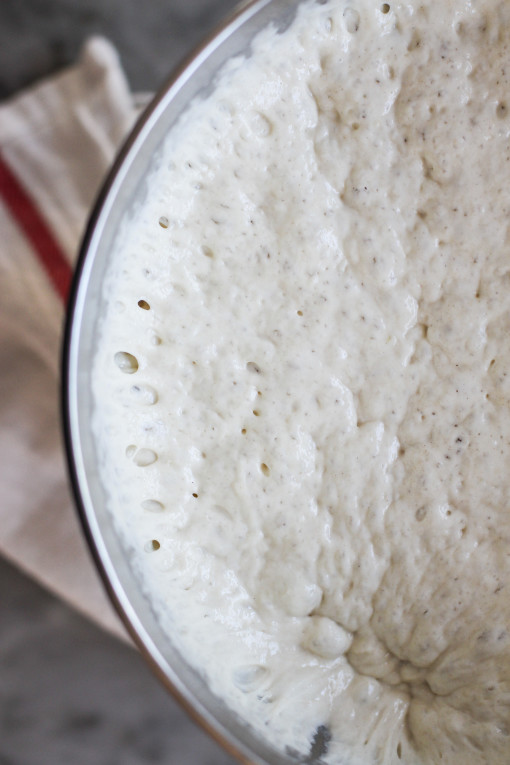 I just realized that tomorrow is the first day of fall.  I mean, I knew it was coming… but with the days still really hot and swimming still happening at our house I thought I had a few more days at least.  But, the calendar rings true – tomorrow starts all things apple and pumpkin, soups and stews, sweaters and blankets and I really can't wait.  Summer was fantasic but there is something just magical about when the season changes over to fall.  Crunchy leaves underfoot, golden colors and warm bread – like this tomato focaccia.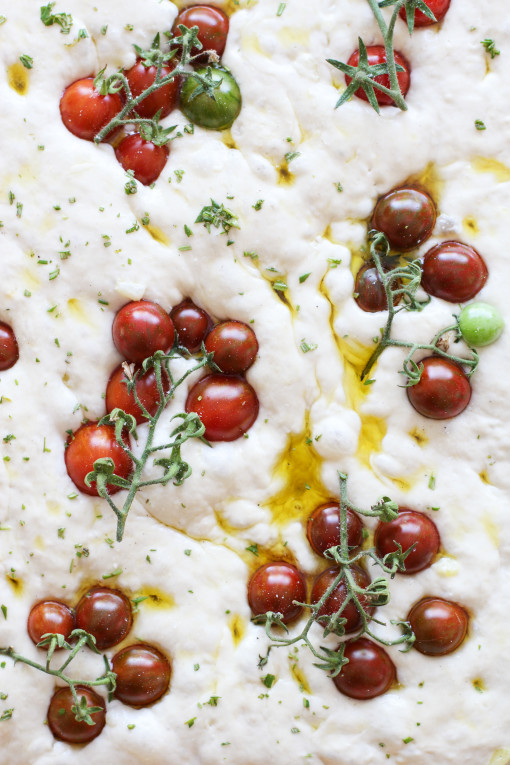 See?  There is it, looking all yummy and pillow-y soft….mmmmm, tomato focaccia…..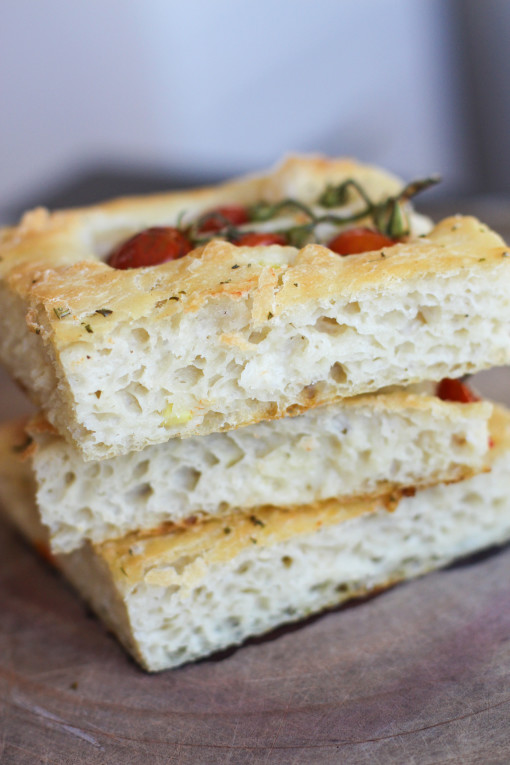 Now, I do realize some of you won't see this until fall officially starts thanks to yours truly not really paying attention this week – but this recipe is completely adaptable to whatever flavor focaccia you want to make.  If you still have some summer tomatoes hanging around, use them.  If you just want rosemary, use that.  If you really can't wait for pumpkin-everything to start…well, put some pumpkin on it.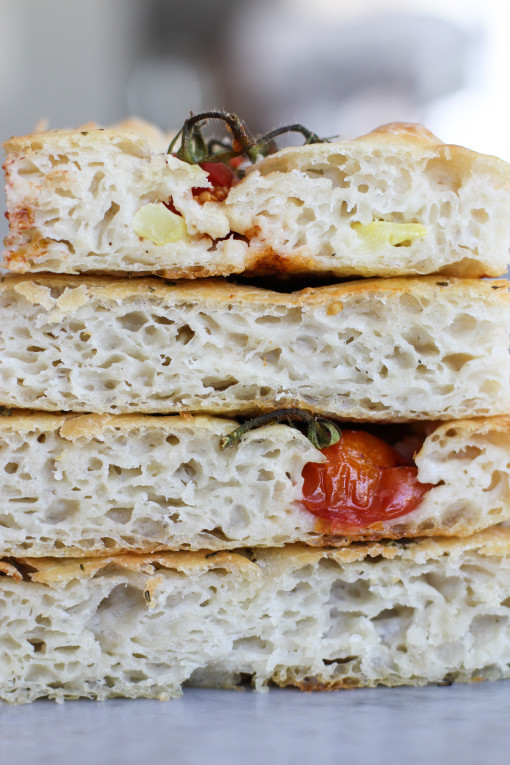 The recipe is really easy to make and very forgiving.  And before you tell me (1) you can't make bread and (2) you have no time to make bread let me tell you this: (1) you can make bread, this bread – it takes one bowl and one spoon and an arm to stir it with…have faith in yourself!  And (2) you do have time to make bread, this bread – you mix it together, set it down, come back and bake it…you can do it!!
There's nothing better than freshly baked bread so get to it!  And let me know what kind of focaccia you make by leaving a comment below – I can't wait to hear what you guys make!!
XO,
Jenn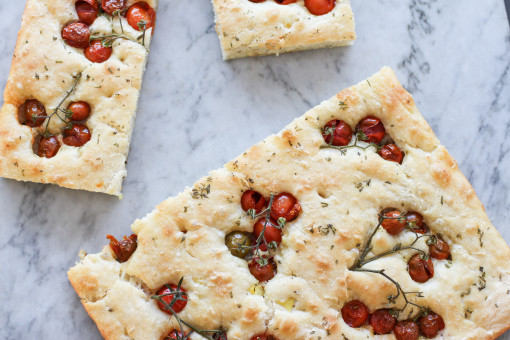 tomato focaccia
adapted from the book My Bread by Jim Lahey
1 cup peeled Yukon Gold potato, cut into 1-inch chunks
2 1/2 cups cool water
4 1/2 cups bread flour
2 1/2 teaspoons dry yeast
1 teaspoon sugar
3/4 teaspoons salt
1/4 cup olive oil
2 tbsp. sea salt
2 sprigs rosemary, washed and leaves picked off the stem
1 pint of cherry tomatoes
Put the potatoes and the water in a small saucepan, cover, and bring to a boil over high heat.  Cook until the potato chunks fall apart when pierced with a fork.
Use a blender to puree the potatoes with the cooking water until smooth.  Let the mixture cool to 120 degrees; it will feel very warm to the touch, but not scalding.
In a large bowl, stir together the flour, yeast, sugar and the salt.  Add the potato puree,  2 1/2 cups cool water and mix with a wooden spoon until you have a wet, sticky dough, about 30 seconds.  Cover the bowl with plastic wrap and let sit at room temperature until the dough is tripled in size, 2 – 3 hours.
Line a rimmed baking sheet with parchment paper and lightly oil the parchment paper.  Use a rubber spatula to scrape the dough onto the baking sheet ; it will still be loose and sticky.  Gently pull the dough and stretch it across the surface of the pan, then oil your hands and press the dough evenly out to the edges.  Use your fingertips to create dimples all over the surface of the dough.  Drizzle the top of the dough with a bit of oil and sprinkle with sea salt, rosemary leaves, and cherry tomatoes – pushing the tomatoes into the dough just slightly.  Let the dough rise in a warm, draft-free spot until it has risen just over the edges of the pan, 45 minutes to an hour.
Half an hour before the end of the second rise, preheat the oven to 400 degrees and place the rack in the center of the oven.
Gently place the focaccia in the oven and bake it for 30 – 45 minutes, until the top is evenly golden brown.  Transfer the pan to a rack to cool, and give it at least a few minutes before slicing and serving.
notes: The topping combinations for this recipe are endless.  I chose to do cherry tomato and rosemary topping because I was using up the last of the garden tomatoes.  But, you can top this bread with anything – olives, sun-dried tomatoes, mozzarella, pesto, pumpkin, even some baked chicken – there is no limit to topping combinations.  My loaf of bread only lasted a day and a half – but if you find yourself with leftovers, wrap it tightly in plastic and refrigerate it for up to three days.  Reheat in a 400 degree oven for 10 minutes directly on the rack.