We eat a lot of fruit in our house.  There are days where I feel like I completely stock the fruit bowl(s) with lovely goodness, only to turn around 15 minutes later to find that it has all – somehow – just vanished into thin air.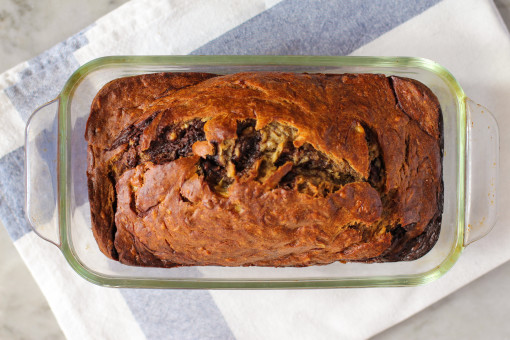 Don't get me wrong, I am completely happy that my little man likes to eat fruit all day every day – it's just hard to keep up.  And sometimes he will eat grapes for three days straight while the bananas sit on the counter and slowly over-ripen until I'm faced with inventive ways to save them for a later date.
Usually the bananas just get tossed into a big baggie in the freezer to be added to smoothies or muffins or such.  But the other day I decided to make some frozen bananas on a stick and cracked into the pantry to put together a whole pile of toppings.  Crushed peanuts, toasted coconut, chopped walnuts, and even some melted chocolate and caramel dips were set into little bowls and I dipped and spread and rolled my way into frozen banana heaven.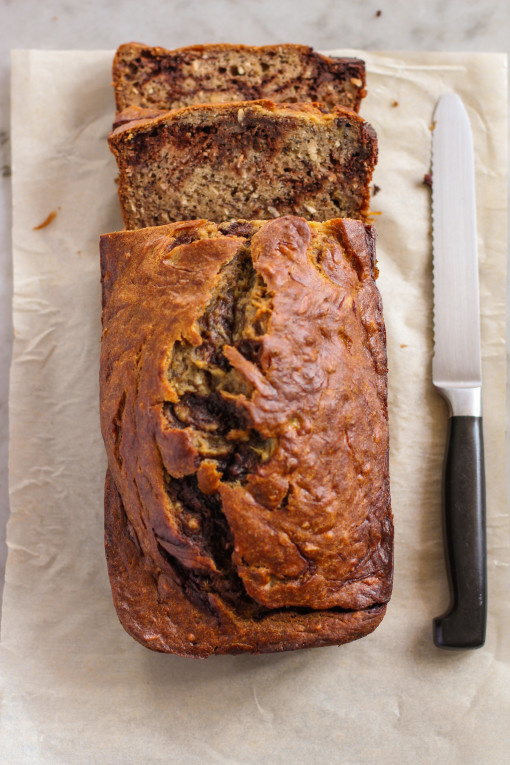 When I was sure I had made enough popsicles, I cracked into my go-to banana bread recipe to use up those last three bananas.  As I was mixing away, I looked over and saw all the little bowls of remaining popsicle toppings just sitting there minding their own business.  So I tossed them into the bowl and what came out of the oven was a chocolate, peanut, walnut, caramel and coconut banana bread.  What a mouthful to say – so we'll just call it the "everything" banana bread.
Eat it fresh out of the oven, or toast some for tomorrow's breakfast – either way, it's a great way to use up all those little bits and pieces in your pantry, and all those over-ripe bananas.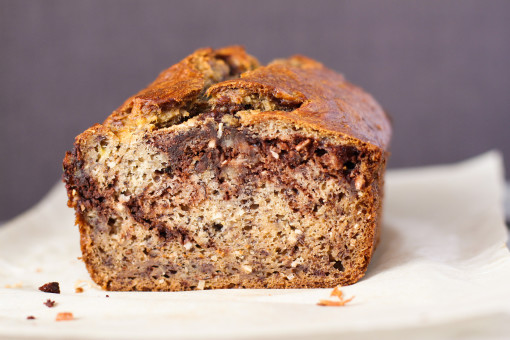 the everything banana bread
makes one loaf
1 1/4 cup spelt flour (or all purpose flour)
1 teaspoon baking soda
1/4 cup coconut oil
1/4 cup coconut sugar
2 eggs
1/2 teaspoon vanilla
3 ripe medium-sized bananas
up to 3/4 cup of various additions – I had a combination of chopped peanuts and walnuts, toasted coconut, melted chocolate and just a bit of the caramel sauce left from my banana popsicle project – but you can use just one thing, like walnuts, or a combination of whatever sounds good to you!
Preheat oven to 350 degrees and grease one loaf pan with non-stick cooking spray or coconut oil.
Melt the coconut oil over medium heat until completely melted and then set aside to cool slightly.
In a medium sized bowl, stir together the flour and baking soda.
In a stand mixer, combine the coconut oil and sugar and beat together.  Turn off the mixer, scrape down the sides of the bowl, then add the eggs and vanilla and combine.  Add the bananas and flour mix and additions to the bowl and mix to combine.
Pour the batter into the loaf pan and bake for about 50 minutes, or until a toothpick inserted into the bread comes out clean.
my notes: I'm totally on the coconut band-wagon, as you can see above.  However, if you aren't coo-coo for coconuts, then just replace the coconut oil with the same amount of butter and the coconut sugar with the same amount of granulated sugar.