Hooray for crispy cool fall weather!!  Thanks to the cool down my oven has been working overtime to make up for the hot summer nothing-but-salad season.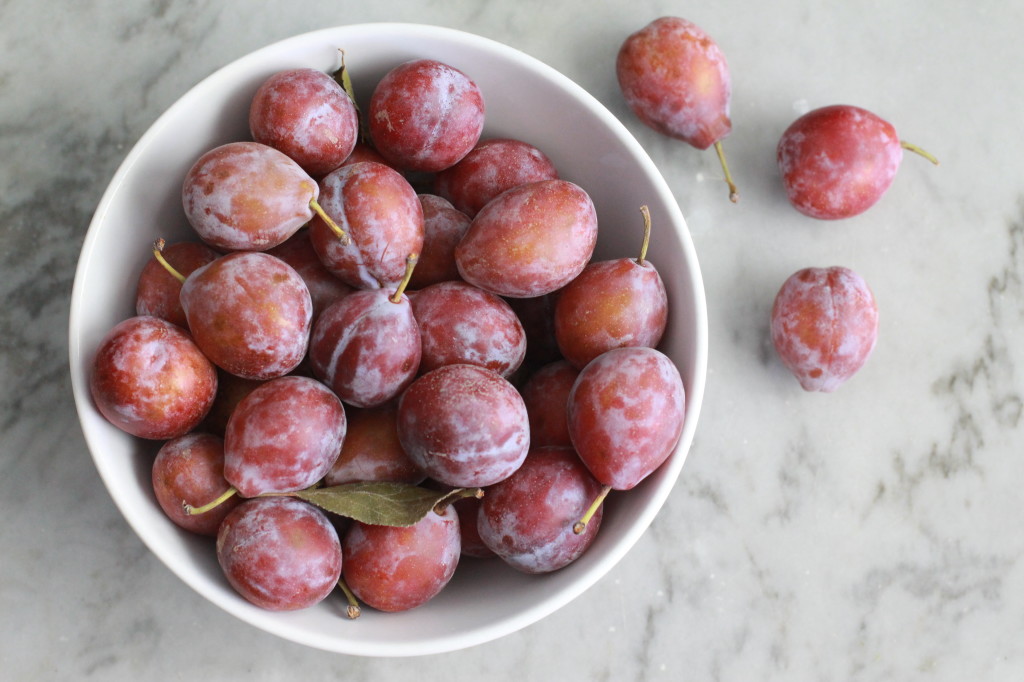 Every year around this time I love to make things that fill up the house with the scents of fall – cinnamon and cloves, slow roasted fruit and toasted nuts with drizzles of honey.  And that's what I've been doing these days.  Roasting, toasting, making pots and pots of soup and baking gifts for everyone I know.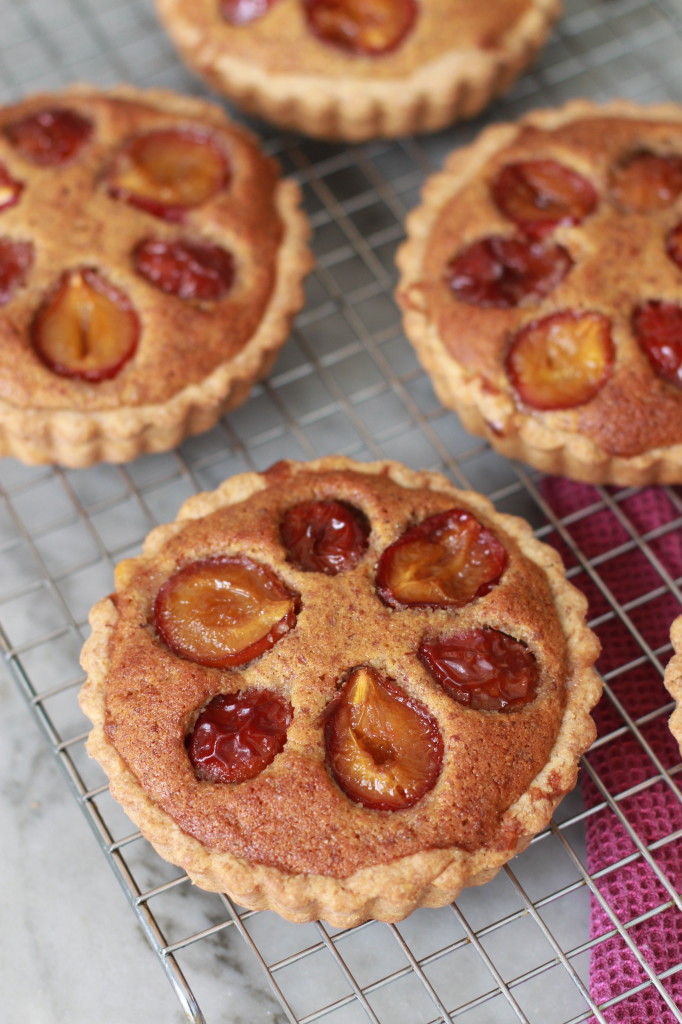 I made these tarts for a weeknight get together with friends, and I knew it was going to be a hit when my husband came home and said "I love coming home as it smells SO good in our house!"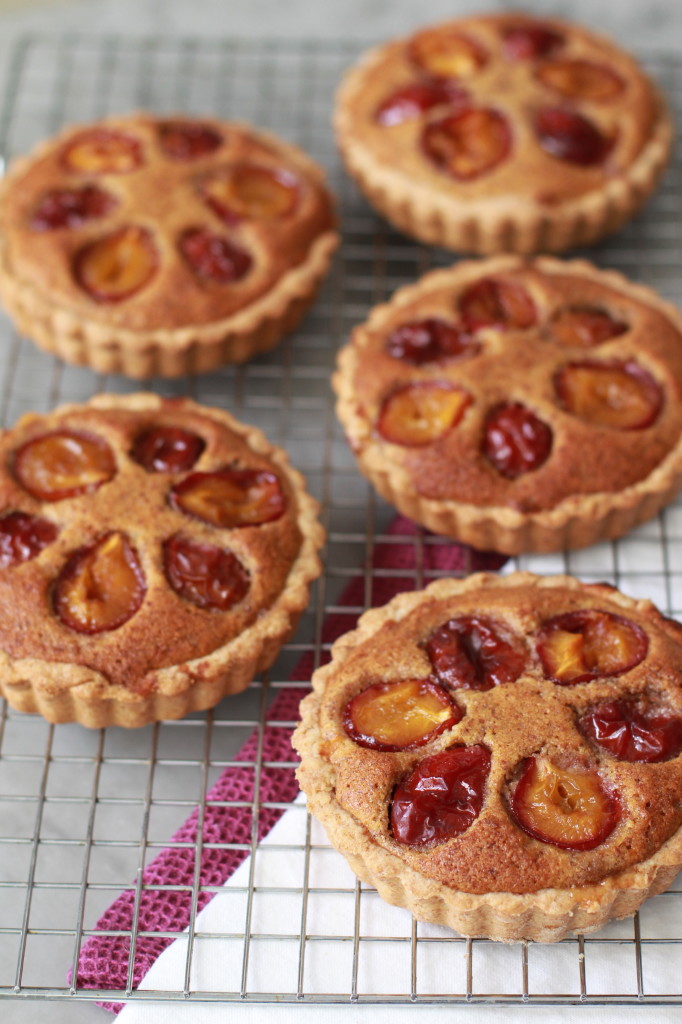 And then he sweet-talked his way into eating one before we even left the building.
Compliments will get you everything…including a side of ice cream.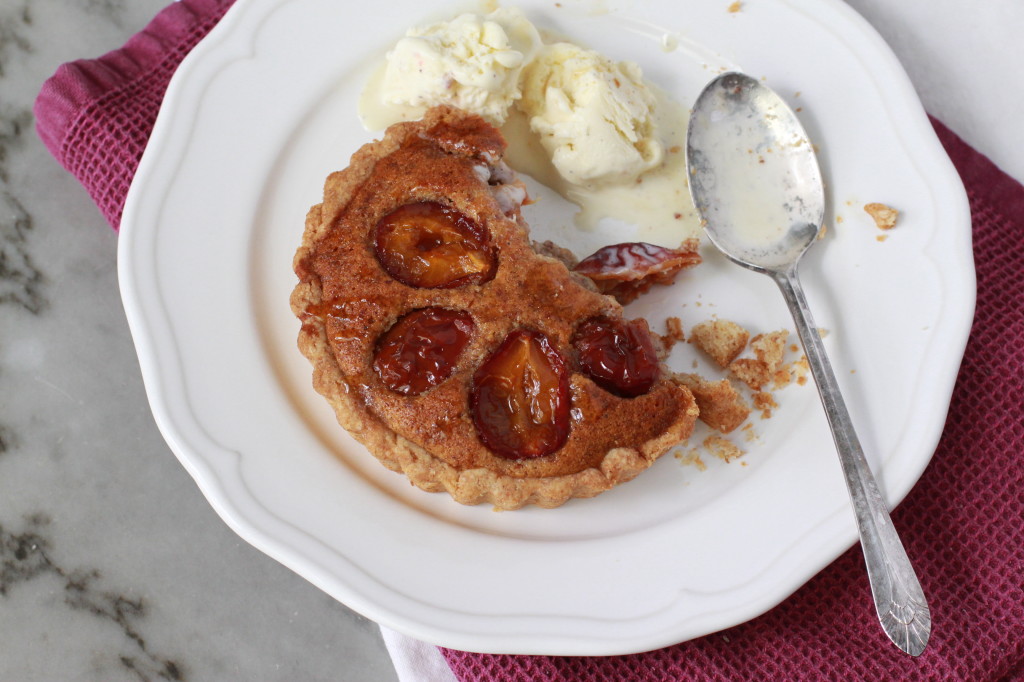 whole wheat sweet tart crust
1/2  cup almond flour
1 cup whole wheat flour
1/4 tsp baking powder
1/4 cup powdered sugar
pinch of salt
1/2 cup butter, cut into cubes and chilled
1 egg
3 tbsp. milk
In a food processor, pulse the flours, baking powder, salt and sugar.  Add the chilled butter cubes and pulse until the mixture resembles coarse meal.  In a separate bowl, scramble the egg with the milk then add it to the flour mixture, pulsing until just combined.  Turn the mixture out onto plastic wrap and gather it together and flatten into a disk.  Wrap tightly in plastic wrap and chill for 30 minutes.
frangipane
1/2 cup butter, room temperature
1/4 cup honey
1 tsp vanilla
2 eggs
1/4 cup milk
1 1/2 cup almond meal
1 tsp ground cinnamon
1/2 tsp ground cloves
1/2 cup whole wheat flour
In a mixer, whip the butter and honey until light and fluffy, about three minutes.  Add the eggs, one at a time and combining after each one.  Add vanilla and milk.  Add almond meal, spices and flour and mix until just combined.
assembly
Roll chilled tart dough out on a floured surface until 1/8 inch thick.  Place the dough into a 9 inch tart pan (or six five-inch tart pans), carefully pressing the dough into the bottom and sides of the pan and removing any extras.  Take a fork and pierce the bottom of the tart pan a few times.  Place the frangipane into the tart shell and spread it evenly.  Top the frangipane with the halved and pitted plums, or with peaches, nectarines, cherries, or a combination.