For the past two Thanksgivings, I have been lucky enough to bring some side dishes to the holiday house.  It's not that I don't want to host Thanksgiving at my house, I do.  But I think that my family looks over and says, "ah, yes, she has a baby" and takes pity on the woman who tries so hard to keep it all together.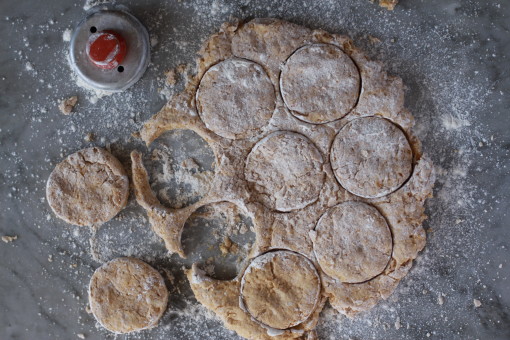 And this works for me because I love thinking and dreaming of all the side dishes I could make!!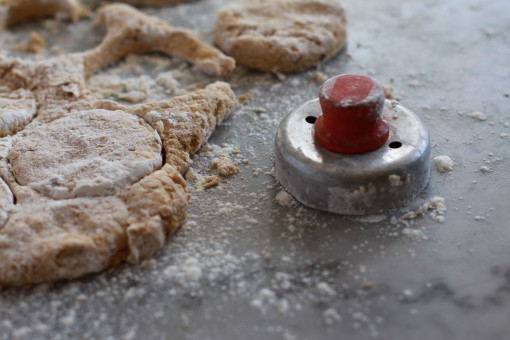 Every family has traditional Thanksgiving ideas – grandma's handmade pumpkin pie with the flaky crust that melts in your mouth, Aunt Marie's perfectly moist stuffing with crispy sage, and even the canned cranberry sauce – gotta have it or it wouldn't be Thanksgiving!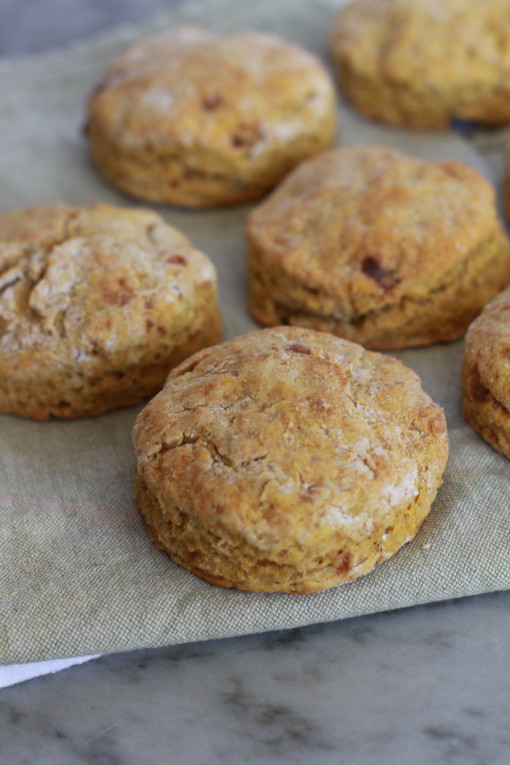 One of the traditions that I remember from my childhood were the made from scratch biscuits.  They came in different forms every year – sometimes flaky buttermilk, sometimes heavy with herbs from the garden, and sometimes flecked with crispy bacon crumbles and dotted with melted cheese – but every year, my first words were "please pass the biscuits."  Warm and piled high in the same round basket and lined with the same turkey themed towel, they are still the thing that I think about during this holiday season.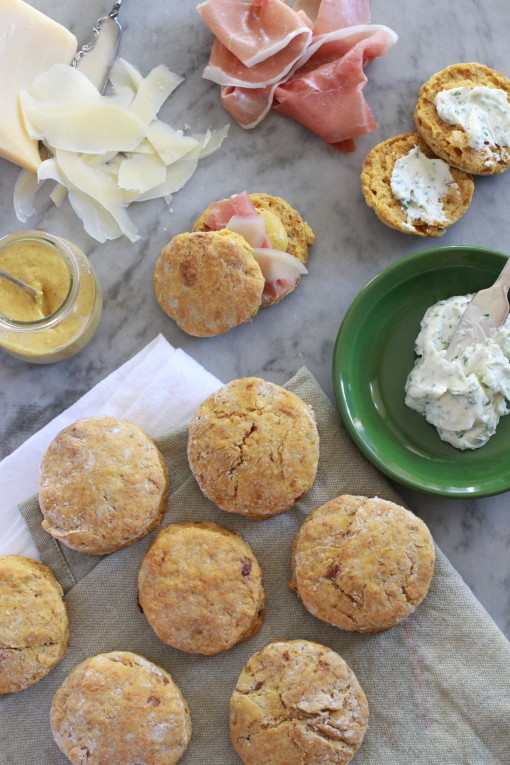 I am so thankful for holiday memories past and all the ones we will make as a family with our newest addition.  Happy Thanksgiving to you and yours.
Now please pass the biscuits – I've got to give my stretchy pants a run for their money!
savory whole wheat pumpkin biscuits with sage-parsley butter
inspired by this recipe from Cooking Light
2 cups whole wheat flour
2 teaspoons baking powder
1 teaspoon ground cinnamon
1/2 teaspoon baking soda
1/2 teaspoon salt
1/4 ground nutmeg
1/4 cup chilled butter, cut into small pieces
3/4 cup fat-free buttermilk
1/2 cup canned pumpkin
1/4 cup sage-parsley butter (recipe follows)
Preheat oven to 450 degrees.  In a large bowl, combine flour, baking powder, cinnamon, baking soda, salt, and nutmeg.  Cut in the chilled butter with a pastry blender or your fingers until the mixture resembles coarse meal.
In a small bowl, combine the buttermilk with the pumpkin and add it to the flour mixture, stirring just until moist.
Turn the dough out onto a floured surface and knead lightly five times.  Roll the dough to about 1/2 inch thick and cut into 12 biscuits with a biscuit cutter (or use a knife and cut into squares.)
Place the biscuits on a baking sheet lined with parchment.  Bake for 10 minutes or until golden brown.  Serve warm or at room temperature.
sage-parsley butter
2 sage leaves
1 sprig parsley
1 teaspoon minced shallot
pinch of salt and pinch of black pepper
1/4 cup room temperature butter
Combine all ingredients in a medium bowl and stir to combine.