We celebrated the baby's first birthday last week.  I mean, is she still a baby at one year old?  I guess she will always be the baby as she's the youngest.  One.  A whole year.  The fastest year of my life so far – just whoosh!  Gone.  So, so fast.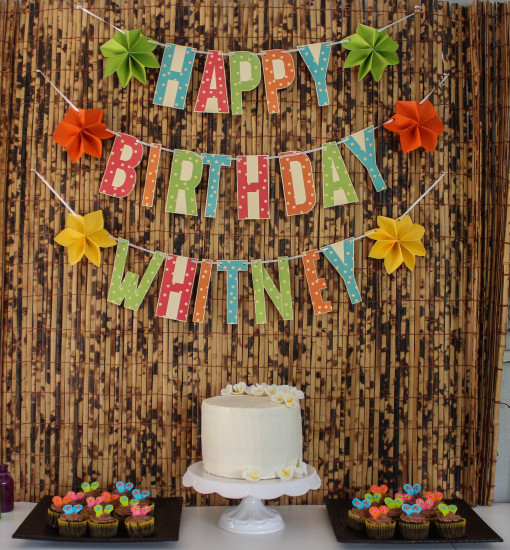 Brian called a few minutes ago to see how the mornings going, his daily check-in to wish everyone a good day, talk about whatever, etc.  It's normally a quick call because he's at work and has to get back to it, but today he spent a few minutes to tell me that he couldn't sleep last night.  At first he told me it was because I was snoring so loud – but we both laughed because I DO NOT snore.  Then he told me he was staring at the full moon for about an hour, watching it rise over the fence and then continue over our house – sounded really romantic actually…except for the part where there was no sleep.  And finally, he followed that all up with a round of nightmares that included me cheating on him – how lovely.  I guess this should have been the part where I said, "Honey, I love you so much!  Why would I ever cheat on you??"  But instead, I replied, "Really?  When would I have time for that?"  And then laughed hysterically which probably really didn't help set his mind at ease….bad wifey moment perhaps…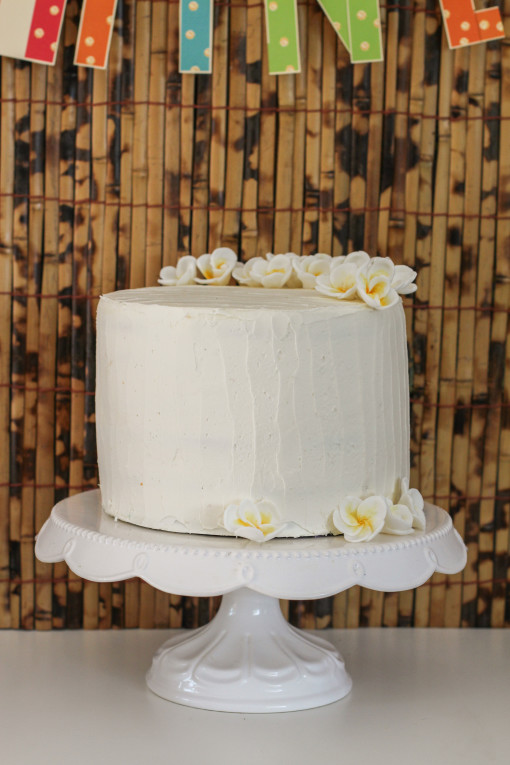 But it's true.  Being a caretaker of two of the most adorable rug rats, a hairy dog, a house to run, errands, playdates, dinners with friends…I mean, when would I really have time to fit anything into my already packed schedule??!?  Aren't we all like this?
So when it came time for Whitney's birthday celebration I really wanted to make a simple cake.  Not boring mind you, but something that was easy to put together and not too time consuming but would still let me do something fun and creative.  So I played around on pinterest, pinning a bunch of ideas of what I wanted her cake to be – light, elegant, simple but with a little wow factor.  It needed to fit into the Hawaiian birthday party theme and be a little bit feminine.  And, I knew that I would have Avery's help so I wanted to make it fun for him too.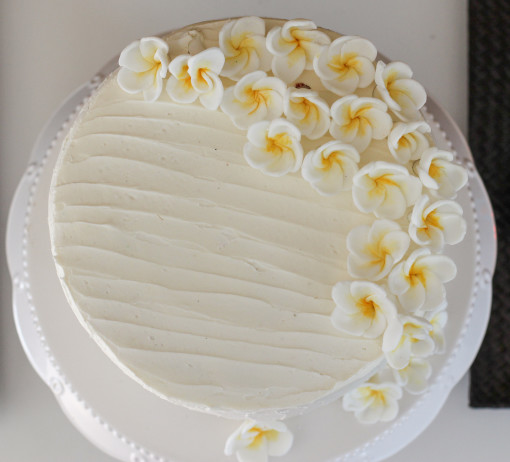 I found these great tutorials on making piped royal icing hibiscus flowers and set out to make enough to top the cake.  Well, the first night I stayed up until 2:30am piping these dang flowers.  If you know me at all, one of my faults is that things have to be "just perfect" or else the whole world stops spinning.  (I'm working on that, btw.)  So, I would pipe one flower and then quickly scoop it up and start over again because dang! What do you mean I can't pipe a freaking flower??!!  (I can't, btw.)  But after about two hours of "practice" (I do not exaggerate – everyone was sleeping soundly in their beds at this point – it was just me, the ladies of Bravo TV, and the piping bag.) I finally made one flower that was worthy of my daughters birthday cake.
Seriously, two hours = 1 flower.
And then the flowers just came out.  One after the other and I was moving right along.  Five hours later, ten flowers done in two colors – all set up to dry and I went straight to bed.
The next morning, knowing that I had been up until sometime in the wee hours, Brian was kind enough to get up with the kiddos and let me catch a few more minutes of sleep.  What he didn't know was that I had set up these wonderfully piped flowers on a sheet tray on the stove.  The same stove that Avery went sailing right over to as soon as he saw a bunch of pretty flowers, because really, why not?
Brian caught the action about two flowers in…his mouth (!!!) …so that meant we were down to eight flowers.  Still do-able really, I just had to move them around a bit on the top of the cake and all was great.  Except for that part where I tried to unmold the flowers.  Every single flower cracked into no less than one million flower-y pieces each.
Argh.  Insert mumble-y curse-type words here but ones that are child-friendly because Avery is watching me…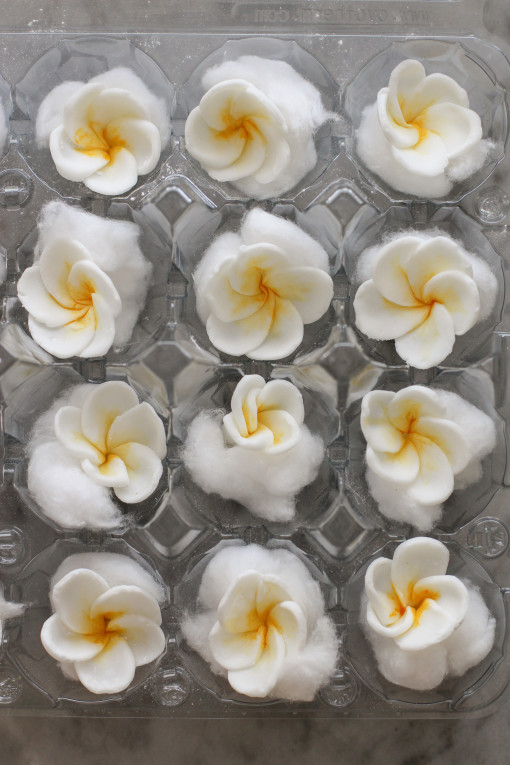 So take two.  I gave up on that idea and started over with the idea of fondant flowers…much harder to mess up really and proceeded to stay up the next night for only two hours of flower-making time.  Two dozen fondant flowers, painted and drying in an egg carton on the other side of the dining room where little eyes couldn't see them without help, (they are sitting on cotton – no hairy flowers) and went to bed.
The next morning was the day before the party and while Whitney took her nap, Avery and I made her birthday cake.  We mixed up a super basic white cake recipe and divided it into smaller portions so we could add colors to each bowl.  Then we frosted it with a super basic vanilla buttercream and topped the cake with the fondant flowers.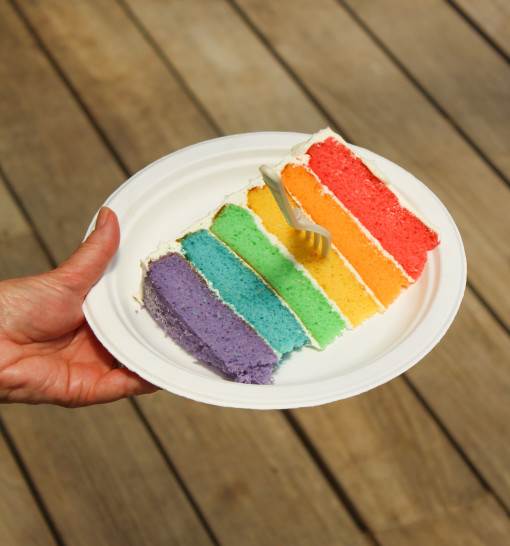 You guys, this cake is a lot bang for your buck.  I was completely unprepared for the overwhelming joy that this simple rainbow cake brought everyone at the party.  The kids loved it of course, but the adults were even more excited by the rainbow colors inside.  The flowers come together quickly but if you want to skip that step, rainbow sprinkles would be a great substitute.
I listed the specific website that I used for the flowers below if you do decide to give it a go.  And if you have any kiddos in your life – be sure to make this cake with them.  The joy and excitement that Avery had over making (and then eating) a rainbow cake was a memory that I will always cherish.  And of course, little miss one year old.  Happy Birthday Whitney!!  We waited so long for you and are so happy you are finally part of our family – we love, love, love you!!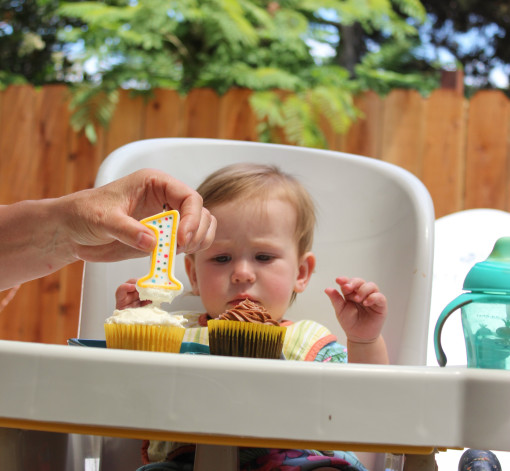 I promise she was all smiles after this shot…  Cupcake covered smiles, but smiles nonetheless.
xo,
Jenn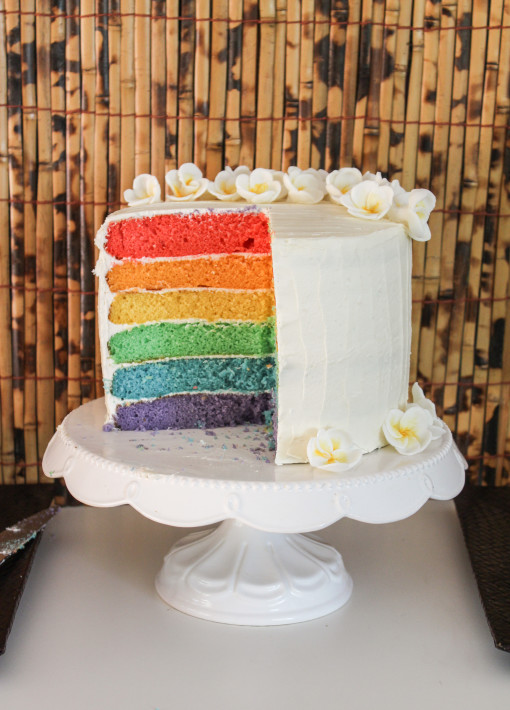 rainbow birthday cake
***this recipe makes enough for a two layer cake – if you want to make the six layer rainbow cake then you will need to triple the recipe below***
1 cup granulated sugar
1/2 cup butter
2 eggs
2 teaspoons vanilla
1 1/2 cup all purpose flour
1 3/4 teaspoons baking powder
1/2 cup milk
food coloring – purple, blue, green, yellow, orange, and red
Preheat oven to 350 degrees.  Grease and flour two 9×9 inch round cake pan.
In a medium bowl, cream together the sugar and butter. Beat in the eggs, one at a time, then stir in the vanilla.  Combine flour and baking powder, add to the creamed mixture and mix well.  Finally stir in the milk until batter is smooth. 
Separate the batter into two portions.  Add two drops of purple food coloring to one batch and stir to combine.  Add two drops of the blue food coloring to the other batch and stir to combine.   Pour or spoon batter into the prepared pans.
Bake for 30 to 40 minutes in the preheated oven.  Cake is done when it springs back to the touch.
Repeat each step two more times – using different colors to achieve the rainbow cake layers.
Allow all cakes to cool completely before frosting.
vanilla buttercream frosting
***this recipe makes enough frosting for a two layer cake with a bit left over.  If you want to make the rainbow layer cake, double this recipe so you have enough for all the layers and the outside of the cake.***
1 cup butter, at room temperature
1 teaspoon vanilla extract
3 cups powdered sugar
2 tablespoons milk
In a stand mixer fitted with the paddle attachment, beat the butter on medium-high for two minutes.  Add the vanilla extract, powdered sugar and milk to the butter and beat everything together for about five minutes on medium-high – until light and fluffy.
fondant flowers
I used this recipe and tutorial from bakingdom.com