After dating my husband (then boyfriend) for a few months, his birthday came around.  Wanting to make a good impression, I planned on making a cake to celebrate his special day.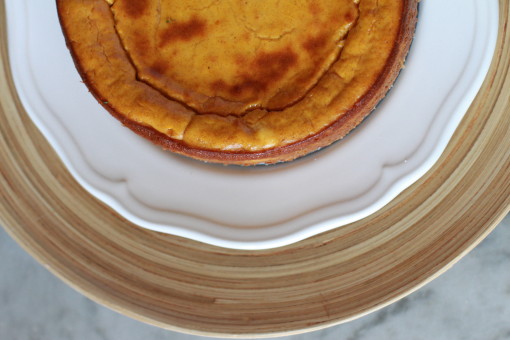 A few days before his birthday I asked him what kind of cake he wanted for his birthday.  He smiled and said, "I don't like cake."  I laughed and said, "Ha ha, you are SO funny!  But seriously, what kind of cake do you want?"  He kept smiling and said, "Seriously, I don't like cake."  This went on a few more times until I realized that he wasn't kidding at all – seriously, the man doesn't like cake.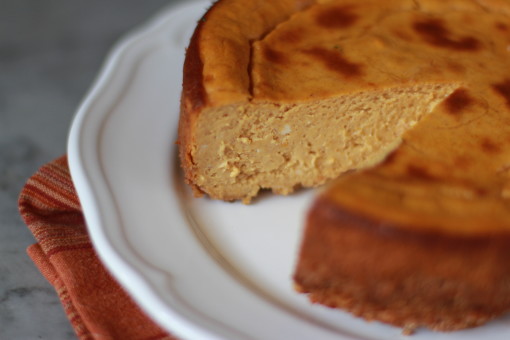 Who doesn't like cake??!!  I'll tell you who – weirdos.  Weirdos don't like cake.  They might be very charming and very handsome weirdos, but still weirdos nonetheless.
So, year after year, I made cake for my birthday and everything but the cake for hubby's birthday – and this is the latest non-cake.  A creamy, cinnamon and nutmeg pumpkin cheesecake.
Happy birthday handsome!!  Nine years of birthday celebrations and more to come!!!
pumpkin cheesecake
adapted every so slightly from this recipe on Cook's Illustrated
for the crust:
1 1/4 cups graham cracker crumbs
1/2 cup finely chopped roasted almonds
1/4 cup butter, melted
for the cheesecake:
3 8-oz packages of fat free cream cheese
3/4 cup brown sugar, packed
2 eggs
1 15-oz can of pumpkin
2/3 cup (5 oz) evaporated milk
2 tablespoons cornstarch
1 1/4 teaspoons ground cinnamon
1/2 teaspoon ground nutmeg
Preheat your oven to 350 degrees.  In a large bowl, combine the graham cracker crumbs, almonds, and melted butter.  Stir to combine and then using your hands, press the crust into the bottom and sides of a 9 inch spring-form pan.
Bake the crust for about six minutes and remove from the oven and set aside while you make the filling.
In a stand mixer fitted with the paddle attachment, beat the cream cheese and brown sugar together until light and fluffy, about five minutes.  Be sure to stop and scrape down the sides so that all of the cream cheese is whipped.  Beat in the eggs, pumpkin and milk.  Add cornstarch, cinnamon and nutmeg and beat well.  Pour filling into the crust.
Bake for 55 to 60 minutes (35 to 40 minutes if using six inch pans) or until the edges are set but the center still moves slightly.
Remove cake from the oven and set on a rack to cool for about 30 minutes.  Then move the cake to the refrigerator and chill completely, for about three hours or overnight.  Carefully remove from the pan.
notes:  Instead of baking this in a 9 inch pan, I chose to bake this recipe in two six inch pans for two reasons.  First, there's only two adults in this household and no matter how much my eyes think I can eat, my stomach can handle about one slice, so even a six inch cake is a lot for us to eat.  And second, making a smaller, second cake – I can either give one away as a treat or freeze it for any cravings that might hit later.  
If you choose to freeze any portion or a whole cake, make sure to wrap it tightly in a couple of layers of plastic wrap and place in a freezer bag.  It will be good for about six months in the freezer – allow cake to defrost overnight in the refrigerator before eating.