Good morning pumpkin!!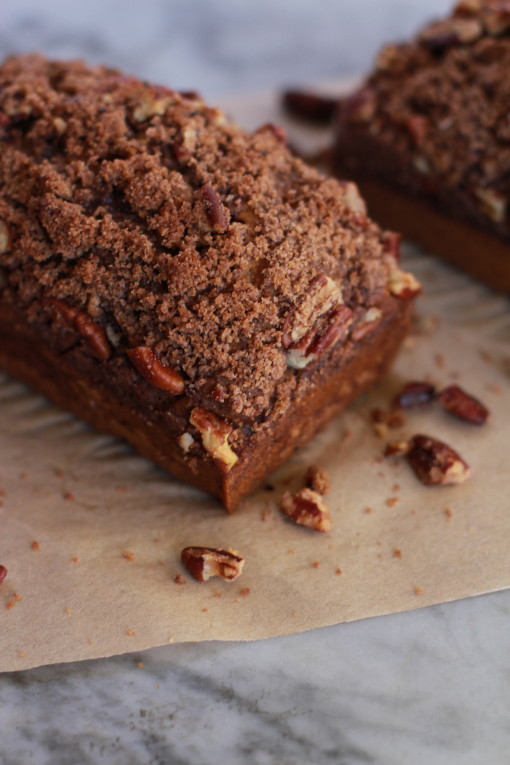 Pour yourself a nice cup of hot coffee, add a bit of milk, and slice off a big piece of this delicious pumpkin bread.  What?  You don't have any pumpkin bread in your kitchen?  Well, you better crack that can of pumpkin that is just sitting in your cabinet and not doing anything and get to work – because you definitely don't want to miss this one.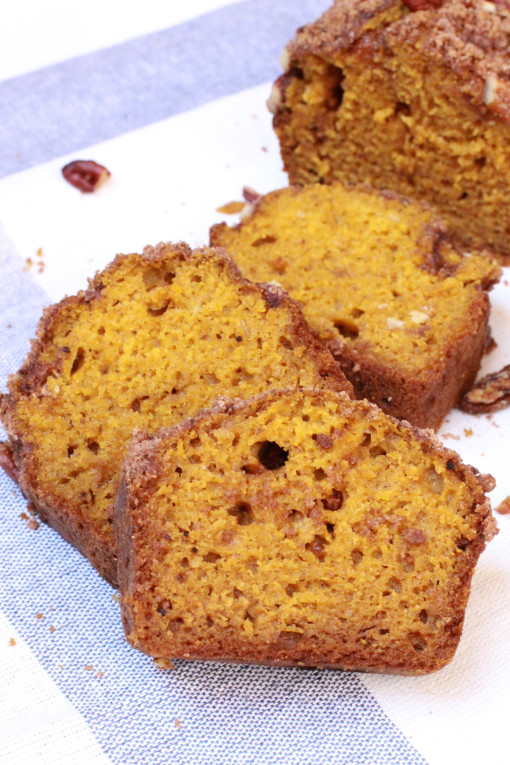 I was playing with this idea for awhile…warm spiced pumpkin bread, not too sweet, perfectly moist and topped with a crumbly brown sugar and toasted pecan streusel.
Two words:  yum and yum.  Whoops, that was three words but you get what I'm saying here, yes?
Have a nice weekend pumpkin!!
pumpkin bread with pecan streusel
inspired by this recipe from Cooking Light  (makes two regular sized loaves of bread or four mini loaves)
for the bread:
3 cups all-purpose flour
1/2 cup brown sugar
2 teaspoons baking soda
1 teaspoon baking powder
2 teaspoons ground cinnamon
1/2 teaspoon salt
1/2 teaspoon ground cloves
1/2 teaspoon ground nutmeg
2/3 cup canola oil
3 eggs, lightly beaten
1 15-oz can of pumpkin
Preheat your oven to 350 degrees.
In a large bowl, combine the flour and all other dry ingredients together.  In a separate bowl, combine the canola oil, eggs and pumpkin and stir with a whisk until smooth.  Add wet ingredients to the dry ingredients and stir until just combined.
Coat two loaf pans with nonstick cooking spray (or four mini loaf pans) and spoon batter evenly into the pans.  Top each pan with the streusel topping (recipe follows),  and divide it equally among the pans.
Bake the loaves for 1 hour for regular sized pans (30 minutes if using mini loaf pans) or until a toothpick inserted in the center comes out clean.  Cool loaves in the pans for 10 minutes on a wire rack.  Remove loaves from the pans and cool completely before cutting – if you can wait that long.
pecan streusel
3 tablespoons all-purpose flour
1/4 cup brown sugar
1 teaspoons cinnamon
1/2 teaspoon ground nutmeg
1/2 teaspoon ground cloves
2 tablespoons butter, chilled and cut into small pieces
2/3 cup chopped raw pecan pieces
In a small bowl, combine the flour, sugar and spices, stirring to combine.  Place the butter into the bowl, and using your hands, blend the butter into the flour mixture until it resembles coarse crumbs.  Stir in the pecan pieces and top the loaves with the mixture.
notes:  If you are worried about this bread being too sweet – please don't worry.  I took almost all of the sugar out of the original recipe and only added back a small bit of brown sugar which adds a great caramel flavor.  And there's only a trivial amount of fat in here too but you wouldn't know it from how great it tastes!!