Who wants cake?  Okay, me too!!  Let's bake a cake today!!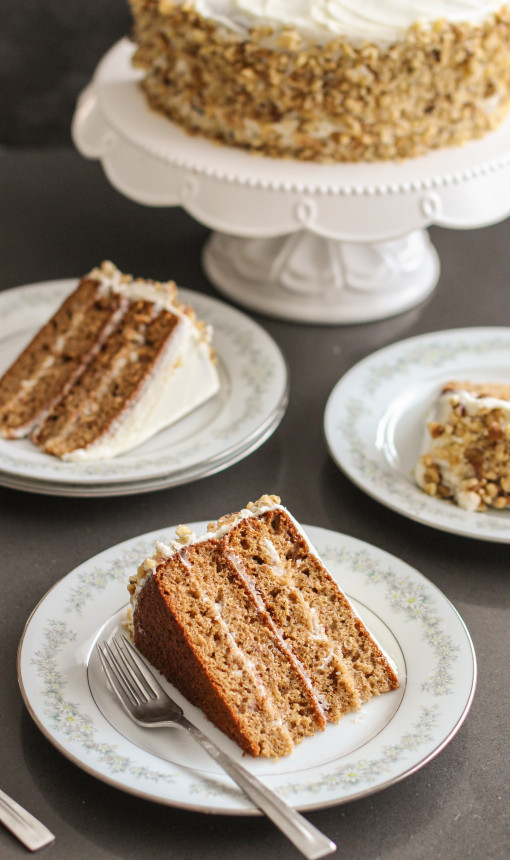 What kind of cake should we bake?  How about a spice cake with lots of frosting?  Maybe we should put some ripe pears in the cake and maybe spike the frosting with some maple syrup?  Perhaps we should add some toasted walnuts to the sides and call our friends over to help us celebrate this yummy cake?
I woke up needing to bake a cake today.  I'm not really sure why today was the day and not yesterday or tomorrow…but I knew that today would be a day of cake.  Perhaps I needed to celebrate a few things – the much needed rain that finally made a debut today, or maybe the fact that the little man and I are finally feeling better after battling our first of the season cold, or maybe because we just all needed cake.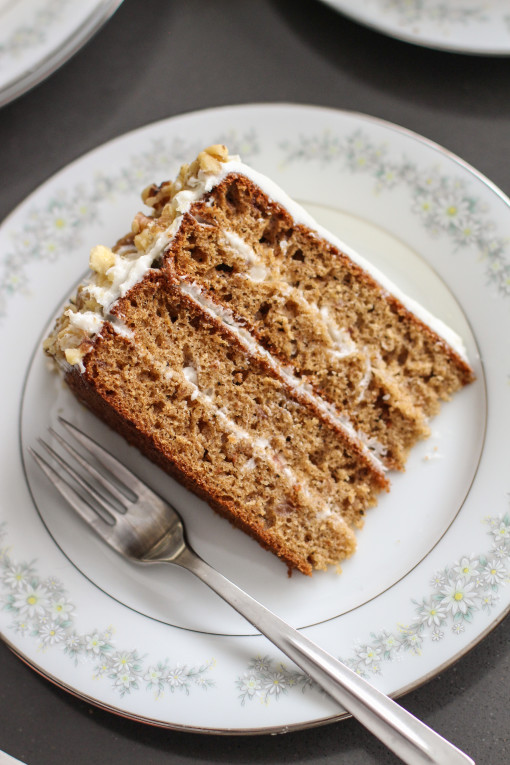 Seriously, cake.
Cake makes the day seem so festive, even if it's just a boring little normal Thursday.
People smile a little more when there's cake.
They get a little giddy when cake is in their presence.
Cake makes the world go round.
Go make this cake and see how many people you can get to smile a little bigger today.
xo,
Jenn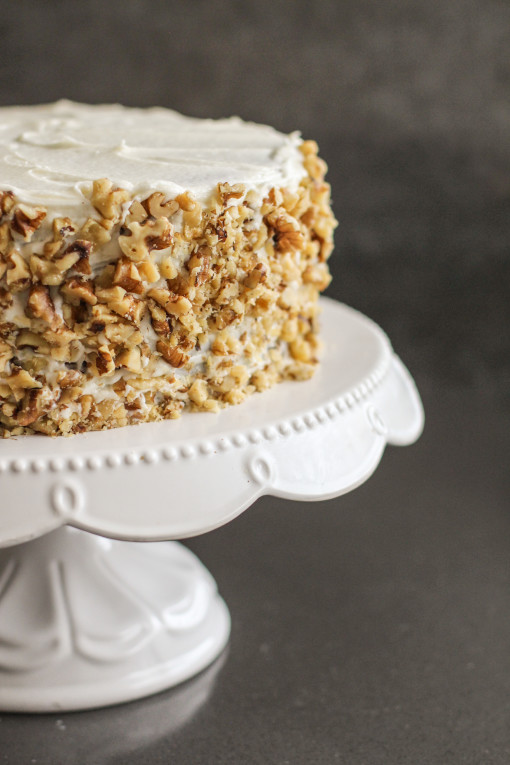 pear spice cake with maple buttercream frosting
adapted from Dinner with Julie
for the cake:
makes 2 8-inch round cakes
3/4 cup coconut sugar (or brown sugar)
3 eggs
3/4 cup olive oil
1 teaspoon vanilla
2 cups spelt flour (or all-purpose flour)
1 teaspoon baking soda
1 teaspoon ground cinnamon
1/2 teaspoon ground allspice
1/2 teaspoon ground cloves
2 cups grated pears (with skins and juices)
Preheat your oven to 350 degrees.  Coat two 8 inch round cake pans with nonstick cooking spray.
In a large bowl, beat together the sugar and eggs for three minutes, until well combined and light and fluffy.   Beat in the vanilla and oil.
In a separate bowl, mix together the flour, baking soda, and spices.
Add the pears to the wet mixture, stirring to combine.  Add the flour to the wet ingredients and mix to combine.
Pour half of the mixture into each cake pan and place into the oven.  Bake the cakes 25-30 minutes, or until golden in cover and springy to the touch.  Remove the cake from the oven and allow to cool in the pans for 5 minutes before removing the cakes from the pans and placing them on a rack to cool completely.
maple buttercream frosting
makes enough frosting for 2 8-inch round cakes
1/2 cup of butter, at room temperature
1 teaspoon vanilla
3 cups powdered sugar
2 tablespoons milk
2 tablespoons maple syrup
3 cups chopped toasted walnuts
In a mixer, beat the butter and vanilla together until light and fluffy.  Beat in the powdered sugar and milk – adding more sugar or milk as needed to gain a spreadable consistency.  Beat in the maple sugar.  Spread the frosting over the cake layers.  Press the walnuts into the side of the cake.
my notes:  This cake is best the day it is baked, but if you have extra cake, just tightly wrap it in plastic and place it into the refrigerator.  The cake will keep in the fridge for up for five days.