Okay, I'm back, but only for a brief moment because I am elbows deep into camping gear organization.  Did I tell you we are heading on our first summer vacation of the year??  We are leaving in six very short days on a weeklong camping trip to the middle of the mountains and I cannot wait!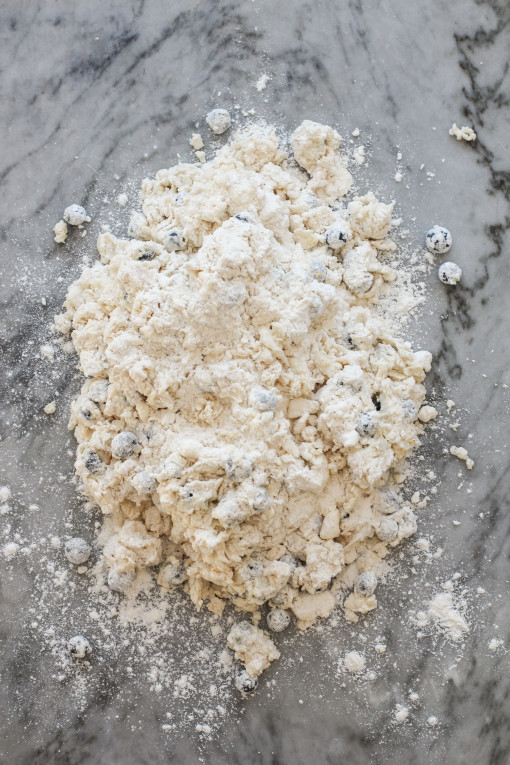 Ahhh, vacation.  Nowhere to go, nothing to do.  Relaxing and quiet.  Feet up and nose in a book.  Sipping on adult beverages with tiny umbrellas…..
Sounds like fun except for those small, adorable children who will be covered in dirt and asking for food every hour, on the hour.  And me with none of my kitchen appliances, or electricity….that sounds relaxing.
And those same small, adorable children who will be screaming and squirming every time I attempt a sunscreen application….that sounds quiet and peaceful.  This trip will certainly be an adventure – not sure if "vacation" is the correct term though.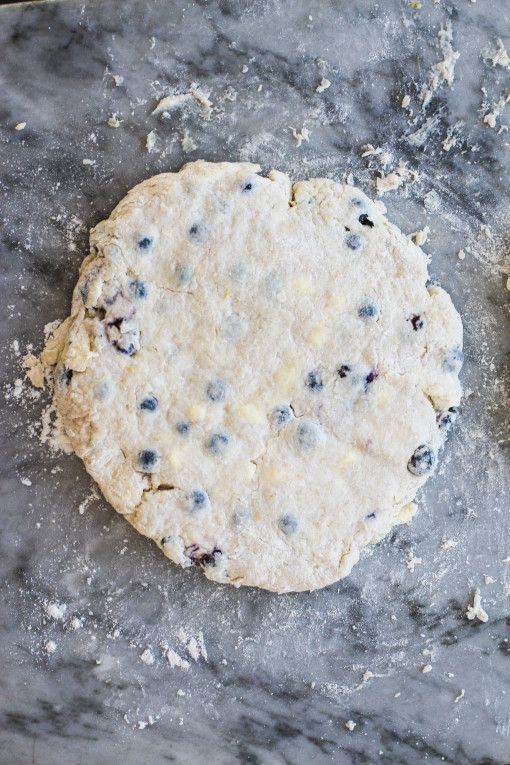 But let's move on and get to this lemon-blueberry scone recipe.  I mean, I've only been talking about it for weeks!  I was finally able to hide some blueberries in the back of the fridge while I waited for the trifecta of baby nap/kid movie time/no other responsibilities to happen.  And happen it did – just yesterday!!  So I threw these scones together and ta-dah!!  Aren't they gorgeous??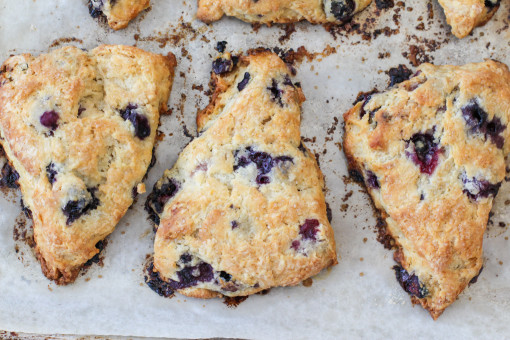 The recipe from one of my favorite bakeries – Tartine Bakery in San Francisco – and it comes together really easily and quickly.  Don't be afraid of the amount of butter that's in there – it needs to be there, trust me.  The scones are light and fluffy with warm blueberries and buttery crunchy bits.  They are perfect.
And if you don't want to eat 12 scones all by yourself, you can share with a neighbor or cut the recipe in half.  Or you can make a full batch and use them as bribery to get some peace and quiet on your vacation.  How does that saying go?  When mama's happy, everyone's happy because they are eating one of these lemon-blueberry scones?  Something like that…
XO,
Jenn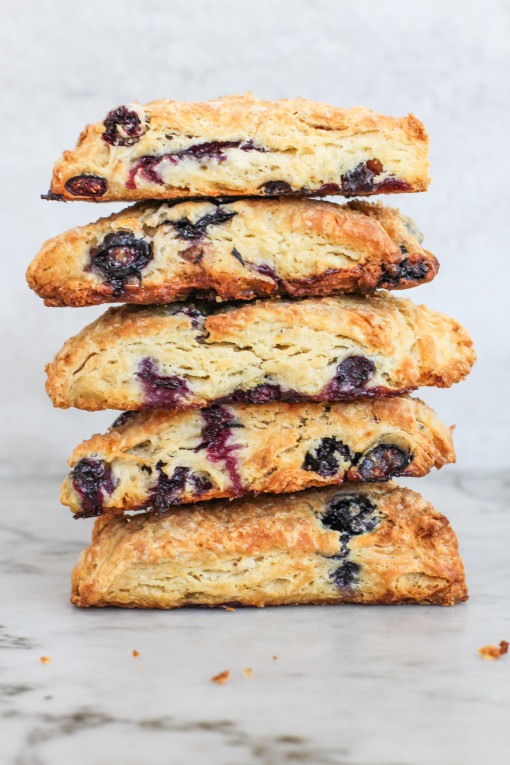 lemon-blueberry scones
recipe from Tartine Bakery
makes 12
4 3/4 cup all purpose flour
1 tablespoon baking powder
3/4 teaspoon baking soda
1/2 cup sugar
1 1/4 teaspoon salt
1 teaspoon grated lemon zest
1 cup plus 1 tablespoon unsalted butter, diced into 1/2 inch squares and chilled until firm
1 1/2 cups buttermilk
2 cups blueberries
3 tablespoons melted butter
turbinado sugar
Preheat the oven to 400 degrees.  Line a baking sheet with parchment paper.
Whisk together the flour, baking powder and baking soda.  Add sugar, salt and lemon zest and stir to combine.  Scatter the bitter cubes over the dry ingredients.  Use a pastry blender or the back of a fork to cut the butter into the dry ingredients.  When you are finished, the butter should be dispersed throughout the flour in pea-sized lumps.
Add the buttermilk and blueberries (at the same time) to the flour mixture and stir gently until the dough holds together.  If the mixture seems too dry, add a little bit more buttermilk.
Dust your work surface with flour and turn the dough out onto it.  Divide the dough into two equal portions.  Using your hands, pat each portion into a circular disk about 1 1/2 inches thick. Brush the top with melted butter. Sprinkle with sugar. Cut each disk into 6 wedges.
Transfer the triangles to baking sheet. Bake until the tops of the scones are lightly browned, about 25 to 35 minutes. Remove from the oven and serve immediately.