I'm a creature of habit.  I find something I like and I tend to repeat it until further notice.  I wouldn't say I am in a rut, although eating the same breakfast day in and day out might signify some sort of rut-ness.
Almost every day my breakfast consists of a scrambled egg topped with salsa.  Sometimes I get fancy and add some avocado.  Sometimes I get crazy and add some sautéed kale.  But every day, it is scrambled eggs for breakfast.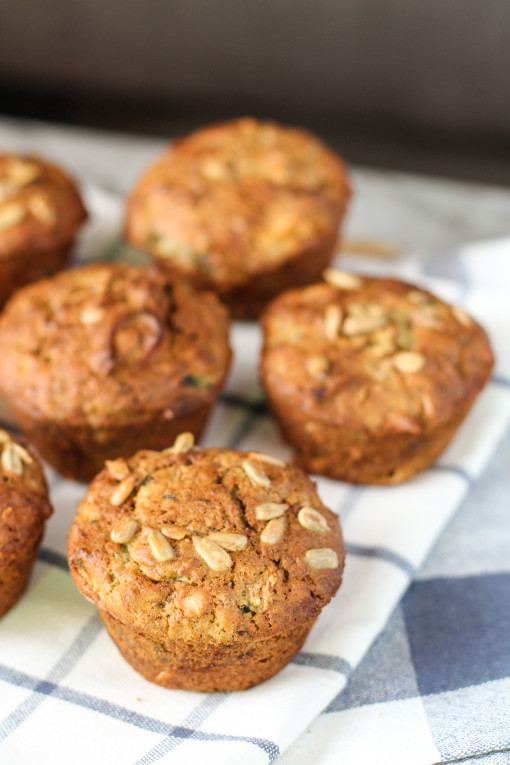 Now before you say "boring!" hear me out.  Scrambled eggs are easy and fast and you can make them with one hand while you are still half-asleep and holding a very awake toddler who woke up before the sun rose…again.  Scrambled eggs are also filling and carry me through the morning workout and then toddler-time and then into lunch without really needing much more besides that cup of caffeine.
But this year, being a new year and all, I decided to try and get out of my breakfast rut.  And these muffins are just what I needed.  They are filled with all things healthy and good for you.  Lots of seeds and nuts and bran and apples and with just a touch of sweetness.  Bye-bye scrambled eggs.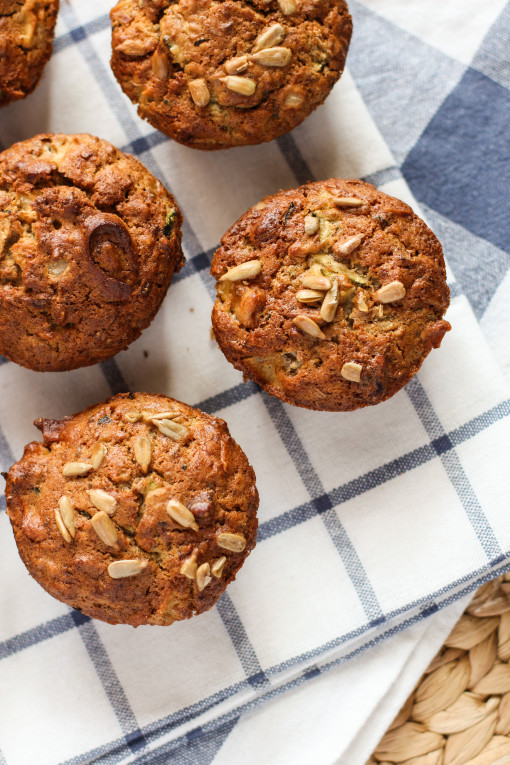 good morning muffins
from Flour by Joanne Chang
1/2 cup wheat bran
1/2 cup hot water
1 1/2 cups packed, grated zucchini
1/2 cup pecan pieces, roughly chopped
1/2 cup flaked unsweetened coconut
1 cup apple, chopped into small pieces
1/4 cup sunflower seeds
3 tbsp. chia seeds
1/4 cup flaxseeds
1/3 cup coconut sugar
3 eggs
2/3 cup canola oil
1 tsp vanilla extract
1 1/2 cups all purpose flour
3/4 cups rolled oats
2 tsps. baking powder
1/2 tsp ground cinnamon
Position a rack in the center of the oven, and heat the oven to 350 degrees.  Coat a standard 12-cup muffin tin with non-stick cooking spray or line with paper liners.
In a medium bowl, stir together the wheat bran and hot water until the bran is completely moistened.  Add the zucchini, pecans, coconut, apple, sunflower seeds, chia seeds and flax and stir until well mixed.
Using a stand mixer fitted with the whip attachment, beat together the sugar and the eggs on medium speed for 3 or 4 minutes, or until the mixture thickens and lightens.  On low speed, slowly drizzle in the oil and then the vanilla.  Don't pour the oil in all at once.  Add it slowly so it has time to incorporate into the eggs and doesn't deflate the air you have just beaten into the batter.  Adding it should take about 1 minute.  When the oil and vanilla are incorporated, remove the bowl from the mixer stand.
In a medium bowl, stir together the flour, oats, baking powder, salt, and cinnamon until well mixed.  Add the flour mixture to the egg mixture and fold carefully just until the dry and wet ingredients are well combined.  Then add the bran mixture and fold again just until well combined.  Spoon the batter into the prepared muffin cups, dividing it evenly and filling the cups to the rim (almost overflowing.)
Bake for 35 minutes, or until the muffins are lightly browned on top and spring back when pressed in the middle with a fingertip.  Let cool in the pan on a wire rack for 20 minutes, then remove the muffins from the pan.
The muffins taste best the day you bake them, but they can be stored in an airtight container at room temperature for up to 3 days.