When I was little kid I remember playing in my room all by myself.  Doing whatever it is that little kids do…
And in the middle of whatever it was that I was doing, in would drift the most amazingly delicious smell.  Caramelized honey, roasted walnuts, toasted coconut and creamy vanilla bean.  I would jump up from my play and RUN to the kitchen immediately – knowing that what was coming out of the oven must be the most delicious cookies that a little girl could possibly imagine.
And when I went running into the kitchen, guess how many cookies I found?
None.
And in place of these dreamy cookies was a baking sheet full of boring granola.
Yay.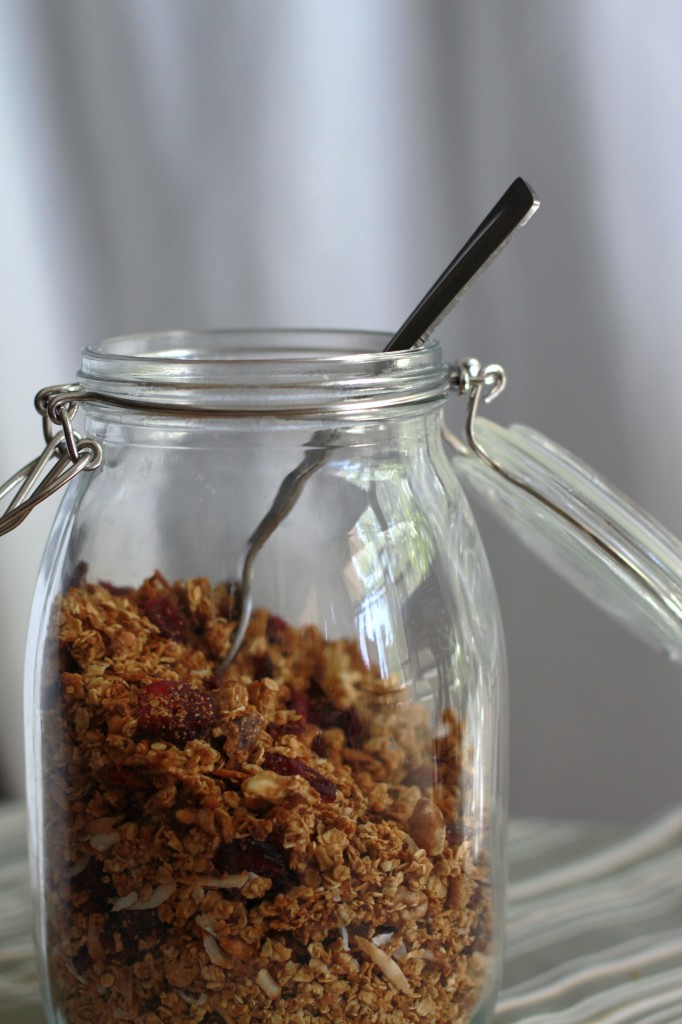 My parents would always offer to give me the first bowl of crunchy freshly baked granola.  I would always turn my nose up and say, "no thanks, can I have a bowl of frosted flakes?"  And I would immediately get the response of "it's granola or cheerios, your choice."
My parents weren't into sugar for kiddos.  Dang.
So I had my un-sugared and un-fun cheerios, because lord knows I wasn't going to break my teeth trying to eat that pan-full of horse feed.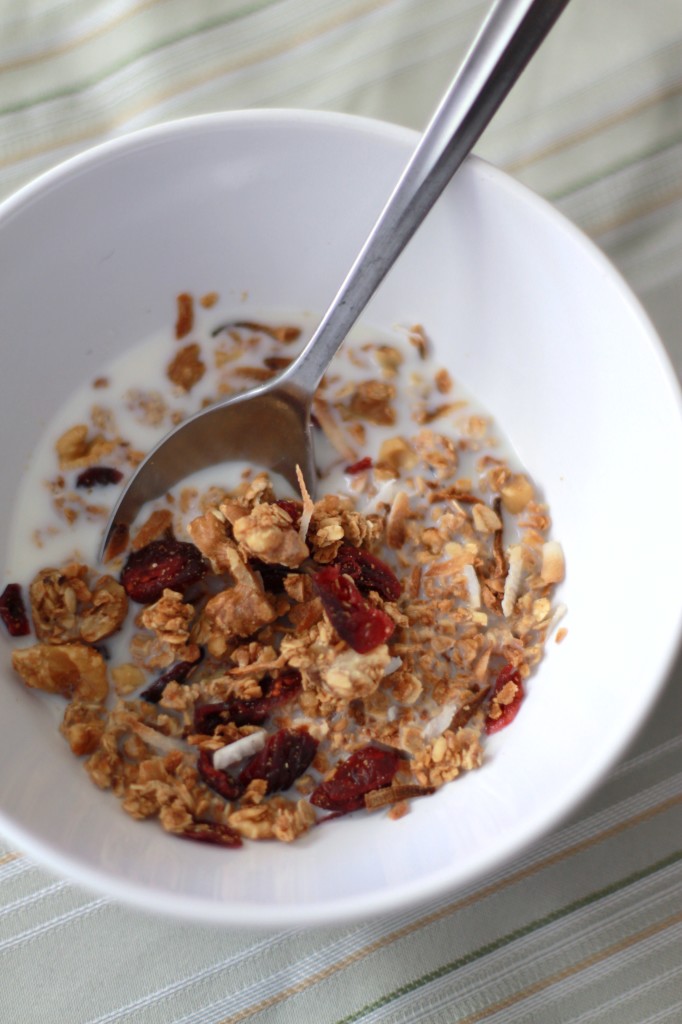 Fast forward 20 (ahem) years or so and I tried to eat granola again.  But this time it was so sickenly sweet that I couldn't even take two bites.
Thanks parents.  You saved me from the perils of too much sugar.
So I looked and looked and played with a few different recipes, but it was only when I came across Deb Perlman's granola recipe did I finally find the perfect balance of toasted oats, roasted walnuts, coconut and just a kiss of maple sugar.
It's the most perfect horse feed ever.
dried cherry and maple granola
interpreted from deb Perlman's smitten kitchen
3 cups oats
1 cup unsweetened shredded and toasted coconut
1 cup walnuts, coarsely chopped
1/4 toasted wheat germ
2 tbsp. olive oil
1/2 tsp salt
1/2 cup maple syrup
3/4 tsp ground cinnamon
1/2 tsp ground nutmeg
1/2 tsp ground ginger
2 large egg whites
1 1/2 cups dried cherries
Preheat your oven to 300 degrees.  Combine all ingredients but the egg whites and dried fruit in a large bowl, tossing to combine.
Whisk the egg whites until frothy and stir into the granola mixture.  Spread granola onto a parchment covered baking sheet and bake for about 50 minutes.
Halfway through the baking time, take a spatula and very carefully turn sections of the granola over on the pan.  Rotate the pan if needed.
When the granola is brown and toasted completely, take the pan out of the oven and let it cool.  Once it is cool, break it into pieces.  Add the dried fruit, add some milk or your favorite yogurt and enjoy!
notes:  The original recipe calls for just one egg white.  However, that one egg white did not hold any clusters for me.  It took another batch of granola (poor me) and another egg white to get it the way I wanted it – big clusters.  It could have been the egg white, it could have been my whisking technique…however, I would recommend giving it a try with the two egg whites.
The original recipe calls for untoasted coconut but all I had in my freezer was toasted so I tried it and it worked just fine.
Also, the first batch only had cinnamon but I felt that it needed more kick in the spice department so I added the ginger and the nutmeg.  If spice isn't your thing, just the cinnamon (or no cinnamon at all) would be perfect.
Deb says this granola will keep for two weeks in an airtight container.  I cannot comment on this as mine lasted only two days on my counter and then the hubby and I were fighting over the last bowl.