Well, it's that time of year again!  The Great Food Blogger Cookie Swap – yum! yum!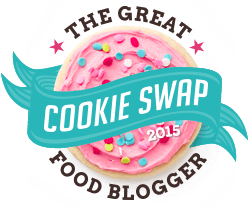 Love and Olive Oil and The Little Kitchen food blogs hosted their fifth annual Great Food Blogger Cookie Swap and I signed up to be a "cookie pen pal" with three other food bloggers.  The premise of the cookie swap was simple – sign up and make a donation to the charity recipient.  Receive the addresses of three other food bloggers. Send each of them one dozen delicious homemade cookies.  Receive three different boxes of scrumptious cookies from other bloggers.  Eat them all yourself (or, you know, share. If you want. No judgment either way.)  Post your cookie recipe on your blog.  See everyone else's cookie recipes.  Salivate.  Get lots of great ideas for next year's cookie swap.
The charity that will receive all the donations is
Cookies for Kids Cancer
, a national non-profit organization committed to funding new therapies used in the fight against pediatric cancer, which claims the lives of more children in the US than any other disease.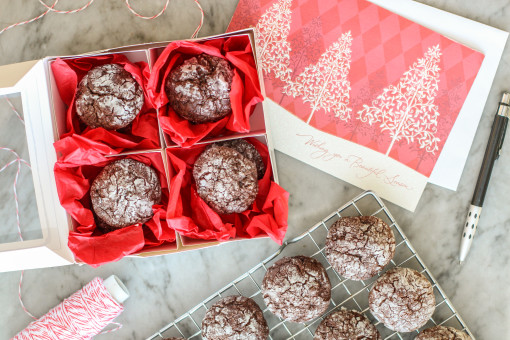 I have to admit, this was tons of fun, and I look forward to it every year.  I thought about what cookies I wanted to send to my new blogger pals – which would make it through the journey, which would best represent "me," which one would be the most tasty – you know, the important things.  And so I decided on this dark chocolate crinkle cookie recipe because nothing represents me more than chocolate!  I wrapped them up and sent them off to Nina at
Crazy for Cookies and More
, Maryanne at
The Little Epicurian
, and Trang at
Wild Wild Whisk
. 
(I hope you liked them and they arrived in one piece!)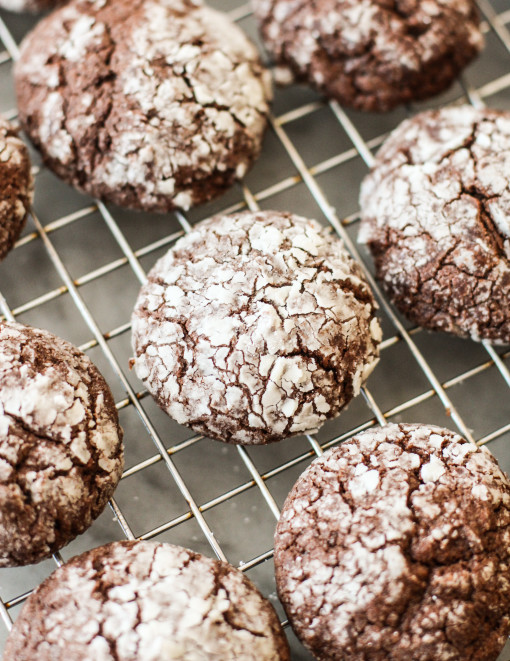 And then just one week later I received the most delicious cookies on my doorstep!  One dozen crispy and buttery snickerdoodles
(and some with yummy white chocolate chips, oh my!)
from Jessica at
Citrus Blossom Bliss
, one dozen chai snickerdoodles
(soft, perfectly spiced, and oh so buttery!)
from Beth at
Beth's Blue Plate Special
, and one dozen jammy jam bars
(jam layered butter bars with crunchy walnut love!)
 from Matt at
Kitchen Man Cooks
.
They were all delicious! Be sure to check out their cookie recipes!  AMAZING!
xo,
Jenn
Check out my last two years of cookie swap recipes here: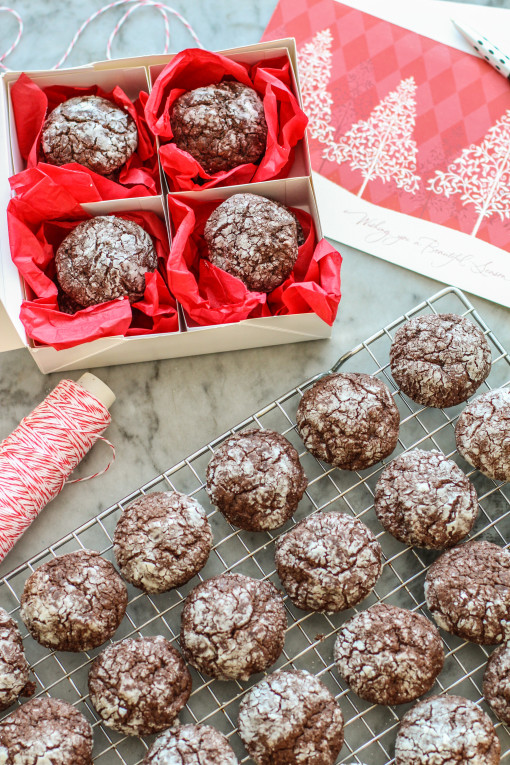 dark chocolate crinkle cookies
makes about 3 dozen cookies
1 1/2 cups powdered sugar
1 2/3 cups all-purpose flour
1/2 cup unsweetened dark cocoa powder (
I use this cocoa powder: Ghirardelli Chocolate Unsweetened Cocoa Pouch, 8 Ounce
)
1 1/2 teaspoons baking powder
1/4 teaspoon salt
8 tablespoons unsalted butter, at room temperature
1 1/4 cups sugar
2 eggs
1/2 teaspoon vanilla extract
Preheat an oven to 350°F.  Line two baking sheets with parchment paper.
Put the confectioners' sugar into a bowl and set aside.
In another bowl, using a wooden spoon, stir together the flour, cocoa, baking powder and salt.  Set aside.
In a large bowl, using an electric mixer, beat the butter and sugar on medium speed until creamy, about 3 minutes.  Turn off the mixer and scrape down the bowl with a rubber spatula.  Add 1 egg and beat on medium speed until blended.  Add the other egg and vanilla and beat until blended.
Turn off the mixer and add the flour mixture.  Beat on low speed just until blended.
 
Using a 1-inch scooper (or a tablespoon) to scoop up a rounded spoonful of dough.  Roll the dough into a ball. Roll the ball in the confectioners' sugar until covered.  Place the balls on a prepared baking sheet.  Repeat, spacing the balls about 2 inches apart.
When the baking sheets are full, put them in the oven and bake the cookies until they are crackled and puffed, 10 to 12 minutes.  Remove the baking sheet from the oven and set it on a wire rack for 15 minutes.
Using a metal spatula, move the cookies onto the rack and let cool completely.  Repeat with the rest of the cookies.