Hello from pumpkin land!!  Here we are, day three of all things pumpkin.
May I introduce you to my friend – dark chocolate brownies with pumpkin cheesecake swirl?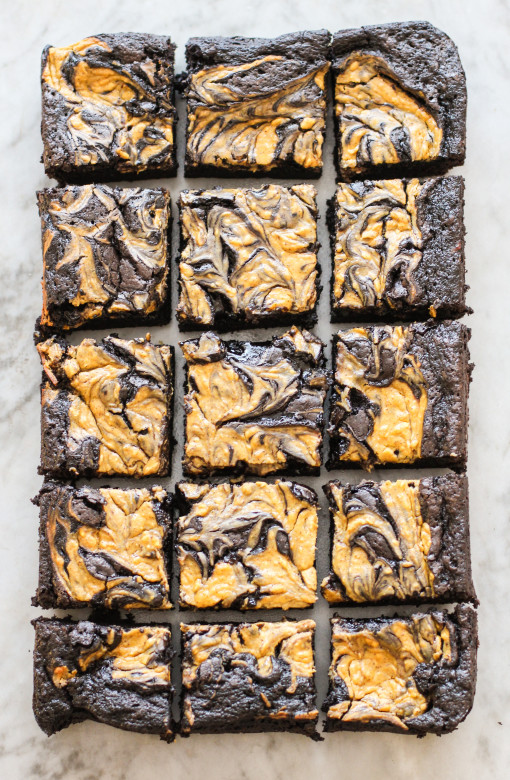 What's that?  You want to be friends with these brownies too??  Well, I don't blame you, not one bit.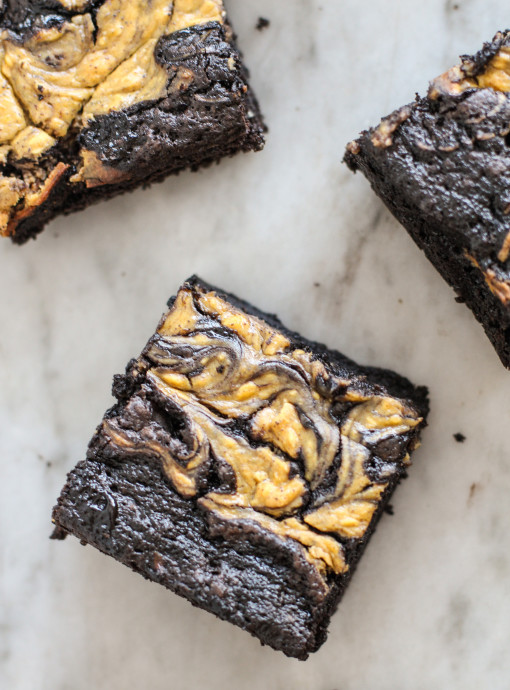 Brownies are a amazing thing.  They sit somewhere between cake and fudge and marry the best parts of both desserts to give us a brownie – crispy crusted cake-like thing with a fudgy-rich center.
And this version is all that and more.  Topped with a pumpkin spiced cheesecake layer, these brownies will bring everyone to your Thanksgiving dessert table even after they complain that their stretchy pants have no more stretch left.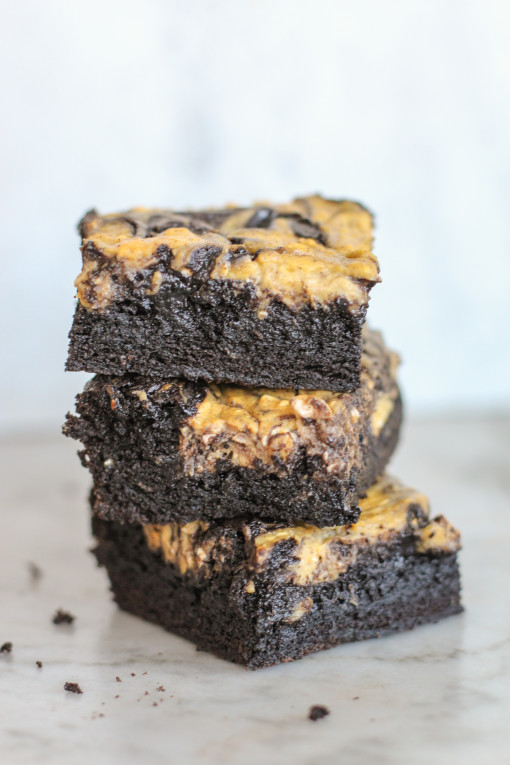 There's always room for chocolate my friends.
Always.
See you tomorrow for pumpkin recipe #4!!
xo,
Jenn
PS  In case you missed the past pumpkin recipes:
recipe #1 pumpkin risotto with thyme and parmesan
recipe #2 roasted pumpkin soup with spicy toasted pumpkin seeds and yogurt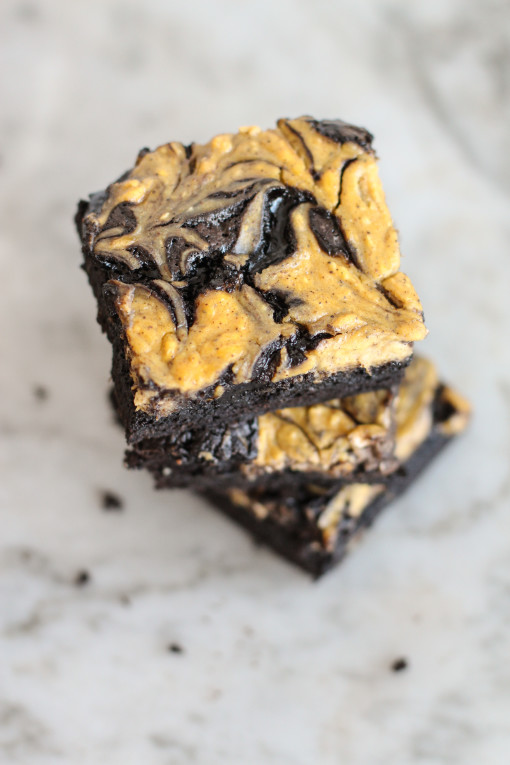 dark chocolate brownies with pumpkin cheesecake swirl
makes 15 brownies
1 cup pumpkin puree
3 ounces cream cheese
1 teaspoon cinnamon
1/2 teaspoon nutmeg
1 cup butter, melted
2 cups sugar
4 eggs
2/3 cup flour
3/4 cup dark chocolate cocoa powder (This is the brand I use –Ghirardelli Chocolate Unsweetened Cocoa Pouch, 8 Ounce
)
1/2 teaspoon baking powder
Preheat your oven to 350 degrees.  Spray a 11×7 inch pan with nonstick cooking spray and line with parchment paper.  Spray the paper with nonstick cooking spray and set aside.
In a stand mixer with the paddle attachment, whip the cream cheese for about three minutes, or until light and fluffy.  Add the pumpkin puree, cinnamon and nutmeg to the cream cheese and mix everything together until combined and then set aside.
In the stand mixer with the paddle attachment, add the butter and sugar and mix together for three minutes until combined.  Add the eggs one at a time, and mix between each addition.
In a medium sized bowl, mix together the flour, cocoa and baking powder.  With the mixer on low, slowly add the flour mixture to the wet ingredients and mix until just combined.
Pour the brownie mixture into the pan and spread it evenly.  Using a large spoon, scoop big spoonfuls of the cheesecake mixture on top of the brownie mixture and then using a knife or wooden skewer, draw figure 8's in the cheesecake/brownie mixture to create the swirl.
Bake the brownies for 35-45 minutes, or until a toothpick inserted into the center of the pan comes out mostly clean.
Remove the brownies from the oven and allow them to fully cool before cutting them.  I know, it will be hard – but trust me that it's worth the wait.  🙂
my notes: This brownie recipe is very adaptable and can take on a few different twists if pumpkin cheesecake is not your thing.  You can leave the cheesecake topping completely off which will give your brownies a nice crunchy top…you can leave the pumpkin puree out of the recipe and just top with the cream cheese – maybe swirling in some fresh raspberries or strawberries…or you can add a handful of chopped nuts or chocolate chips to the batter to make this recipe your own.