All right, here we are on day five of all things pumpkin and we've saved the best for last!
When I started out with the pumpkin ideas, I knew that pumpkin pie would have to make a showing.  I mean, what is Thanksgiving without pumpkin pie??
But while I wanted to share a pumpkin pie recipe with you guys, I totally wanted to take it up a notch and make it a little more exciting than just a plain pumpkin pie.  So I scrolled around and looked at all things pumpkin dessert – pies, tarts, turnovers, mini pumpkin everything…and then I found this and I knew this was the pumpkin pie for you: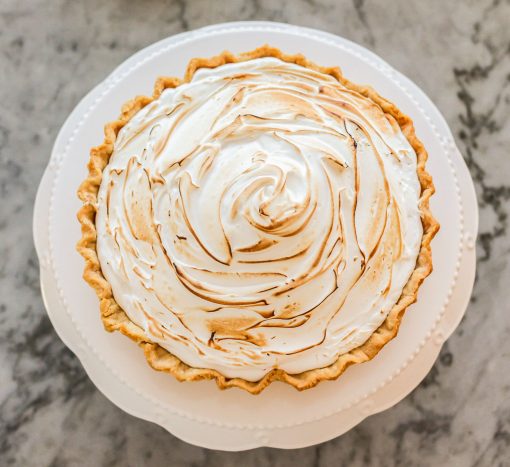 Ta-dah!  Do you love it as much as I do?
My friends, I give you:  classic pumpkin pie with a twist.  Instead of whipped cream, this delicious pie is topped with a fluffy mile-high marshmallow-y meringue.
I'm telling you, pumpkin pie + meringue topping = a Thanksgiving to remember.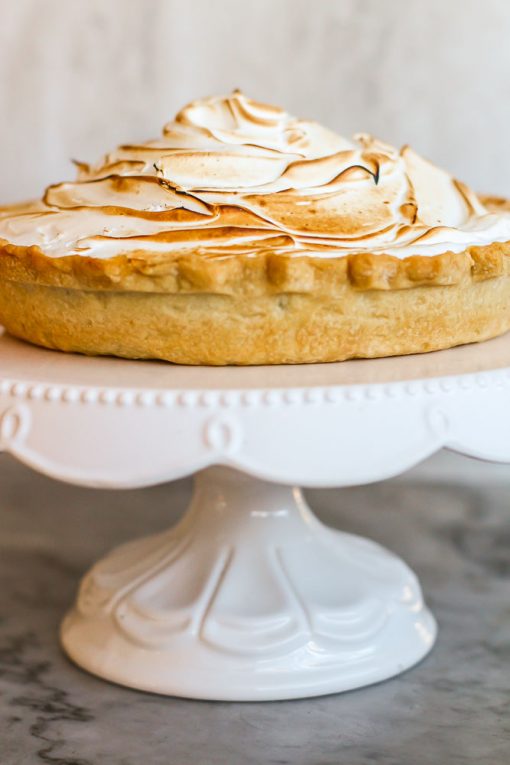 Don't be intimidated by this pie.  Although it looks like you worked in the kitchen all day, this recipe comes together quickly and with very little effort.  The hardest part of making this pie will be trying not to eat it all before your guests arrive.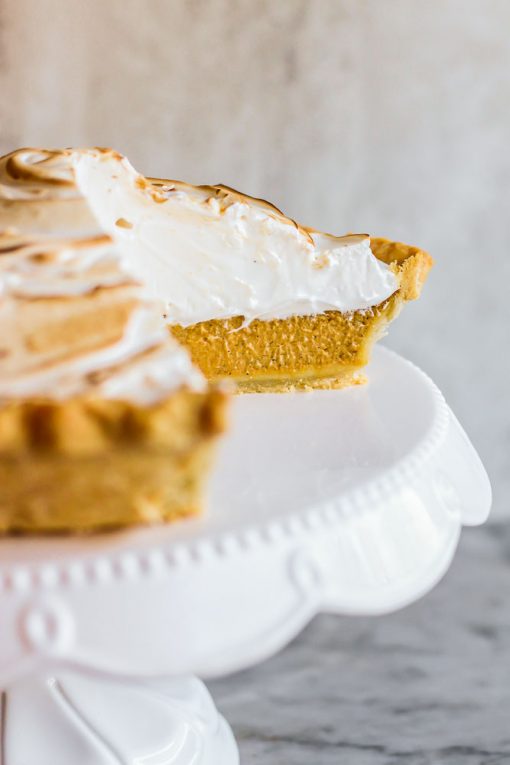 Happy Thanksgiving my friends.  I hope that you found some fun ideas during our little pumpkin-fest.  Thank you for all the love and support you have given me these past couple of years.  I am thankful for you!!
xo,
Jenn
PS I case you missed any of the pumpkin recipe posts, here are the links to:
recipe #1 pumpkin risotto with thyme and parmesan
recipe #2 roasted pumpkin soup with spicy toasted pumpkin seeds and yogurt
recipe #3 dark chocolate brownies with pumpkin cheesecake swirl
recipe #4 pumpkin gougeres with rosemary and sea salt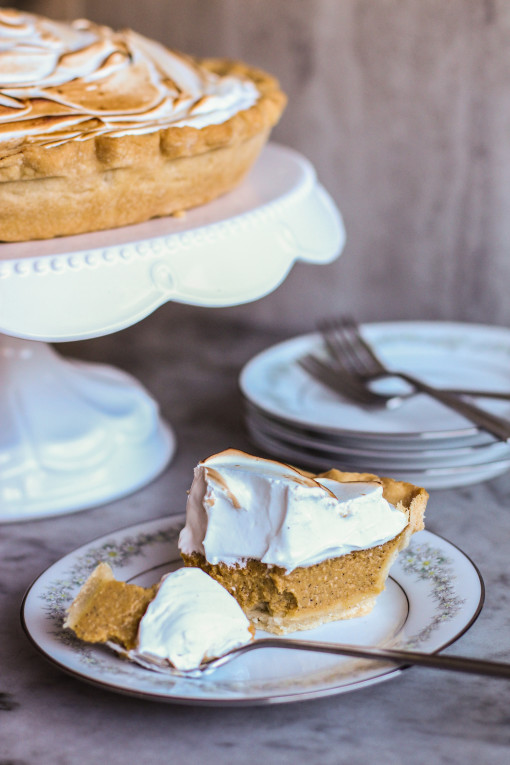 classic pumpkin pie with mile-high meringue
makes one 9-inch pie
one pie crust
2 cups pumpkin puree
1/4 cup granulated sugar
1/4 cup brown sugar
3 tablespoons agave nectar
2 teaspoons cinnamon
1/2 teaspoon ground nutmeg
1/8 teaspoon ground cloves
1/2 cup 2% milk
1/2 cup evaporated milk
1 teaspoon vanilla extract
2 eggs
1 egg yolk
for the meringue topping:
4 egg whites
1 cup granulated sugar
1 teaspoon vanilla extract
Preheat the oven to 425 degrees.  Roll out the pie dough to about 10 inches in diameter.  Place the pie crust in a pie pan and crimp or trim the edges to make a decorative border.  Chill the dough in the refrigerator for 15-2o minutes.
Once chilled, line the crust with parchment paper and fill with pie weights.  Blind bake the crust for about 15 minutes.  Remove the pie from the oven and take out the pie weights and the parchment.  Continue to bake for an additional five minutes, or until the edges start to brown.
Make the pie filing – In a stand mixer, combine the pumpkin puree, sugars, honey, and spices and whisk to combine for about five minutes, or until the mixture starts to come together and becomes smooth.  Whisk in the milks.  Add the eggs and egg yolk and whisk to combine.
Pour the filling into the pre-baked crust.  Turn the oven down to 375 degrees and bake for 50 minutes.  The pie will be done with the center has just set or a knife inserted into the center comes out clean.  Allow the pie to cool completely.
To make the meringue topping, place the egg whites and sugar in the bowl of a stand mixer.  Whisk to combine.  Place a couple inches of water in a saucepan and heat over medium heat.  Place the mixing bowl on top of the saucepan to create a double boiler.  Whisking occasionally, heat until the egg mixture is warm and sugar has dissolved, about five minutes.
Once warm, return the mixing bowl to the stand mixer.  With the whisk attachment, beat the egg mixture on high until the outside of the mixing bowl is cool.  Add in the vanilla and mix until medium-stiff peaks form.
After the pie has completely cooled, dollop or pipe the meringue on top of the pie filling.  Gently toast the top of the meringue with a kitchen torch or oven broiler, if desired.