Let me just start by saying, I had to look up the spelling for "streusel" before I even started this post.  I knew what I wanted to say, but right off the bat I started second guess myself as I tried to type the word!!  Does anyone else have that problem?  And I don't mean just about words that are foreign to your regular vocabulary….sometimes I can't spell a simple word like "while" or "how" and have to keep looking it up, or asking those real adults around me how to spell it!!  Please, someone tell me that you do the same thing….!??!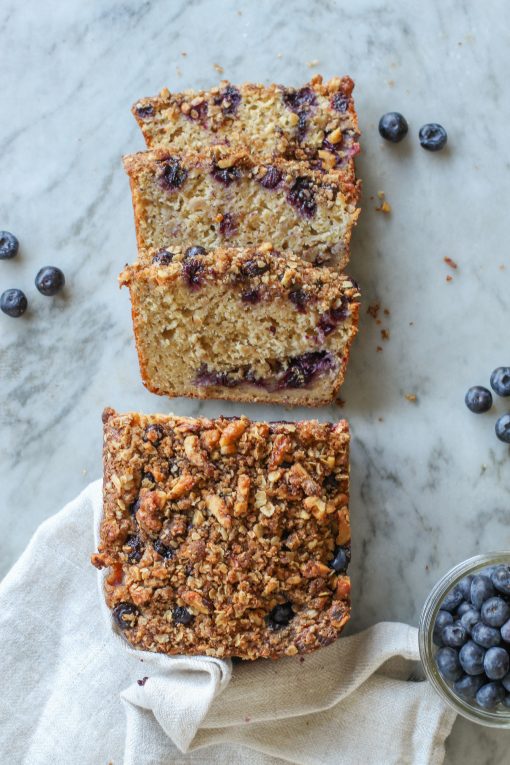 What I don't have a problem with is eating anything that has a streusel in it or on it – or in this instance, both ways!!  I toasted a whole bunch of crunchy pecans and then mixed them with some brown sugar, cinnamon and oats and then layered it between and on top of soft vanilla and lemon scented cake layers.  And if you don't think that's already over the top, lets just pile some fresh blueberries pretty much everywhere and guess what we made?  A perfect, scrumptious, delicious and beautiful cake (with streusel topping!!) that you can eat for breakfast, snacks, dessert, or everything in between!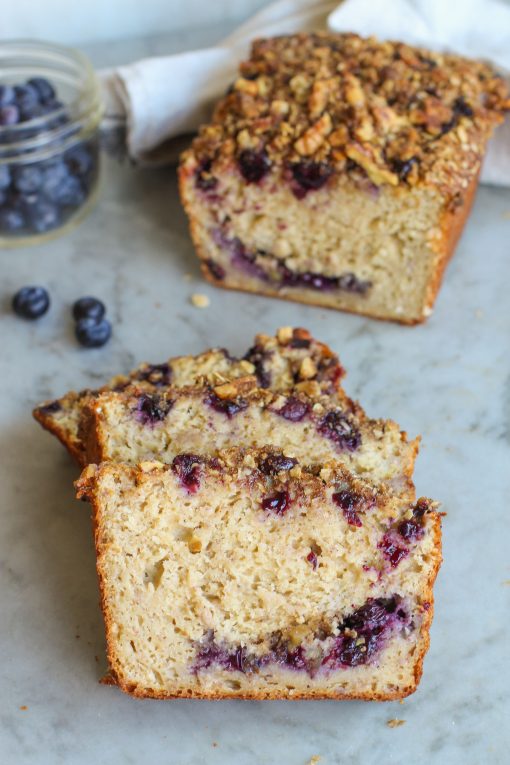 You guys, I just drooled on my keyboard!!  You too???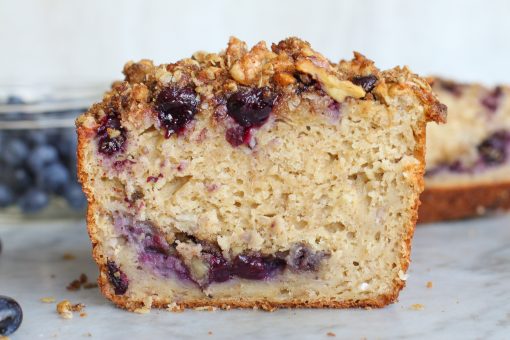 This recipe is just as quick and easy as making a banana bread –  so if you can do that, then you can make this extraordinarily delicious blueberry streusel quick bread with the same amount of effort.  All the details are in the recipe below – I hope you enjoy it!!
XO,
Jenn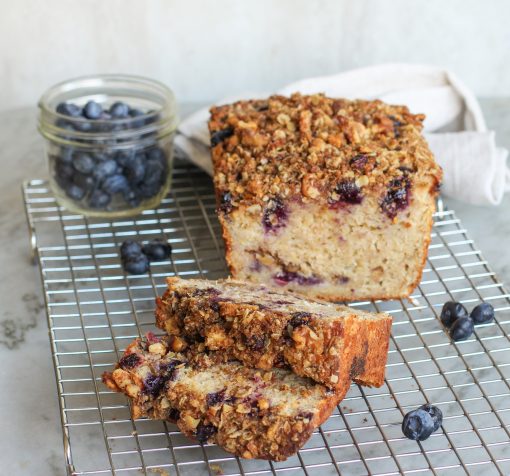 blueberry streusel quick bread
makes one loaf – about 8-9 1/2 inch slices
recipe adapted from cooking light
For the streusel:
3 tablespoons brown sugar
2 tablespoons olive oil
1/4 cup toasted and chopped pecans
1/2 teaspoon cinnamon
3 tablespoons oats
Mix all ingredients together in a small bowl and set aside.
For the cake:
3/4 cup buttermilk
1/2 cup oats
1 1/2 cup all-purpose flour
1 teaspoon baking powder
1/4 teaspoon baking soda
3/4 cup brown sugar
3 very ripe bananas
1 1/2 teaspoon vanilla
1 teaspoon lemon zest
2 eggs, lightly beaten
1 cup fresh blueberries
Preheat your oven to 350 degrees.  Coat the inside of a loaf pan with cooking spray and line with baking paper.  Spray the baking paper with cooking spray and set aside.
In a large bowl, mix the oats and the buttermilk together and let stand for 10 minutes.
In a medium sized bowl, mix together the flour, baking powder and baking soda and set aside.
Add the bananas, vanilla, lemon zest and eggs to the oat and buttermilk mixture and stir to combine.   Add the flour mixture to the wet ingredients, stirring to combine completely.
Spoon half the batter into the loaf pan.  Add 1/2 cup of blueberries to the top of the batter and sprinkle 1/2 of the streusel mixture on top of the berries.  Repeat these steps with the remaining batter, blueberries and streusel topping so you have two layers of everything.
Place the loaf pan on a baking sheet and place into the oven.  Bake until a toothpick inserted into the center of the loaf comes out clean, about 1 hour and 15 minutes.  Allow the loaf to cool for at least 15 minutes before turning out onto a rack to cool completely.