Blueberry muffins are my favorite.  Actually, all muffins are my favorite.  Crunchy toppings, sweet fruit fillings, no fruit – I do not discriminate.
And the relationship goes both ways.  Muffins like me too.  So much, in fact, that they like to hang around my middle section and have a really hard time letting go.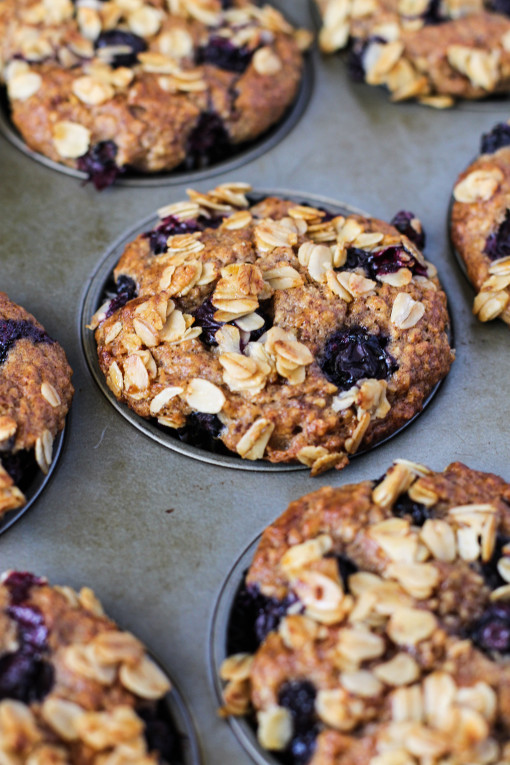 So when I found this recipe, I was really excited.  These muffins are made with sweet bananas and fresh dates instead of any added sugar.  The tangy blueberries are a perfect addition to the crunchy oat topping and make these muffins into an amazingly healthy breakfast option or anytime treat.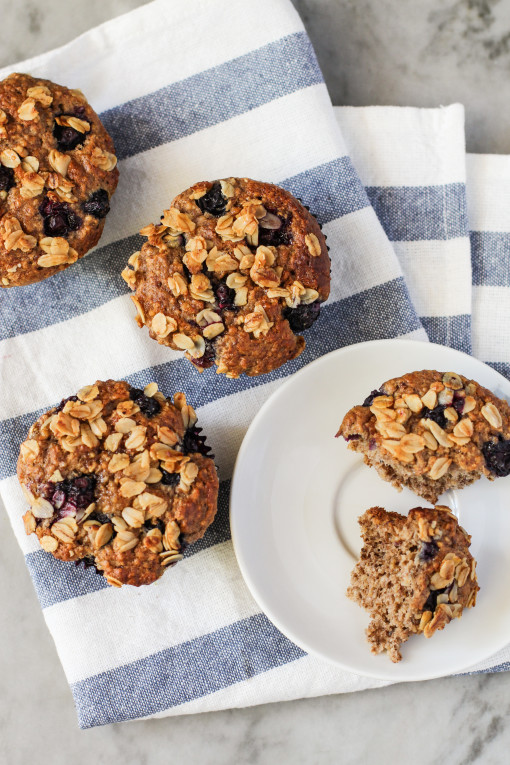 blueberry muffins with crunchy granola topping
recipe from green kitchen stories
1 cup walnuts
1 1/3 cup rolled oats
2/3 cup spelt flour (or all purpose flour)
1 1/2 teaspoon baking powder
1/2 teaspoon baking soda
2 teaspoons cinnamon
1 teaspoon cardamom
2/3 cup plain yogurt (or coconut or almond yogurt)
1/3 cup olive oil
2 ripe bananas, mashed
5 fresh dates, mashed
3 eggs
2 tablespoons olive oil
1 tablespoon honey
Preheat your oven to 400 degrees.  Grease a muffin tin with butter or oil or line with paper cups.  In a food processor, place the walnuts and 1 cup of the rolled oats and process until the mixture resembles a coarse flour.  Transfer to a large bowl, together with the rest of the dry ingredients, and stir to combine.
Add the yogurt, olive oil, bananas, dates and eggs to the food processor and blend to combine.  Add the wet ingredients to the dry and fold to combine.
Divide the batter evenly between the muffin cups and top each cup with a small handful of blueberries.  Gently push the berries into the batter.
In a small bowl, mix together the 1/3 cup of rolled oats, olive oil and honey and sprinkle a bit on each muffin.
Bake the muffins for about 20 minutes, rotating the tin halfway through the cooking time to ensure even browning.