The clothes are laid out, and the lunches packed.  Homework has been completed, and the kids are both snoring.  It's so quiet in the house right now that I can barely think straight or make any sense of my scattered thoughts.  I have lots to say (don't I always? ha!) but all I can focus on is the humming of the dishwasher as it makes everything clean for tomorrow.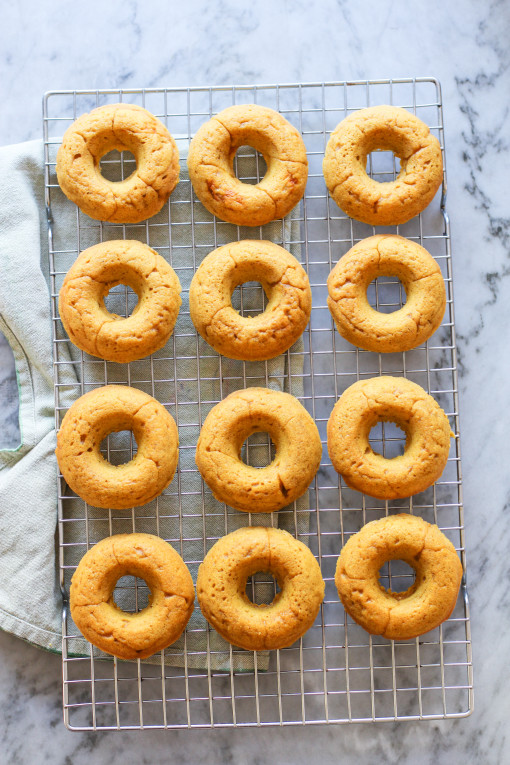 It's only been a few short weeks since school has started and some days I feel like all I do is follow the same routine, day in and day out.  Although the days are running together – it keeps the kids and I sane.  We know when it's time to leave, eat, sleep, repeat.  There's less arguing and hostility when it comes time to change activities because it's what we do.
But dang, I find this daily routine SO boring.  I really can't wait until the weekend rolls around and we can sleep in a bit later, walk around in our "jamas" and make fun things to eat like banana pancakes, berry muffins and these delicious donuts.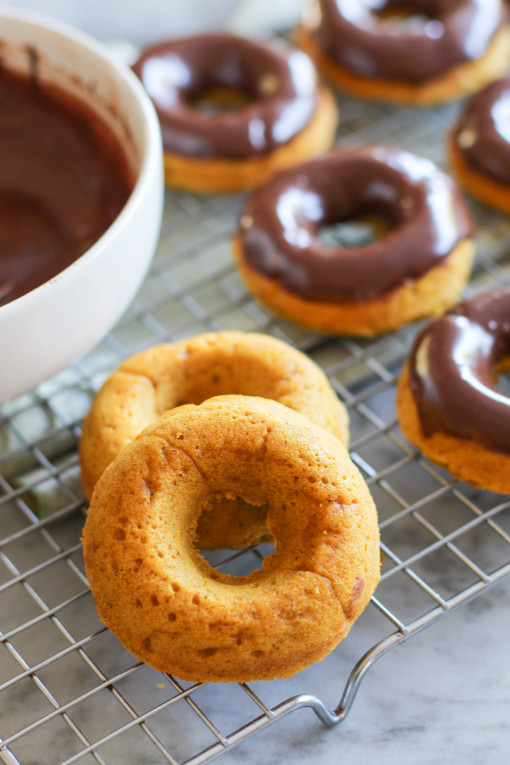 I'm going to be straight with you here – these donuts are just cake in a circular form.
I know!!
Are you thinking what I'm thinking??
Cake for breakfast, right??!
Pumpkin cake!  Dipped in chocolate!!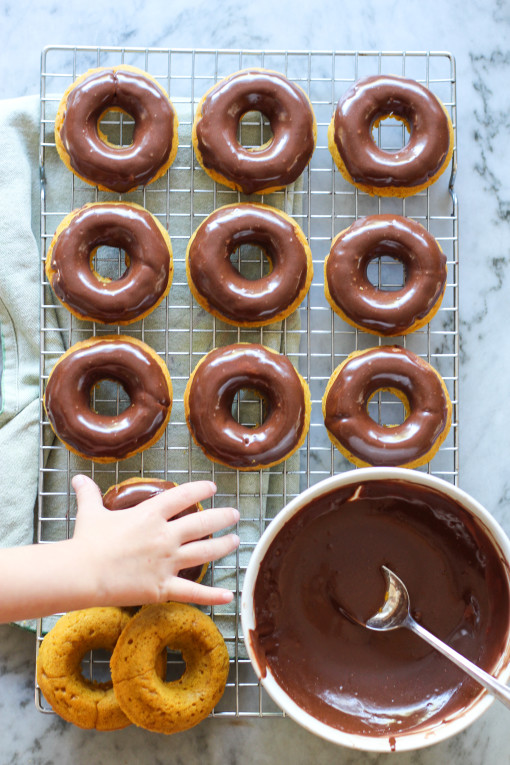 Weekends were made for breakfasts like this…  Hope you have a great one!
XO,
Jenn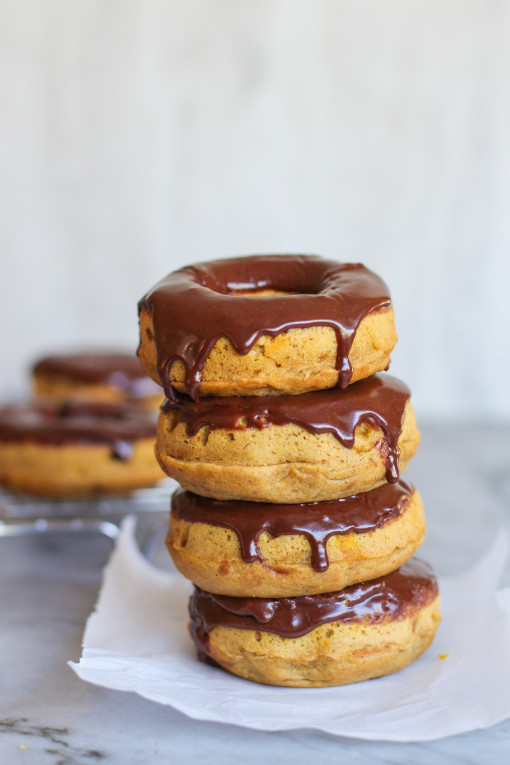 baked pumpkin donuts with chocolate glaze
for the donuts
recipe from King Arthur flour – makes 12 baked donuts
3/4 teaspoon ground cinnamon
1/4 teaspoon ground nutmeg
1/4 teaspoon ground ginger
1/2 teaspoon salt
1 1/2 teaspoon baking powder
1 3/4 cups + 2 tablespoons all purpose flour
1/2 cup vegetable oil
3 eggs
3/4 cup granulated sugar
1 1/2 cups pumpkin puree
Preheat your oven to 350 degrees.  Spray your donut pan with nonstick cooking spray.  Set aside.
In a medium sized bowl, place the flour, spices, salt and baking powder and mix to combine.  Set aside.
Place the oil, eggs and sugar into a mixing bowl fitted with the paddle attachment.  Mix everything together on medium speed until light- about three minutes.  Add the pumpkin puree to the egg mixture and mix together.
Add the dry ingredients to the wet and mix together until smooth.
Fill the wells of the donut pans about 3/4 full – around a 1/4 of a cup each.  Spread them around the mold with the back of a spoon.
Bake the donuts for 15-18 minutes, or until a toothpick inserted into the center of one comes out clean.
Remove the donuts from the oven and let them sit in the pan for five minutes – then loosen their edges and transfer them to a rack to cool.
for the chocolate glaze
recipe from epicurious
1 1/2 cups powdered sugar
4 tablespoons cocoa powder
2 teaspoons vanilla extract
4 tablespoons milk
Sift the powdered sugar and cocoa powder into a bowl.  Add the vanilla and 2 tablespoons of the milk and whisk everything together.  If the mixture is still dry, add more milk until you get an almost pourable consistency – you want the glaze to fall slowly from the whisk when the whisk is lifted from the bowl.
Dip each donut into the glaze and place onto a cooling rack to set.
You can add toppings to the glaze, such as sprinkles, chopped or shaved chocolate, chopped up chocolate candies….whatever makes your heart happy!