My goodness, I just started setting up this post when I realized I'm posing back-to-back snack recipes.  I would say I'm sorry, but I'm really not because come on – SNACKS!!!
Snacks make the world go around, amiright?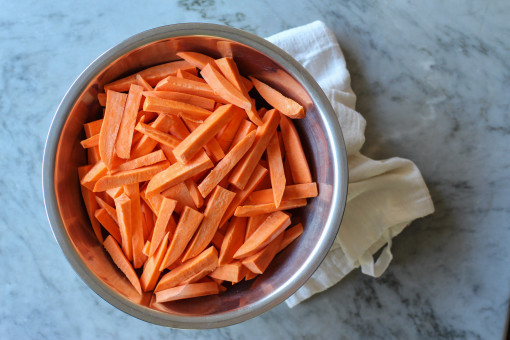 We are starting our bathroom remodel tomorrow.  I say "we" lightly.  My dear husband will be wielding most of the responsibility, muscle, and grout during this, our most daring step of our house remodel thus far.
We saved the best for last?  Or is it the most dreaded for last, I'm unsure.  We drop the hammer early tomorrow and it's will be all bathroom, all the time.
Except for snacks.  We must break for snacks.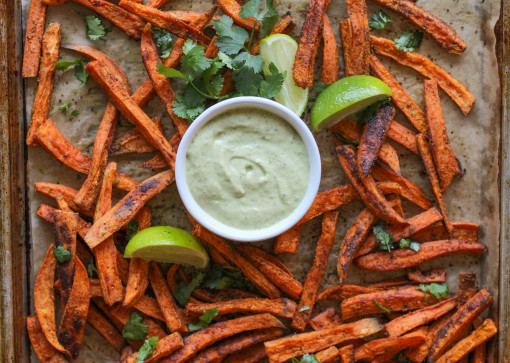 Once we finally decided that it was time to remodel the bathroom we made our way to the store to pick out vanities, flooring, and shower tile – all decisions I thought would come quite easily.  I mean, I had spent enough time on Pinterest, pinning all my favorite bathroom ideas that surely we could just walk in and say, "this, this and this" and then head out the door.
I mean, that's how room remodels work, right?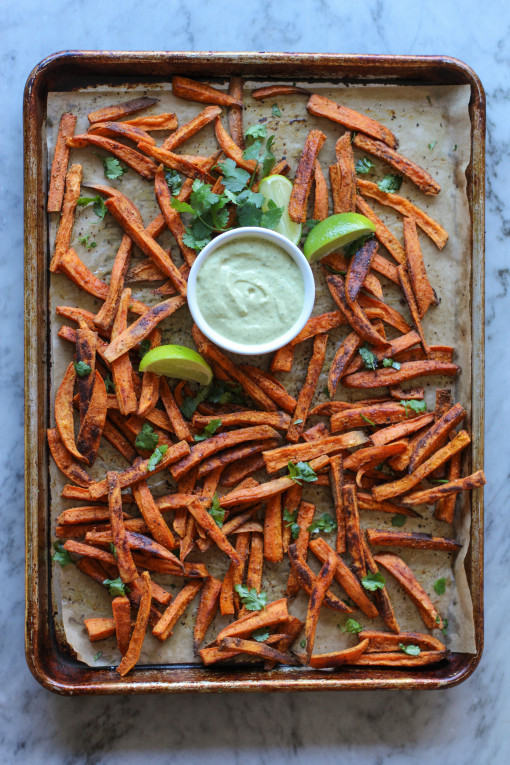 They don't?
You're right.  Room remodels don't work that way.
Especially when you have two small children accompaning you down the long aisles of the local home improvement store.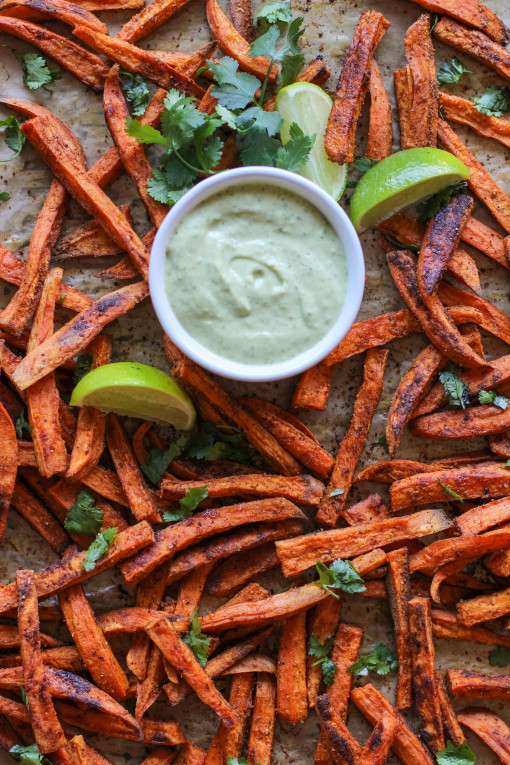 For the first five minutes it was dreamy.  All four of us standing or being held quietly while we looked at floor tile.
Then one of us (the taller of the two smallers) slowly started inching his way away from the pack…looking in boxes, and then crawling into the racks and disappearing so quietly it was like he was never there to begin with until I could hear "mommmmyyyyyy, you can't seeeeee meeeeee." 
And he was right!  He had crawled so far into the rack that I really couldn't see him nor could I get close enough to remove him from the rack – and that was only just the first five minutes of our trip to the store.
Then one went left, and the other went right.  Then one ran down the aisle, and the other one followed.  Then one smacked the other for whatever reason I do not know and then one was crying followed by the other one crying because they promptly received a "moment of reflection" following the smack.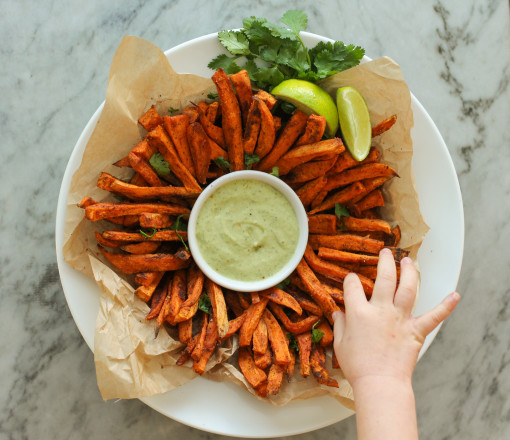 So two hours later….(I do not exaggerate)…we had finally (!!!) picked out all the needed supplies, and had taken their pictures so that the hubby could return to the store unaccompanied by the two short distractions that we fondly refer to as our loving children.
And now you can probably see why I am posting back to back snack recipes.  Currently, the distractions are endless at our household, as are the snacking needs.  One of our favorite snacks are "french fries" and we make them at least once a week as they satisfy both parent and child.
These french fries are neither french nor fried – but rubbed with all kinds of yummy spices and baked until both crispy and tender.  The kids eat them plain and without sauce, but I like them with something to dip into – this time a creamy and cool cashew, lime and avocado sauce – but plain old ketchup works just as well.  These sweet potato fries make the perfect healthy snack and you can whip them up in between distractions, or trips to the home improvement store, as will certainly be proven starting tomorrow.
Wish us luck!
XO,
Jenn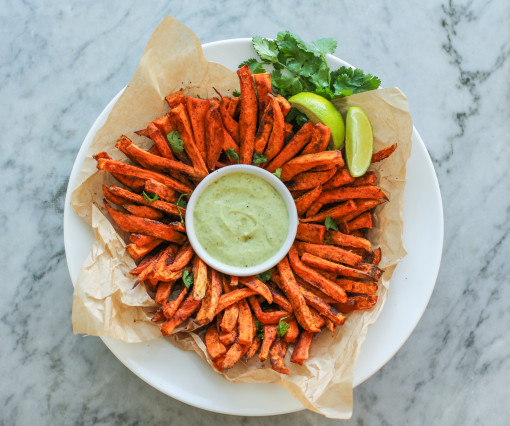 spicy sweet potato fries with creamy cashew-avocado dipping sauce
makes about eight servings
sauce recipe inspired by pinch of yum
2 cups cashews
1 1/4 cups water
1 clove of garlic
3 tablespoons roasted green chiles
1 teaspoon salt
2 teaspoons lime juice
1 avocado
4 medium sized sweet potatoes
1 tablespoon mild chili powder
1 tablespoon ground cumin
1 tablespoon sweet paprika
1 teaspoon garlic powder
1 teaspoon onion powder
1 teaspoon black pepper
1 teaspoon salt
3 tablespoons extra virgin olive oil
to make the sauce:
Place cashews in a bowl.  Cover with water and soak for about 2 hours.  Drain and rinse thoroughly.
Place soaked cashews in the bowl of a food processor or blender with the water, garlic, green chiles and salt.  Puree until very, very smooth.   Add the lime juice and avocado and puree again until everything is mixed together.  Thin out with more water to desired consistency.  Place into the fridge while you make the fries.
to make the spicy sweet potato fries:
Preheat your oven to 400 degrees and line two baking sheets with parchment paper.
Peel the potatoes and cut them into half, lengthwise.  Then slice the potatoes into about 1/4 inch thickness, taking care to cut all the potatoes in roughly the same size so they will cook evenly.
In a large ziplock bag (or a large bowl), mix together all of the spices, salt, pepper and the olive oil.  Squish or stir the spices and the oil to combine.  Add the potato slices to the oil mixture and close the top of the bag.  Shift the potato slices around inside the bag to get everything evenly coated.  Alternately, use your hands to mix everything together in the bowl.
Place the potato slices onto the baking sheets, laying the slices in one layer if possible and scooting them all around to give them as much room as possible- which isn't a lot so don't worry too mush about them touching each other.)
Place the baking sheets into the oven and roast for about 20 minutes – checking to see that the underside of the fries are getting browned and crispy.  If they aren't quite there yet, give them a few more minutes of cooking time on that side.  As soon as they are cooked on one side, use a spatula to flip them over to their uncooked side and continue to cook for another 10 minutes, or until the fries are fully cooked and have crisped up a bit.
Remove the fries from the oven and serve immediately.