Let's talk about snacks, shall we?  Do you guys have a favorite go-to snack?
One of my all time favorite snacks is hummus and I probably whip up a new batch every couple of weeks.  The hubby likes to have snacks before dinner and the kids just like hummus in general – one likes to dip the veggies in and use the vegetable like a spoon (he gets his OWN bowl) and the other kid likes to eat it directly out of a bowl with a spoon (she gets her own bowl too.)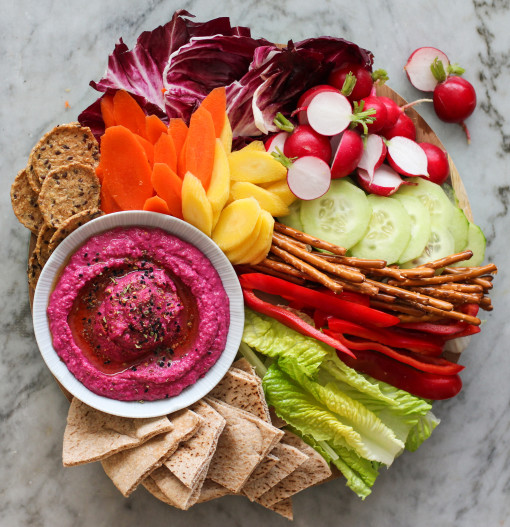 But after awhile plain old chickpea hummus gets a little boring and so yesterday we played around with a few variations to get some different flavors for our hummus.  One was mixed with some pesto, which was delicious but made for a not so pretty picture.  Another one we mixed with roasted red peppers which was also very good but we ate it all before I could get a picture (I say "we" but I mean "kiddos.")  And then I happened to be roasting some red beets for dinner and I threw one into the food processor along with all the hummus ingredients and TA-DAH!!!  Roasted beet hummus was born.
Well, it was born on this blog, but the recipe has been around for awhile so it's not like I invented the wheel here or anything…just made some yummy dip for your veggies and such.
But good it is – and vibrant pink might I add – but with all the yummy flavors of hummus that you've come to cherish so much.  So if you are looking for something fun to make next time you need a dip, this one's for you.
XO,
Jenn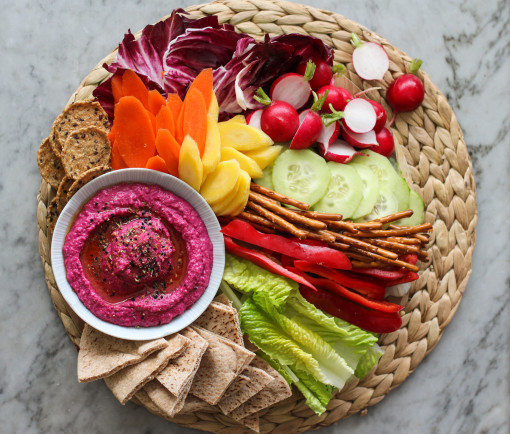 roasted beet hummus
makes about three cups
1 clove of garlic, roughly chopped
3 tablespoons tahini
the juice of one lemon
salt
black pepper
1 roasted beet, roughly chopped
2 cups cooked chickpeas
extra virgin olive oil
Place the garlic in the food processor and pulse until the garlic is broken down.  Add the tahini, a squeeze of the lemon, salt and pepper to the processor and blend to combine.  Add the beet and chickpeas and blend to combine (you will probably need to scrape down the sides of the processor while you are blending) and then slowly drizzle in the olive oil until the mixture turns into a dip-able consistency.  Taste, and adjust seasonings/lemon as needed.
my notes: If you don't like beets, just omit them from the recipe and make a regular hummus.  You can experiment and add all sorts of things to your hummus, and you can even make hummus out of other cooked beans if you don't have any chickpeas on hand.  This recipe will keep about five days in the fridge.